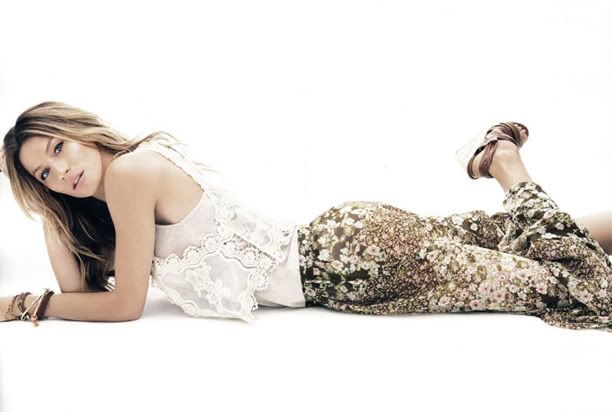 H&M officially has me confused. The moment I think they're just another trendy megastore, they surprise me with designer collaborations,
eco-friendly green collections
, and
high fashion spreads featuring the biggest models of the decade.
Where are they getting the money to finance these things? The production on most of their ad campaigns looks better than a LOT of high end designers.
These shots released this past weekend are no exception. For their new Spring 2011 line, they shot supermodel Gisele Bundchen in the 70's inspired basics that manage to look fresh and new. Prior to this spread, I wasn't too sure that I could take another line of jersey jumpsuits and flared pants, but this looks less hippie dippie chic and more simple, exquisite resort taste. Which, in and of itself, is a major step in the right direction for H&M for Spring. Nary a floppy hat or bug-eyed pair of sunglasses in sight.