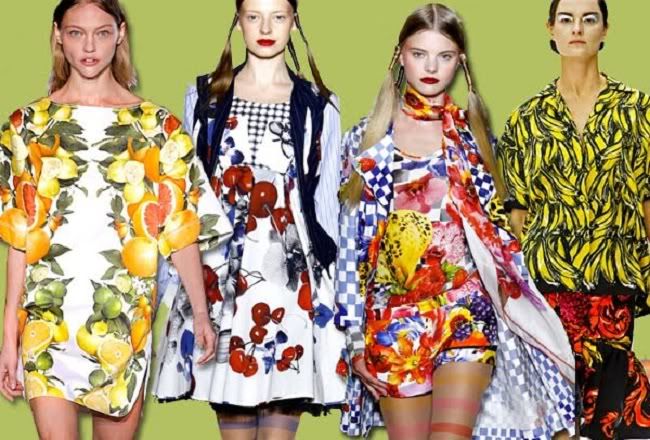 Fruit Roll Ups
Florals have long been a staple of fashion, but this season a fresh new print is getting in on the action- a
literally
fresh new print. Fruit! They have suddenly popped up as the new 'it' pattern on Spring 2011 runways, boldly showing everywhere from Prada to Miu Miu. Prada and Stella McCartney were both inspired by the produce department for spring, but they stand on opposite sides of the aisle.
Prada showed bold banana prints, while McCartney opted for a citrus mix: lemons, oranges, limes and grapefruit. Stella McCartney's ads were great, too;
poking fun at the backlash her out-there prints received
, the campaign's featured models with fruit cut and pasted over top of them followed by a picture of the same model in a design with the same fruit as the pattern.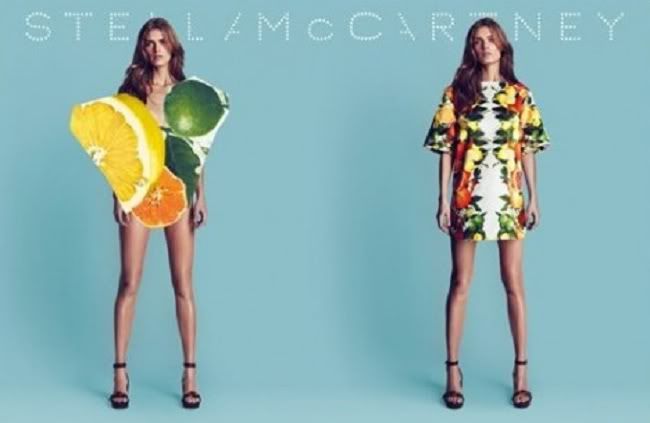 Stella McCartney Spring/Summer 2011 Campaign
The cheeky playfulness of Carmen Miranda is also apparent in Prada's ad campaigns, which feature models giving the camera a sultry stare while tossing their legs and fur stoles in the air, flamenco-style. The same look was duplicated on the runway, as dark-haired models in sleek fingerwaves gave off a distinctly Spanish vibe. With these types of prints, I'm glad designers have decided to go similarly silly with the ad campaigns. You just can't take yourself too seriously when you're wearing lemons and limes all over your dress.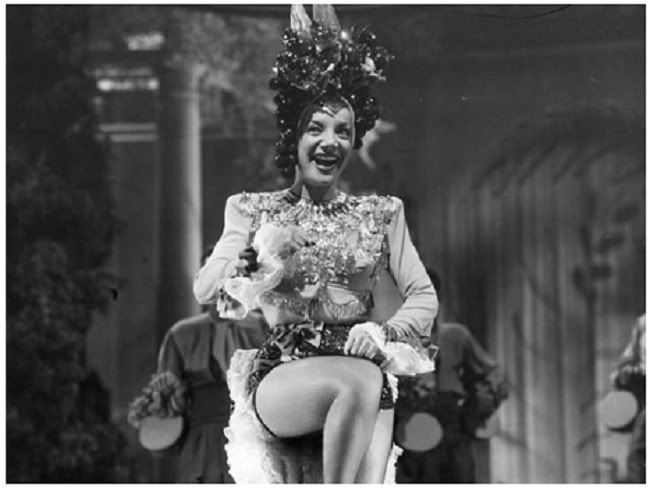 The original Chiquita Banana Herself...
Carmen Miranda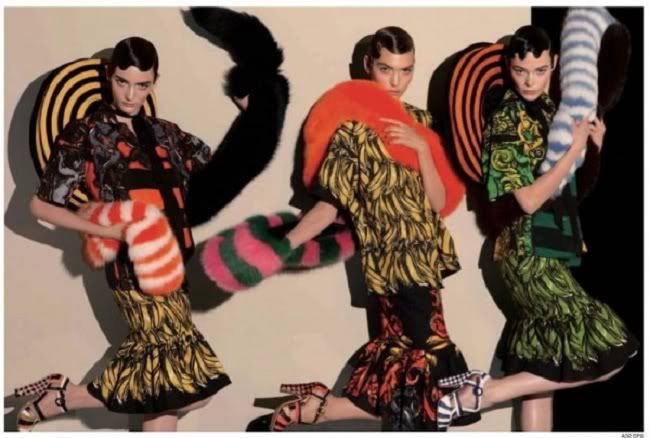 Prada Spring/Summer 2011 Campaign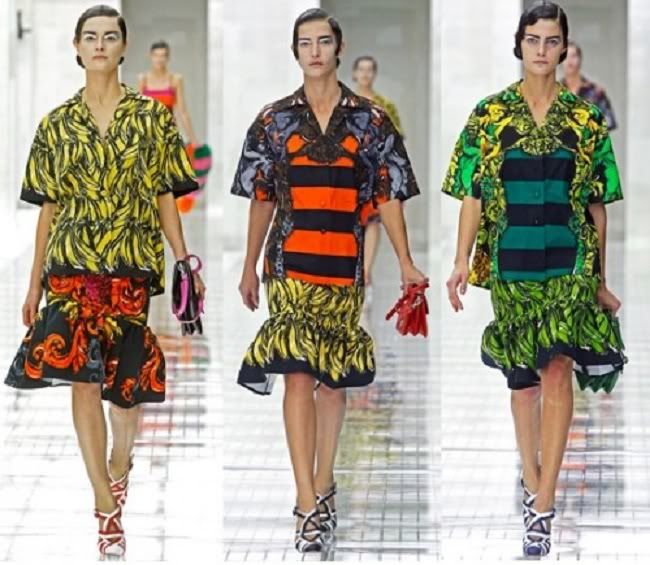 Prada SS 2011 runway show
These run-by fruiting's (Mrs. Doubtfire, chea!) aren't stopping on clothes, either; all manner of accessories have also been hit with edible arangements. The $1695.70 fruit shoe by Charlotte Olympia,
available at LUISAVIAROMA
, prominently displays bananas, strawberries, grapes, and oranges on the sides, and New York-based indie brand
Suno
put out some truly adorable wedges covered in- you guessed it- bananas. (They turned them on their sides, however, showcasing the brown tip in a yellow center for a rather striking effect.)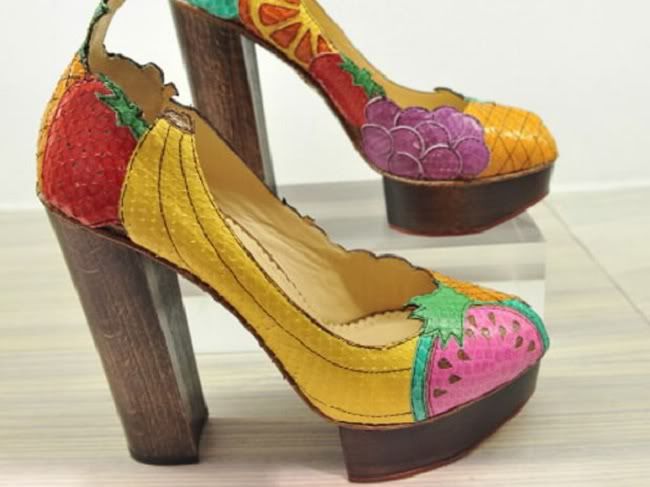 Charlotte Olympia Banana Shoe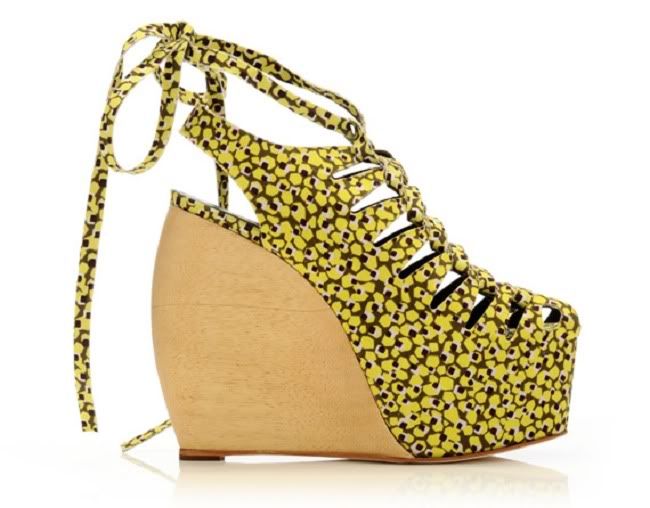 Suno Fruit Print Wedges
This is a fun and easy trend to try this summer, just because it's everywhere. You can ease into it by starting off with some accessories:
these cute apple sunglasses
, $21, are full on
Lolita
chic and perfect for a flirty first date; you can also go the
Josephine Baker route
in
this banana necklace
, $20.
Cherries
,
apples
, and
oranges
can also all make their way into your jewelry box for under $50. To go bold, like Anna Dominique and her yellow apple bag below, try
this fun, pear printed cardigan
from Urban Outfitters, $49 or
this little number
: a royal blue jumpsuit covered in white apples. You'll look good enough to eat... and twice as sweet!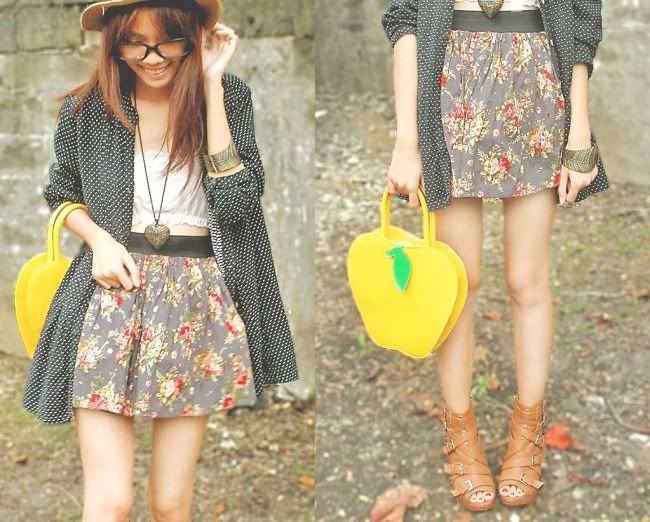 via
lookbook.nu