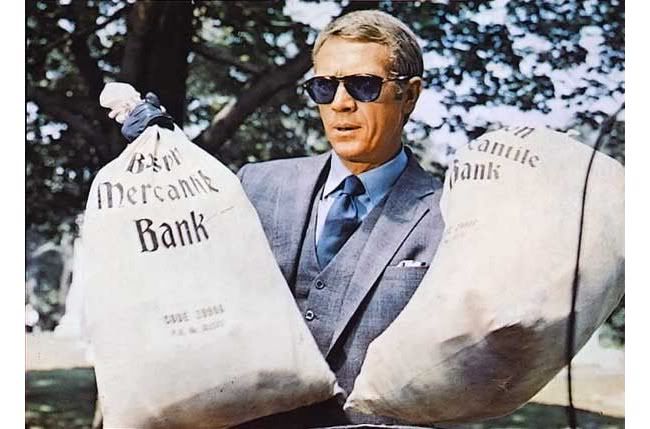 Like Steve McQueen
This will be a short post, due to the fact that I haven't actually seen
The Thomas Crown Affair
and therefore refuse to read most posts online about it, for fear of ruining it for myself. IMDB gave the shortest, sweetest account, with the description of the 1968 version reading as:
'A debonair, adventuresome bank executive believes he has pulled off the perfect multi-million dollar heist, only to match wits with a sexy insurance investigator who will do anything to get her man.'
That sounds nice enough, with a rating of only 6.9 on the IMDB website, but we have to take what looks to be an insanely gorgeous wardrobe into account. (Clearly they didn't!) This costume department gets a 10. Leading man Steve McQueen is resplendent in three-piece suits, killer shades, and incredibly masculine watches, and Faye Dunaway also looks both smart and sexy as an insurance investigator in classic sixties mod style. Her sartorial choices are so
appropriate for this season
it's insane! I've checked out the
nineties remake starring Pierce Brosnan and Rene Russo
, but it just doesn't look the same.
There really is no one quite like
Steve McQueen
, is there?