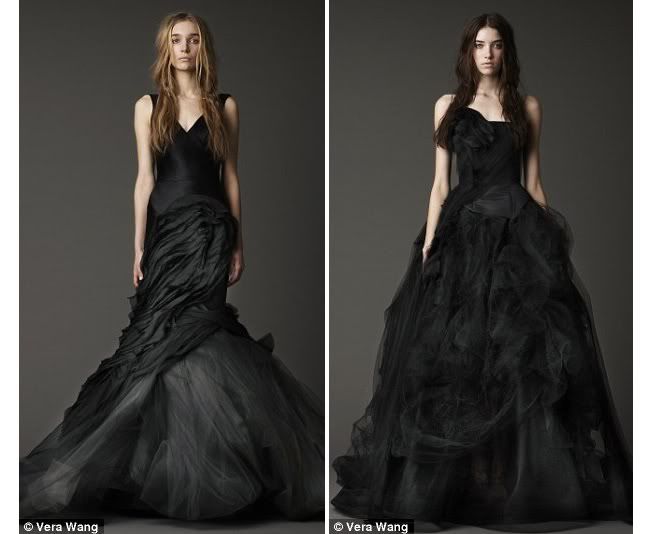 Vera Wang Fall/Winter 2012
Wedding dress extraordinaire Vera Wang broke tradition at New York's Bridal Fashion Week this month, when she sent out a collection of gown after gown in black. The gothic line featured models with pale make-up and tousled hair in a dark and unexpected palette of black and nude; both voluminous as well as body-conscious silhouettes were shown in traditional fabrics like organza, tulle and chiffon. Though
colorful gowns are nothing new
, white has been tradition for the past hundred years, which is commonly credited to Queen Victoria of England.
Victoria's choice to wear a white wedding dress at her wedding to Prince Albert in 1840 launched a trend due to the fact that white gowns were immediately seen as a status symbol: because of the limitations of laundering techniques, wearing white provided an opportunity to show the world that the bride's family was wealthy enough to choose an elaborate dress that could be ruined by any sort of spill. Brides before Victoria did not typically wear white, and, in fact,
often
wore black, so Vera Wang's collection is both novel and a nod to the past.
The dresses themselves are lovely and traditional, with the attention paid to design and detail that Wang is known for, and it states on her website that all dresses shown will be available in white for purchase in-store. But I would
totally
wear black lace to my own wedding. I mean, these aren't meant to be wedding dresses, but
gah
...
whimper
...
oh, my
.