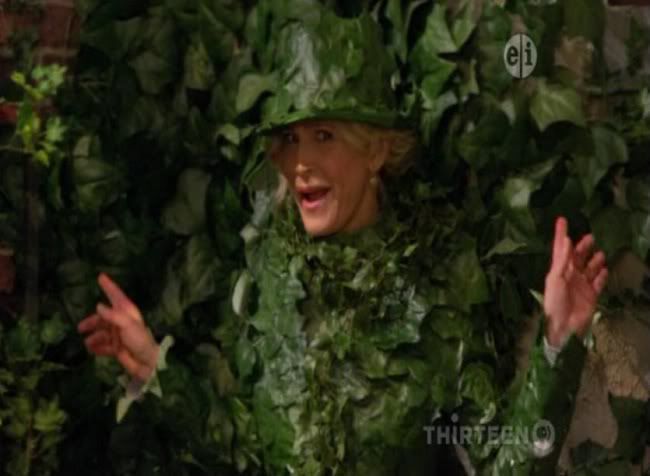 Camouflage
:
A method of crypsis (hiding). It allows an otherwise visible organism or object to remain unnoticed, by blending with its environment.
While watching
Sesame Street
the other day with my charge (don't you just love that phrase for a babysitter/nanny- my 'charge?'), I noticed Kyra Sedgwick playing 'Camouflage Carla' on the first episode of the most recent season. Carla surprises the Sesame Street gang at various spots in their neighborhood, and explains the concept of blending into ones surroundings with her interesting outfits. Although this type of subterfuge seems like a bit of a sophisticated idea for the long-running show's age demographic to grasp, the jazzy song sung and danced by Sedgwick is fun and easy to understand; it includes lyrics like, "It's a kind of hide-and-seek, where you won't see me unless I speak."
I instantly adored Camouflage Carla... she's outfitted to the nines! Her tailored ensembles are made up of separates and headgear that laugh in the face of the jungle-inspired Army fatigues we know so well. Instead, she chooses to emulate the various textures of city life to explain the different ways you can conceal yourself. From a funky, brick-printed suit and hat, to a jacket covered in ivy, to a cobblestone cape, Carla looks perfectly put-together yet still unique in her patterns and colors. She also knows the value of a good accent color, matching up the warm red of her brick outfit with a cool gray turtleneck and pairing her cape with splashes of pink and purple. Today's
Thursday Style Icon
's concealment looks so good, she's bound to stand out.
To view the video, click
here
.