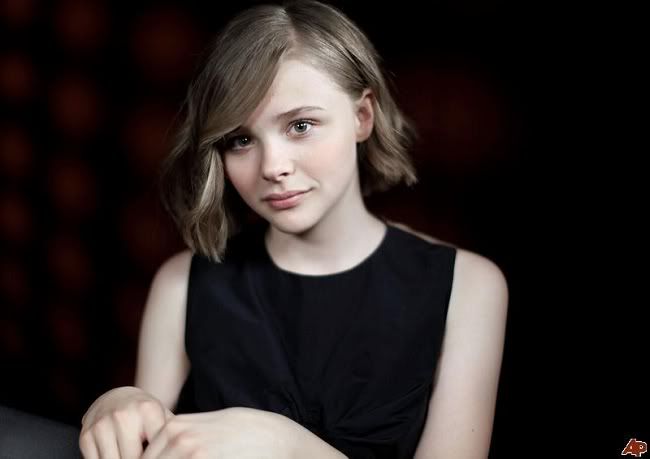 Did you all think I had forgotten about
this post
? Ha! Got ya. Making good on my promise, this week's
Thursday Style Icon
is probably the most popular child actress out right now, 14-year-old Chloe Moretz. While Dakota Fanning, former child star
du jour
was sparkling as a vampire in
Twilight
, Moretz was a quiet killer in
Let Me In
and, well, kicking ass in
Kick-Ass
. This is not your average teenager.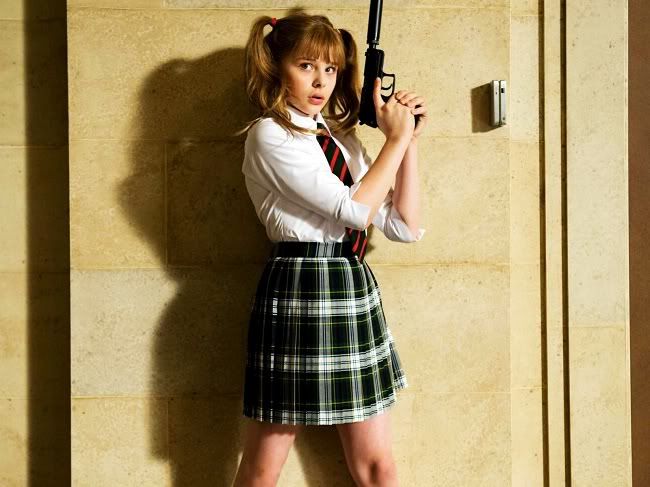 As gun-wielding assain Hit Girl
Moretz appeared in over 20 films before she burst into pop culture consciousness as the smart-mouthed little sister of JGL in
(500) Days of Summer
. A string of similarly mature roles followed, including an intelligent newspaper editor in
Diary of a Wimpy Kid
, and the aforementioned Hit Girl and vampire, Abby.
Hit Girl was an espeically bold choice, as it required her to talk tough ("Okay, you cunts. Let's see what you can do now.") and kill a LOT of people, but she pulled it off due to the innoncence she still managed to bring to the role ("Getting shot hurt a lot more than when you did it, Daddy") and her very own personal brand of charisma. That same sense of smart fun is apparent in her style choices, which pretty much run high-end yet never seem buttoned up or stuffy.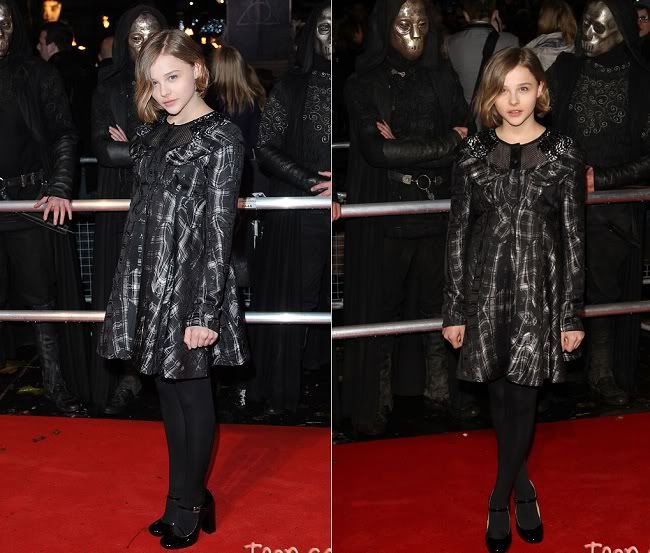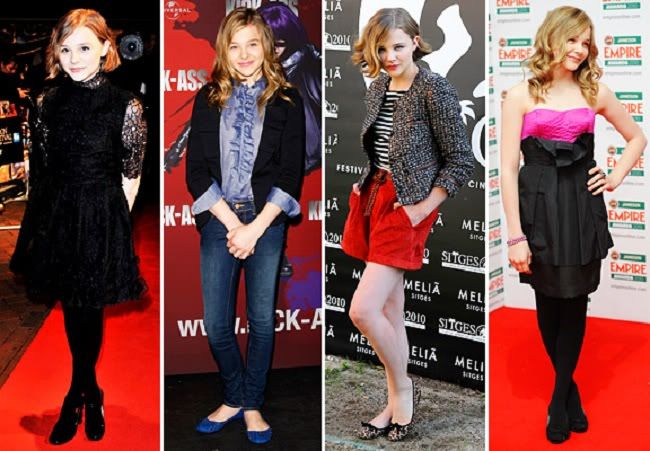 She often appears and tights and flat shoes or Mary Janes on the red carpet, along with frocks that usually have long-sleeves, loose shapes, and interesting details like pops of color or unexpected prints. So a
Stella McCartney dress
that could be worn by an actress twice her age still looks appropriate on her, when worn with the right accessories.
This is a cute little kid. And she has a pretty cute sense of style, too; she has a definite quirk about her, and there's a knack for taking high-end pieces and making them age appropriate that I'm not seeing many other young starlets pull off as well as her. (12-year-old
Elle Fanning's style
comes to mind here... she NEVER looks like an ordinary pre-teen and honestly usually looks older than Dakota!)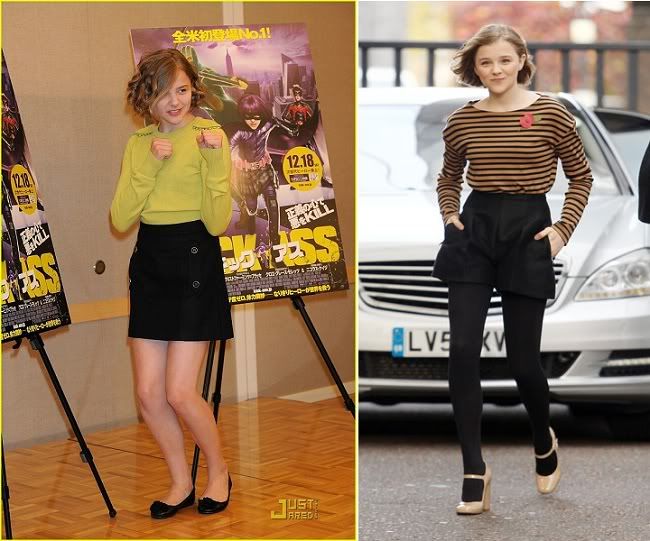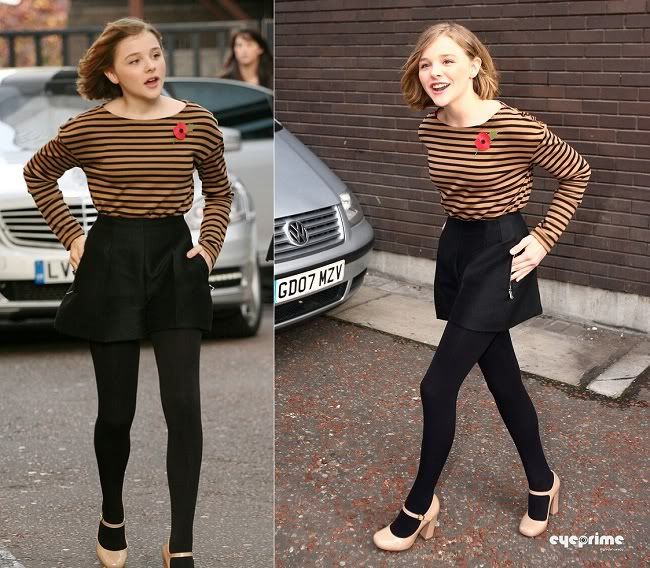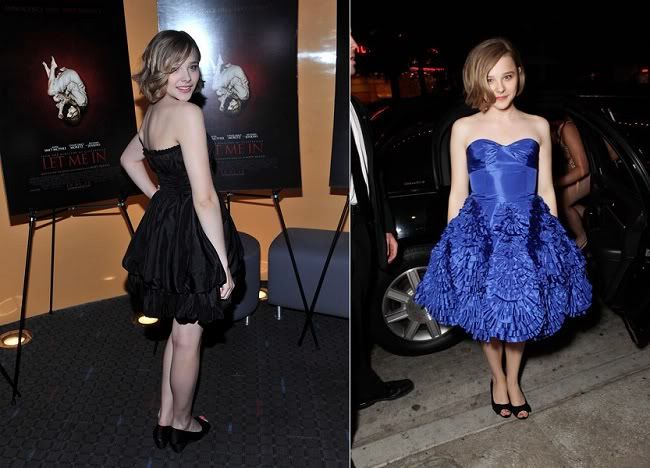 Much has been made of Moretz's spreads in magazines, especially shoots done with
Interview
and the cover and spread of art magazine
Wonderland
(which is on stands now). While the images are far from racy, some feel she's too young to be on fashion covers or in spreads wearing designer couture... and to that I say, she's 14! There are models her age on runways right now wearing way less.
Plus, she's a pretty successful actress, with over 20 movies under her belt and three more coming out this year, including the Martin Scorsese vehicle
Hugo Cabret
. The images are a reflection of the mature characters she's played in her films thus far, I think, and I am much more comfortable seeing Moretz in pictures that were clearly shot for artistic value than, say,
Selena Gomez in a getup that should really be on a 30-year-old
. Just saying.