Jessica Quirk
Tomato red, and especially, tomato red pants, have been trending for a while now, but I refused to blog about it because of the colored denim trend of a few years ago. Living in New York City, I saw couples wearing matching, fire-engine red jeans and head-to-toe purple ensembles (and
these yellow pants
worn by Rihanna remain a recurring nightmare), and at that time I swore no jeans would ever touch these legs that weren't blue or black.
But when I saw
this post
by Jessica Quirk, of
What I Wore
, my jaw dropped. Red, wide-legged trousers that fit like a dream? That she MADE? I was onboard. Hence this post! Numerous designers sent tomato red down the runways for Spring 2011, in all incarnations: from the
bright lips at Gucci
to the creamy chiffon dresses at Giles to the no-nonsense stylings of
Paul Smith
(definitely a new favorite brand), there's more ways to wear red this season than any other color.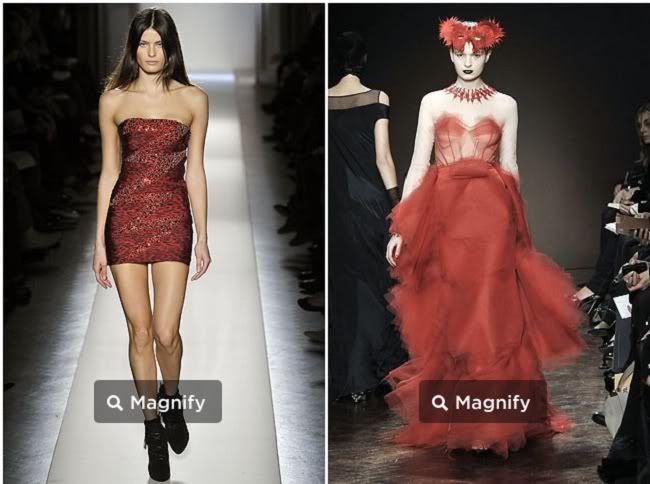 Left,
Balmain
, right,
Giles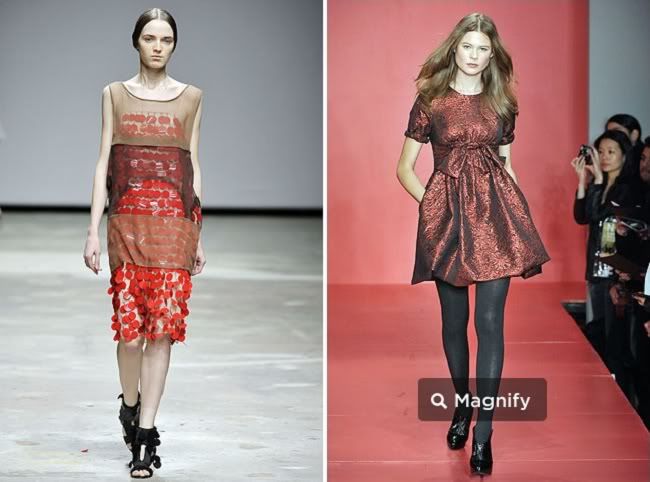 left,
Christopher Kane
, right,
DKNY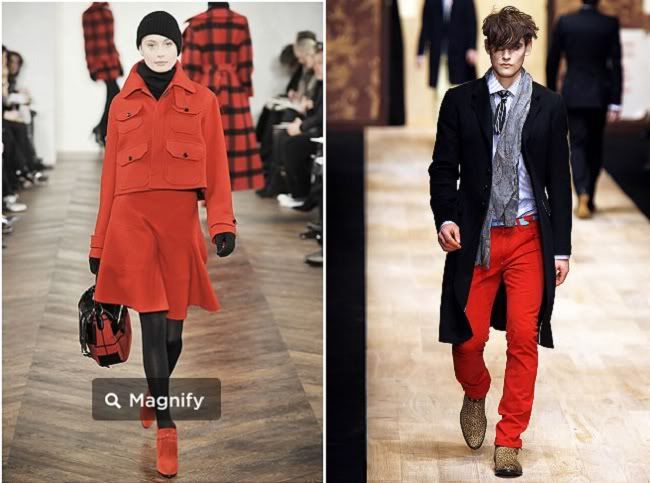 left,
Ralph Lauren
, right,
Paul Smith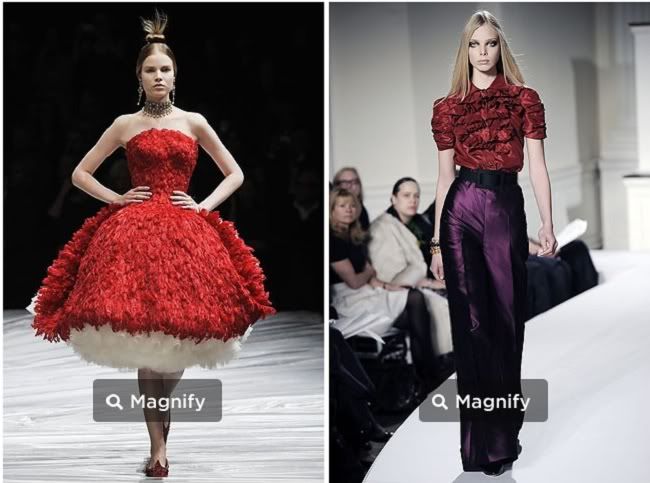 left,
Alexander McQueen
, right,
Oscar de la Renta
The easiest way to wear a bold color like this, paradoxically enough, is to treat it like a neutral: replace your traditional white shirt or trousers for work with a ruffled red blouse or wide-legged pair of red slacks like Jessica's, for example. You can also never go wrong with a bright red coat, as the pop of color stands out in a crowd and can pull an entire look together. Just avoid it if you're wearing a clashing color on the bottom, like yellow; instead hop on the color blocking trend and pair it with tangerine, emerald, or rich violet tones.
If accessories are more your cup of tea, one standout piece in scarlet is enough to perk up an outfit. To dress up your tomato red for night, don't be afraid to pile on extras: look for bedazzled tops and bottoms or entire dresses covered in crystals, glistening metallics or smooth, glossy finishes. But if you do decide to wear a fun, funky red at night, ditch fussy or over the top accessories-the color alone has more than enough wow factor.
Red is EVERYWHERE, so it shouldn't be hard to find something in your price point or taste level if you want to try out this trend. For a simple yet bright crewneck top (perfect for layering!), you can't beat
this shirt
from Urban Outfitters, $5. Urban actually has tons of red at very affordable prices, so I'd suggest you type 'red' into their search box and see what you get. I personally fell in love with these items:
Converse Clocked Watch
, $40
Cooperative Long Knit Dress
, $39
Natural Straw Fedora
, $29
Sparkle & Fade Stretch Seamed Bodycon Dress
, $20
Kimchi Blue Saddle Emblem Crossbody Bag
, $20
Cayenne Posey Print Lace-Up
, $20
Sparkle & Fade One-Shoulder Ruffle Romper
, $18
Francesca Slip-On Sneaker
, $16
Sparkle & Fade Chiffon Pleated Bodice Strapless Dress
, $15
BDG Twill Grazer Cigarette Pant
, $15
Anna Sui Enamel Nail Polish (Red)
, $15
Striped Aviator Glasses
, $10
Red Eyeliner Pencil
, $6
Images via
Vogue