(Kate Middleton favorite)
Issa Fall/Winter 2010/2011
With the snowstorms blowing through the Midwest and the light dusting of snow across New York recently, there couldn't be a better trend than that of quilting. Seeing as how winter is kind of cold and the warmer garments you wear, the better, quilting is great for making clothes because it provides warmth to the wearer. The quilted jackets, coats, and skirts sent down the runway last February have no better place than on the backs of girls trudging through the holidays right now.
No longer reserved for Chanel handbags and down-filled puffer jackets, the way things are getting switched up this season is by patterning any and all garments in the design. It seems like an odd thing to put on clothes, but it can be worn on absolutely anything; the key to wearing items with dimension is to make sure you don't also pair them with too much design. The 3-D effect of the pattern is overwhelming enough on it's own. Keep the rest simple.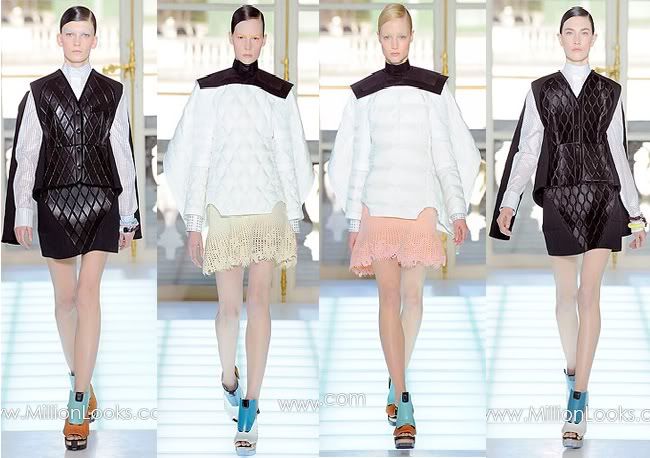 Balenciaga Fall/Winter 2010/2011
Isaac Mizrahi Fall/Winter 2010/2011
Urban Outfitters
Quilted Varsity Jacket
, $68, is a casual way to approach the trend. For a more formal version, try Forever 21's
Quilted Strapless Dress
, $28, or Asos'
Vila Quilt Panel Padded Coat
, $75. The coat is far from your typical puffer, with a swingy A-line shape, oversized collar, and quilted center panel. Plus it's currently 30% over at Asos! The Forever 21 dress is almost a dead ringer for the waaay more expensive Isaac Mizrahi version, and would be a nice (and warm!) alternative to a typical little black dress this holiday season.
Images via Million Looks.com