From left: Richard Chai Love, Richard Chai Love, 3.1 Phillip Lim, Zac Posen
Skinny jeans who? With major designers and fashion bloggers onboard the crazy proportion train, it's official: wide-legged jeans and trousers are back. Loose-fitting, super comfortable, and oversized slacks are THE pants of the autumn season. On trend at everything from glamourous holiday parties to corporate boardroom meetings, they are also quite versatile when it comes to styling: wear them with cool button-ups, structured blazers, sophisticated blouses and even tucked-in tees. Wide-legged pants are known for their billowing legs, but they can also come in two rises, high and low.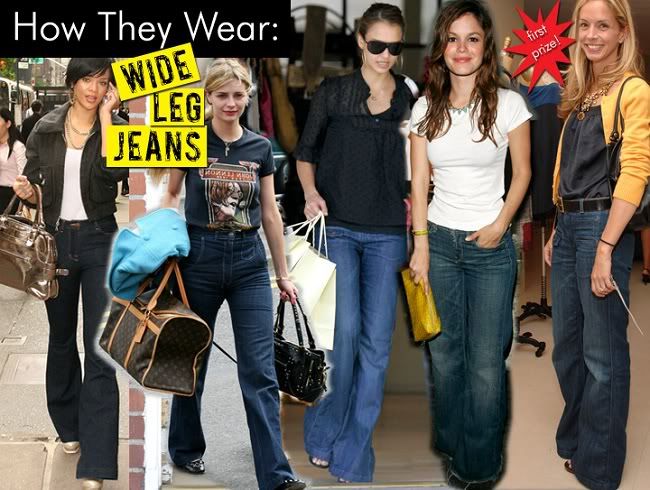 Photo credit:
Who What Wear
High-waisted, wide-legged pants, especially jeans, are the height of bohemian chic. The higher rise immediately slims the waist and elongates the legs, especially when belted. To avoid veering into Mom jean territory,
like Anne Hathaway
, keep your look streamlined: use minimal jewelry, tuck in your shirt (or try a cropped/fitted version) and wear a shorter length jacket or cardigan.
Lower rise, ballooning pants in a more giving material than denim are the epitome of cool. These are the bottoms that you can pair with anything, depending one what kind of look you're going for. Black cotton trousers, sky-high heels, and a starched-white-shirt-and-blazer combination are the modern answer to the power suit. Flowy, flowery jersey and thick v-neck sweaters are 90's personified, and metallic pants with
anything
evoke
The Rise and Fall of Ziggy Stardust and the Spiders From Mars
.
David Bowie-inspired
Bellini Soiree
Nirvana-esque
Fashion Sqaud
Wide-legged pants are effortlessly fun and the ideal staple for any fall wardrobe this season. Forever 21 has a
wide-legged, pinstriped pair
for $23 that are super adorable, and for a REALLY disco feel, the extreme
Check Mate Woven Jumpsuit
- on sale for a whopping $8.