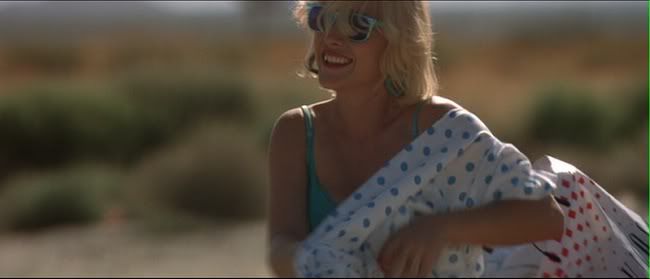 '
Im not a whore. Im a call-girl. There's a difference, you know?
' ~ Alabama Worley
1993's cult classic
True Romance
features a 25-year-old Patricia Arquette as Alabama Worley, a prostitute head over heels in love with a store clerk and embroiled in a drug fued involving her pimp, dirty cops, and a bag full of stolen cocaine.
Alabama and her husband, Clarence, meet, fall in love, and marry over the course of one evening. When he goes to free her from her pimp, a series of unfortunate events lead to their fleeing from Detroit with the aforementioned drugs and setting out for California to make a better life. Alabama, who had been a call girl all of three days before meeting Clarence, is sweet, bright, and spunky- ideals that are all reflected in her colorful and quirky wardrobe.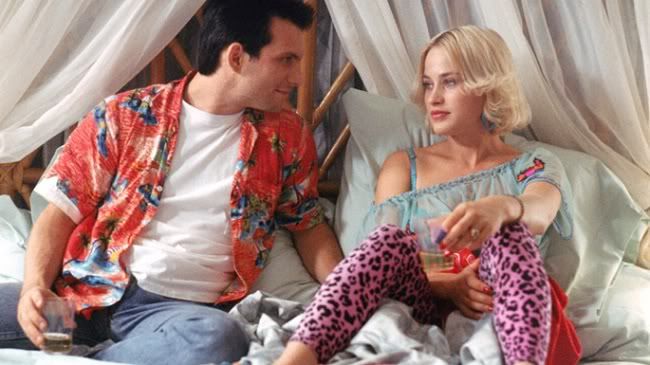 As they drive cross-country, Alabama wears many different outfits, and a lot of her style choices are borderline tacky. But it's tacky in a delightfully gauche way; she mixes patterns, prints, and bold colors because it matches her bubbly personality. She dresses the way that she wants to dress, so what would look like hooker chic on anybody else looks fun and spirited on her. Kind of like when Lady Gaga douses herself in fake blood and walks around on crutches.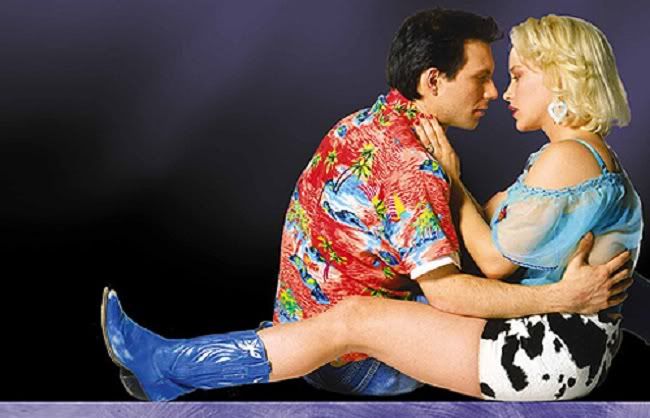 She also tones down her color choices by using them monochromatically. A head to toe electric blue get-up, for example, is only broken up by a cow print skirt- even her undergarments, sunglasses, and cowboy boots are blue. The black, white, and blue combination works because, while there is a bright color and a pattern, the blue is used as more of a nuetral to go with the out there print. They compliment each other instead of competing for attention.
The thing I liked most about the costumes of this movie are that there is some spark, some
something
, about Alabama. She's likeable, clearly a nice Southern girl caught up in a bad situation, and the wardbrobe choices exemplify that perfectly. In another life, Alabama would have been dressed in hot pink skirtsuits with big, Kentucky Derby hats- but the hand she was dealt left her with a leopard print coat and dirty Chucks. Which still works for her.
More pics: