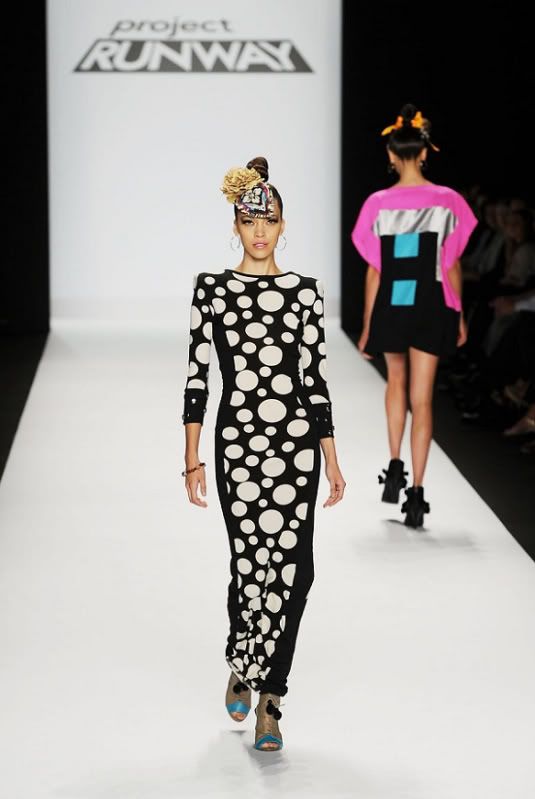 Project Runway Season 8 Finale
Project Runway
Season 8 runner-up Mondo Guerra caused a stir on the season finale when he had the final four judges split clean down the middle. Heidi Klum and Jessica Simpson were gaga for Guerra's fun, colorful clothes, while Nina Garcia and Michael Kors were in love with other contestant Gretchen Jones' earthy, hippie aesthetic. They claimed Jones was where fashion is at now, crowning her the winner, and Kors even challenged Heidi to wear one of Guerra's designs, a bubble-printed evening gown, on the red carpet.
Well, Heidi accepted the challenge. She appeared at the premiere of upcoming film
Black Swan
in a modified version of his finale dress. In typical Klum fashion, she chopped off the sleeves- it's just not a red carpet look for her if she doesn't have any skin showing. But there was an awful lot of fabric in the original design, so she actually improved on it, in my opinion.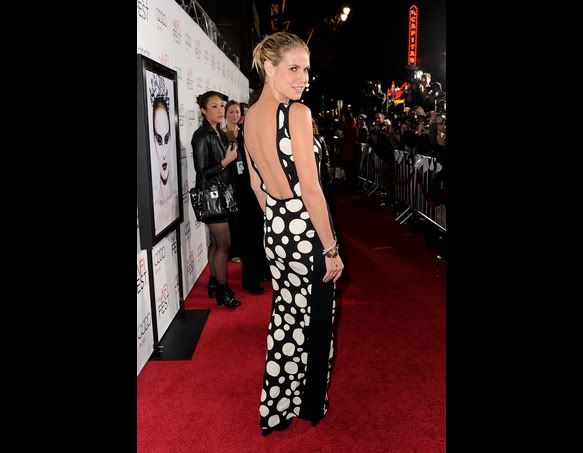 She looks amazing. This dress is whimsical and interesting, and stands out from every other long black gown on the red carpet. The judges made a mistake when they didn't pick Guerra as this seasons winner; while Jones may be making clothes women want to wear now (because it is undeniable that her
seventies hippie aesthetic
is in), fashion is always about the NEXT big thing. Mondo Guerra's mod and extravagant designs are definitely the future.