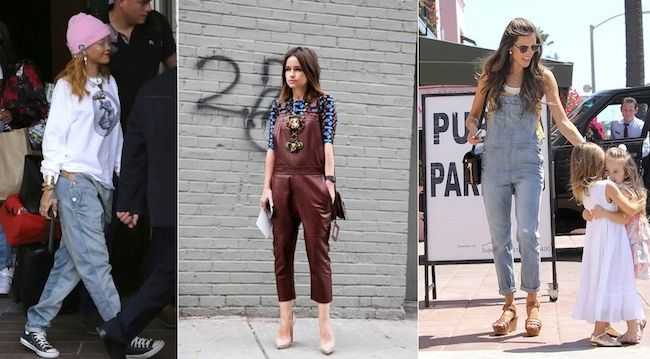 Rihanna in Topshop, Miroslava Duma in Acne, Alessandria Ambrosio in Topshop
I'll just come right out and say it: overalls are back. A natural evolution from the one-piece jumpers that have been hot for at least the last five seasons, this trend has been quietly gathering steam for months. It has erupted into a full force trend as everyone, and I mean EVERYONE, suddenly hopped on board: Rihanna has been spotted in the same washed out Topshop pair that is a favorite of model Alessandra Ambrosio; fashion maverick Miroslava Duma has worn both a
casual, denim pair for hanging out with friends
as well as a luxurious leather oxblood pair by ACNE, and
Alexa Chung has been seen on no less than four occasions in different pairs of dungarees
: a dark denim, bell bottomed pair, an oversized pair of overall shorts, a 70's inspired royal blue jean set with a sunny yellow blouse.
The designers also sent many pairs down the runways: showcasing the versatility of this trend, Jean Paul Gaultier's over-the-top croc pair was on the opposite end of the spectrum from Ralph Lauren's All-American denim (inspired, in his own words, by "...by the character of the worker, the farmer, the cowboy, the pioneer women of the prairies living authentically through challenging times... the honesty of their work-wear..."). And Philip Lim, the leader of the new cool on this trend, set fashion tongues a-wagging with with the modern, streamlined leather constructions of his Resort 2013 collection.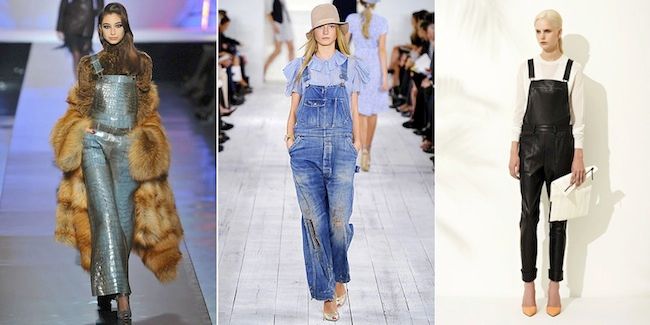 Jean Paul Gaultier, Ralph Lauren, Philip Lim Resort
This is an item that you can easily dress up or down. Pair a baggy jean pair with a simple t-shirt and sneakers for a cool, laidback look, while a streamlined leather or printed pair can be jazzed up with high heels, an interesting blouse, or a leather jacket. There are a nice variety of jumpers over at Nasty Gal: try the striped
Fast Track Overalls
, $78, for a night out on the town, or the fun, flirty
Sweet Sunday Overalls
, $62, for running errands. Last but not least, the one of a kind
So Demanding Overalls
, $68, with their quilted shorts and chain link straps, are sure to stand out from a crowd.