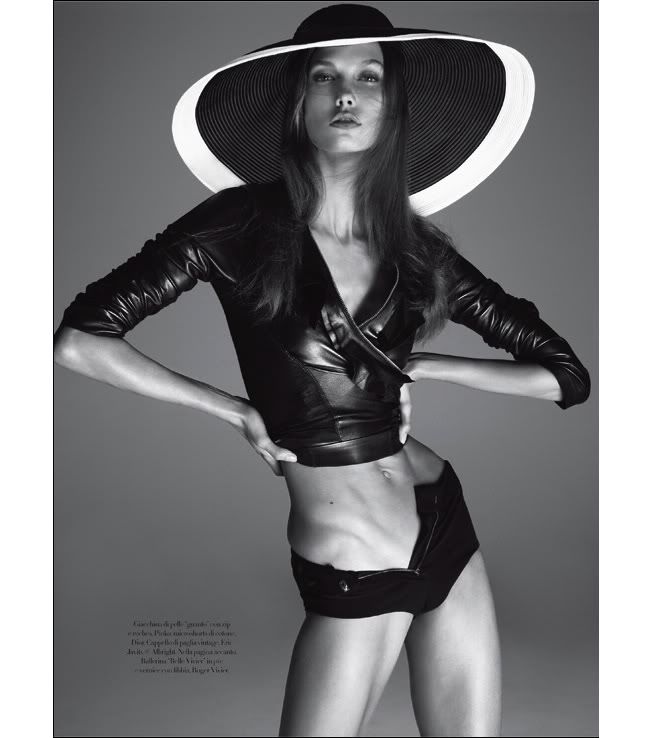 The Pic Seen Round The World
The above picture was recently pulled off the
Vogue Italia
website, after the magazine discovered the black-and-white image was circulating around the Internet as 'thinspiration' for girls who were pro-anorexia. It features 19-year-old supermodel and 'It-Girl' Karlie Kloss, and is one of many photos for an 18-page spread shot by Steven Meisel as this
month's cover story
(which, ironically, is called '
Extra Strength: Body by Kloss
' based on Kloss' large size for a high-fashion model). Although Kloss has been touted as the second coming of 'The Body,' the nickname originally bestowed upon athletic model
Elle MacPherson
, the image was slammed for Kloss' jutting hipbones and tiny waistline; the teenager's famous figure includes a 23-inch-waist, which seems disproportionately small for her 5-foot, 11-inch frame. Kloss, however, has
defended her size as being a result of years of sports and ballet
, and, if you ask me, other images in the
Vogue
spread indicate that this is accurate:
her muscular thighs
and
hard abs
, for one, certainly don't look like she got them just from stomping up and down a runway. I mean,
look at Kate Moss
.
Franca Sozzani, editor-in-chief of the magazine, is firmly anti-pro-anorexia sites, and has launched a petition against them on
her blog
, writing, "
Vogue Italia
, the magazine par excellence that deals with and promotes aesthetics and beauty, has decided to make use of its authority and its readers on the web (over one million of contacts per month), to battle against anorexia and collect signatures with the final goal of shutting such sites down."
Another critic, Lynn S. Grefe, MA, who is the President and CEO of the National Eating Disorders Association, stated: "I think it's great that [Vogue Italia] pulled it... I'm sorry they put it up there in the first place, but good for them for pulling it."
While it is commendable that
Vogue Italia
chose to remove a photograph they considered harmful for sending a bad message, I do think it's interesting that the brouhaha was made about Kloss' size and not her age, considering the nature of these photographs. Many of them depict the teen fully nude, and at a time when designers like
Marc Jacobs
are catching heat and 10-year-old supermodels look like
this
(and
this
... and
this
), the fact that Kloss isn't even 20 yet and the fashion world has already seen her nipples is a bit telling.
But, hey, what do I know?
To view the entire spread, click
here
. To read the full article, click
here
.