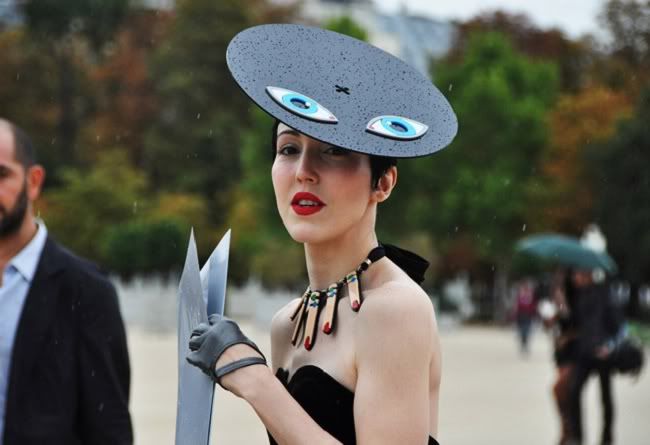 '
My fashion must-haves: Great sunglasses and amazing hats.'
~ Michelle Harper
I may lose my fashion blogger card for this (one of many times I've said this on the blog), but I'm not a fan of fashion just for fashion's sake. Fashion to express yourself, sure, fashion as a creative outlet, okay, fashion as your body armour, fashion as simply your personal presentation to the world...
check, check, check
. But fashion that seems to serve NO PURPOSE at all except to be 'fashionable' or 'different' baffles me: as in,
Nicki Minaj
and
Daphne Guinness
.
WTF
?
Enter Michelle Harper.
Michelle Harper is an amazingly stylish and delightfully avant-garde Colombian philanthropist and business woman, living and dressing in New York City. Currently serving on the board of directors for Fashion Institute of Technology (FIT)'s Couture Council, Tata Harper Beauty and Casita Maria, Michelle is a prominent and renowned fixture on the New York fashion and art scene. Her quirky sense of style includes butterfly sunglasses, eyeball-patterned hats, and rabbit-eared masks, but she has a way of pulling off out-of-this world looks with an ease and simplicity that makes it look completely normal; I wondered why it never occured to me to pair black lips with a cream-colored ballgown for my next formal event?
Harper burst into fashion consciousness in 2009 when she attended the MOMA Film Benefit: A Tribute To Tim Burton in a
shimmery silver Zac Posen dress
combined with her trademark bowl cut and red lips. Since then, she's become easily recognizable at gallery openings, fashion shows, and insider events in go-to designers Victor de Souza, Alexander McQueen and Yves Saint Laurent. Michelle's uncommon and bright style is also unusually colorful in a field where black has remained the reigning shade of choice. She also loves accessories, demonstrating her passion for unique millinery and wearing one-of-a-kind pieces by Piers Atkinson, Yazbukey, and Rod Keenan. Harper's finished looks are intricate, polished, and strangely sweet with their fun little touches, like a young girl all grown up... and possibly on acid. Iconic, indeed.
To read Michelle's blog, click
here
.