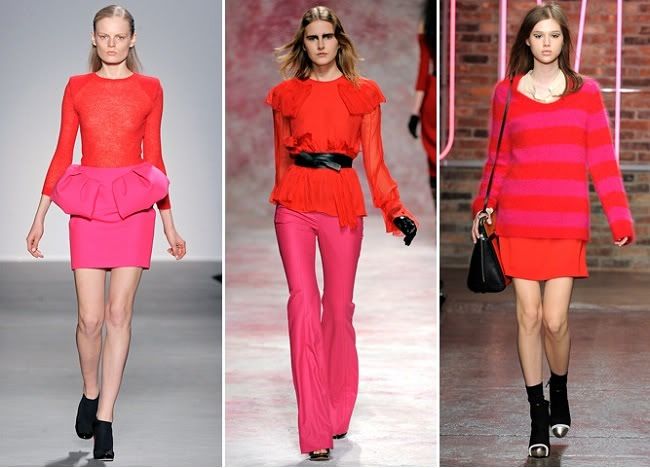 Giambatista Valli, Prabal Gurung, DKNY
Color blocking blazed all through the summer, and this trend shows no signs of stopping as we head into October and much cooler weather. Instead, designers kicked it up a notch during Fashion Week by honing in on a particular color combination made up of hues that have each been trending in their own right:
pink
and
red
. The
tulip-inspired palette
is fresh and pretty, essentially accomplishing the same feat as a sunny floral without an actual floral print. A plethora of designers sent a mix-and-match of berry fusion down their runways for Spring/Summer 2012, but
Prabal Gurung
's Fall 2011 version, a brightly colored blouse and pair of pants, kicked off the trend by being
snapped up by Sarah Jessica Parker
for her
I Don't Know How She Does She Does It
promotional tour.
The trickle down effect of this trend has been swift, and retail favorite
J. Crew
had a
look similar
to the high-end Prabal Gurung version in their Spring 2012 presentation and accompanying catalogue. Many bloggers have followed suit, like
Little Moon Lover
, who chose to wear a
coral dress with a bubblegum pink belt
, and Jessica, from
What I Wore
. Jessica,
long a fan of tomato red
, has named red with pink (or, as she likes to describe it, "Wine and Roses") her favorite Fall color combination, and opted to pair a red skirt with a sleeveless fuschia button-up in
this post
and a pink, floral dress with a deeper burgundy cardigan in
this post
. Both are really great examples of just how well this duo works, and in a variety of different ways.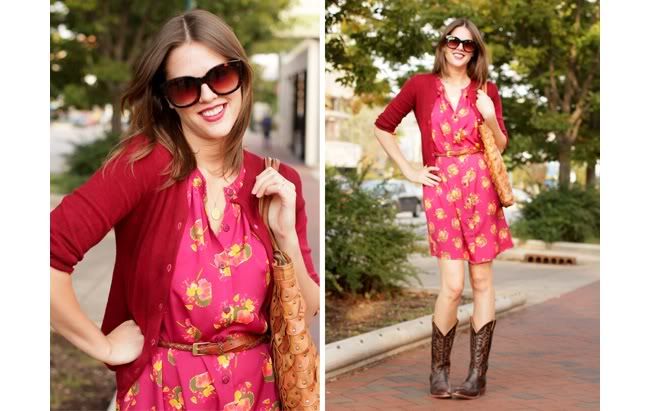 Jessica Quirk
This is a pretty easy concept to create yourself. Pink and red are fairly straightforward colors that you can find just about anywhere and customize to your own taste (but if you're feeling REALLY lazy, just click
here
,
here
,
here
, and, for a really amazing dress,
here
). I'm personally of the persuasion that the brighter and more saturated the colors in an outfit, the better, but that's whatever your prerogative is. As you can see from the many different ways it's been styled above, you can pretty much mix-and-match any pink and red shade to your hearts desire and you won't have to worry about if they compliment each other. The biggest issue when wearing this trend really comes with styling: for some odd reason, most of the designers seemed to send out their outfits with black or other darker toned accessories.
The idea seemed to be that dark shoes, belts, etc, would 'winterize' or add a maturity to the summery colors, but the effect was actually jarring and downright odd on the runways. Honestly, I don't get it; Prabal Gurung's ensemble, for example, went out with a black belt, black sandals, and leather driving gloves, which did nothing but weigh down the look. SJP's take, which lost the belt and gloves and added nude (or maybe white?) pumps, went MUCH better with the cheery nature of the look. I'd advise all of you to stick with nude and warmly toned accessories or bright POPS of color; I'm actually dying to see that DKNY sweater with an emerald green pair of pants.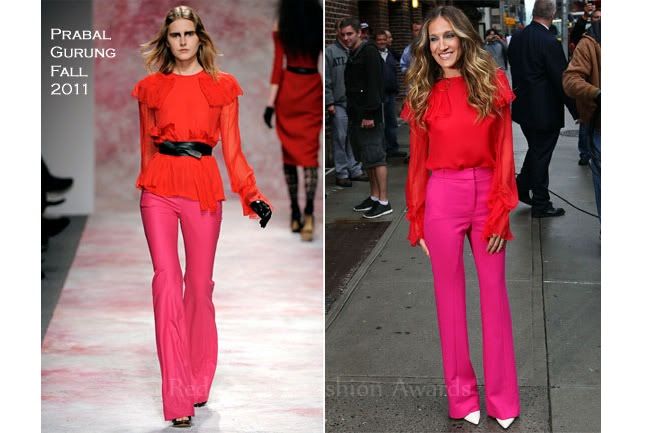 images via
Red Carpet Fashion Awards
,
My Trips To The Moon
,
and
What I Wore