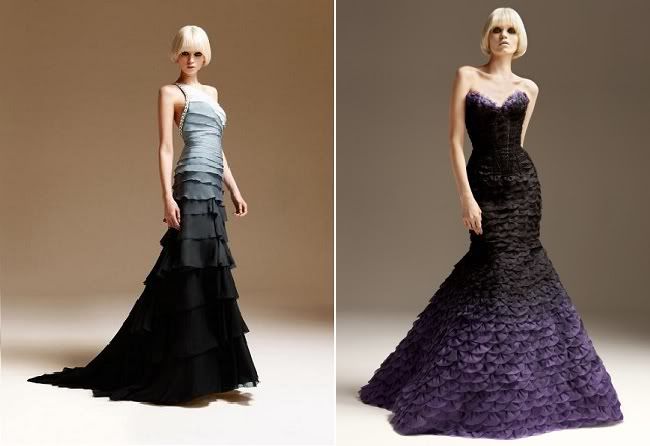 Atelier Versace Spring 2011
Fan Bing Bing in Versace via
Red Carpet Fashion Awards
As you all may remember,
I'm not a fan of the ombre trend. I blogged about it once
because it was just
so big
on the hair scene, but I seem to recall saying it was only "pretty in a kind of imperfect way." I'm having to eat my words now, because I am completely in love with ombre as it pertains to clothes! While I still think it has a tendency to look tacky on hair (overgrown highlights much?), when I spotted ombre garments in action a couple of weeks ago while on the train in downtown New York City, it blew me away.
This guy had just gotten off, and I spotted him through the window; outfitted in black, white, and yellow, like a bumble bee! His tee shirt started off a solid black, then faded into a white midsection and yellow band at the bottom. He had a pair of pale yellow shorts on that were the exact same color of his tee, and a similarly colored pair of Vans sneakers. And although
Altelier Versace
(
and Zoe Saldana in Givenchy
) got the jump on this trend an entire year early with their dip-dye evening gowns in 2010, the casual, ombre shorts and top that
Band of Outsiders
recently sent down the runway is the closest to the current execution of this trend that I've observed.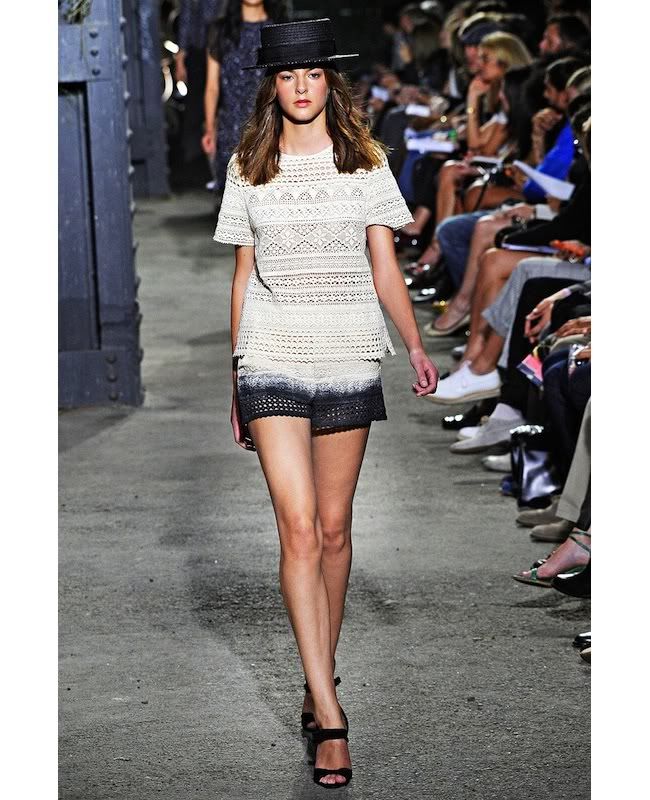 Band Of Outsiders Spring 2012
I honestly think the gradual wash of color on evening gowns and other formal wear is a bit much. It's easiest to fade into something easy, say, a dip-dye chambray shirt like
Jenny
's with similar color jeans on the bottom, or a jacket or top with nuetral solids (white, black) as their base color. But, I have to tell you, more unusual and bright or jewel-toned colors make the most visual impact. I absolutely
adore
the street style look shown below that's been making it's way around the interwebs, with the orange sweater bleeding into the waistband of the melon-colored pants.
Urban Outfitters
really came through for me on this one: I found a perfectly
gorgeous ombre sweater
in a full-bodied wine color for about $40. Wear it with
this
matching pair of
BDG Cigarette Mid-Rise Cord's
or
these $29 Sparkle & Fade Paperbag Shorts
with tights for a casual holiday party (I know I'm looking ahead, but the color is SO PERFECT). Urban also offers a
pair of ombre jeans
with a four-and-a-half star reviewer rating for $58, to go the simple route. Fading from dark to light, you can wear
these jeans
with just about anything and be on trend this season.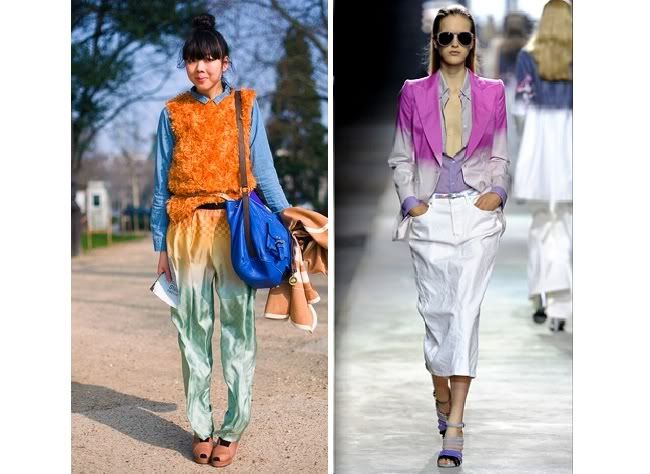 Street Style, Dries Van Noten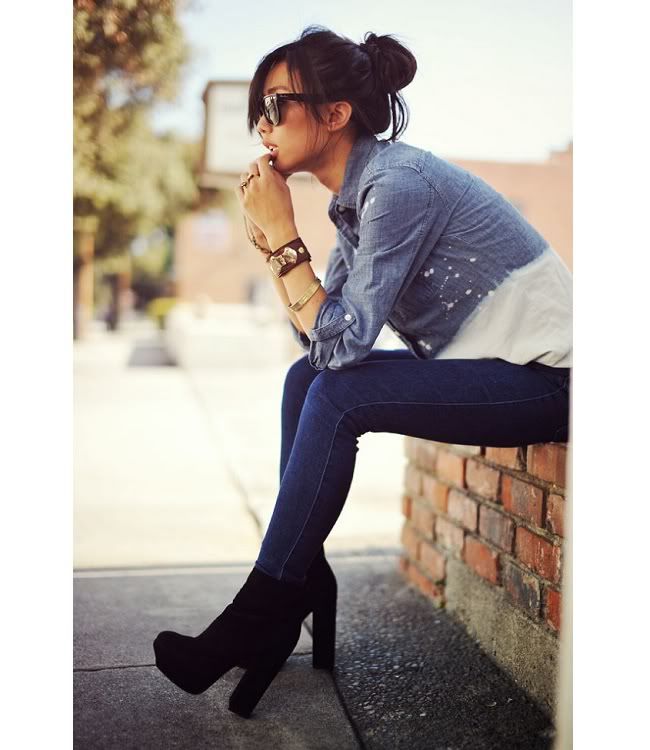 jenny from the block