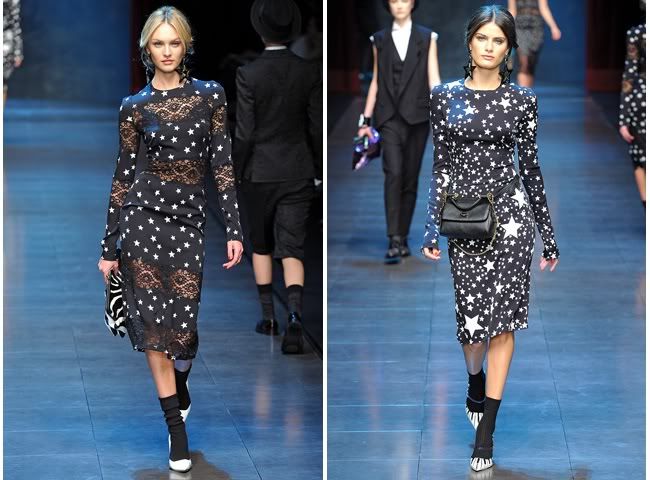 Dolce and Gabbana
took a risk with their
Fall 2011 Ready to Wear Collection
, when they looked to David Bowie and Janelle Monae for inspiration and put a bold star pattern on many of their menswear-inspired garments. In various shapes and sizes, the funky print was all over pants, jackets, and entire dresses. Some big, some small, all in the same muted color palette, they could have been tacky, but the designers avoided garishness by utilizing different fabrics and unique placement... So stars cascaded down the lapels of blazers in a de-escalating pattern and were scattered all over fur jackets; they billowed out over chiffon dresses and were haphazardly placed on simple dresses and skirts.
There were some so teeny you could barely tell they were stars, and others so big only three or four managed to crowd onto a garment.
Reviews were less than favorable
, but celebrities have jumped headfirst into this trend, surprising many who doubted the line. We are literally 'seeing stars' in Dolce and Gabbana. Asian actress
Wei Tang
was the first to be seen in the print, during the Cannes Film Festival last May, and since then, dozens of others have been spotted with the pattern in various incarnations:
True Blood
star
Evan Rachel Wood
wore her star-print leggings with a rocker tee and leather jacket, while
Rosario Dawson
opted for a minidress with full sleeves.
Kim Kardashian
,
Olivia Wilde
, and
Jessica Alba
have also been seen in the funky print in various incarnations.
You probably won't be able to afford the real thing, with
dresses running $2,000+
and
simple leggings a cool $579
(but if you can buy them, more power to you); however, there are a ton of different options out there to incorporate stars into your wardrobe. I'd stick to D&G's formula of various sizes, shapes, and materials, to keep the print fresh. If you want more uniform looking stars, keep them either small, so the pattern doesn't overwhelm you, or huge, so you can only get a few onto your garment and it's clearly for dramatic effect. I'd also keep the look as monochromatic as possible, because colorful stars all over your clothes scream Fourth of July... or fourth grade.
The energetic print can literally work on anything, from laidback tanks like
this one
, $15, to the near replicas of the dressy D&G versions, like
this $60 dress
.
This dress
, $40,
this blouse
, $45, and
this adorable romper
, $55, also all fit the bill. Star print is also a fairly vintage look, having been popular in the 80s and 90s, so you'll also probably have luck looking at vintage garments:
this
$40 dress (circa 1990) looks like it could have been a definite inspiration for the D&G line. If you still aren't sure about star-spangles across your body, start off simple with an accessory like
this
fun and funky star necklace, $25.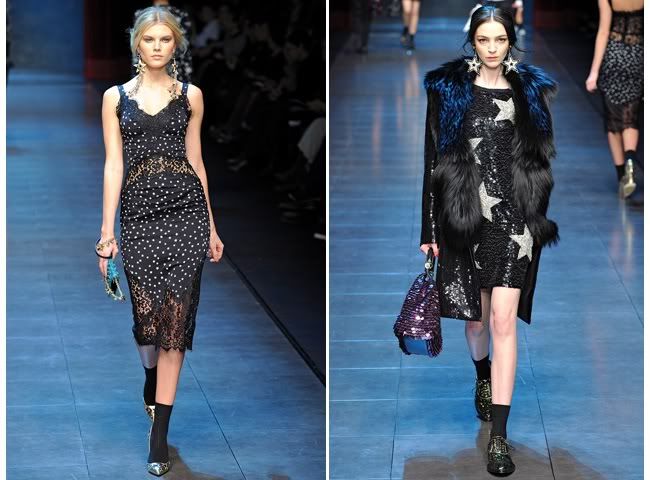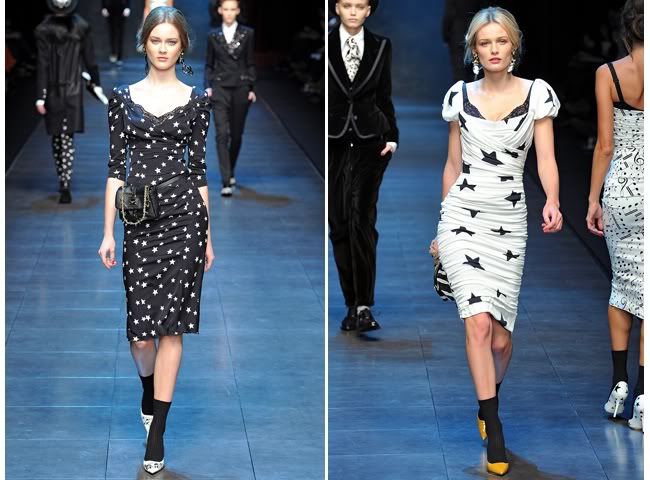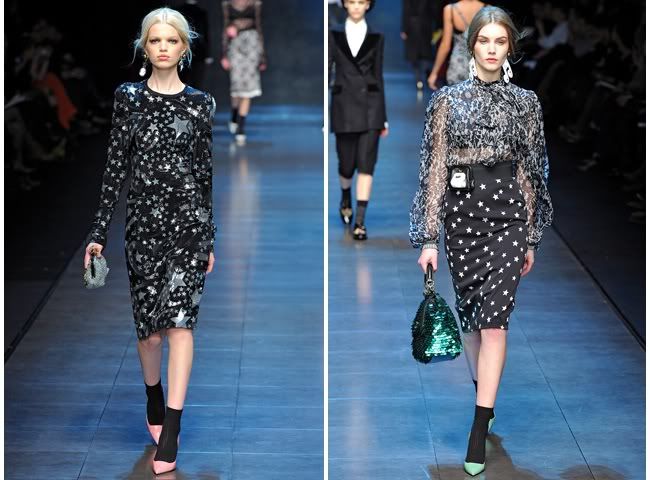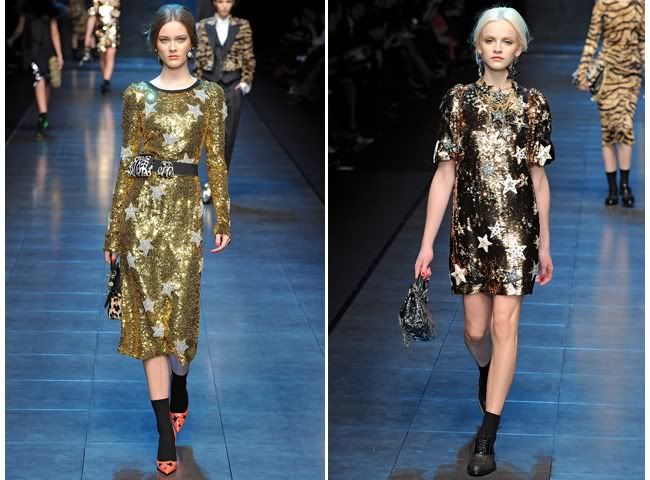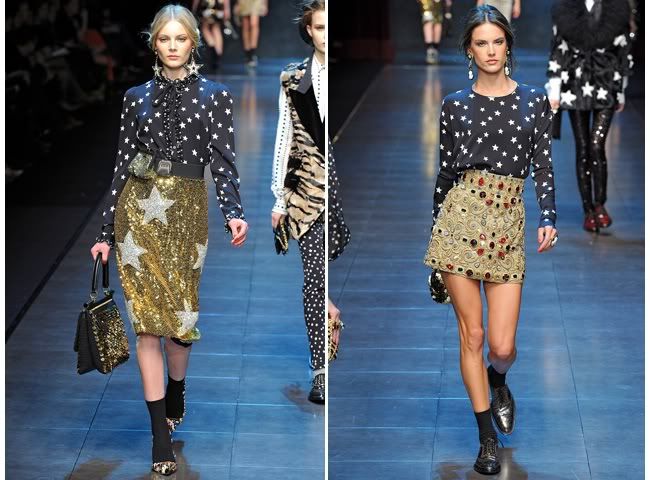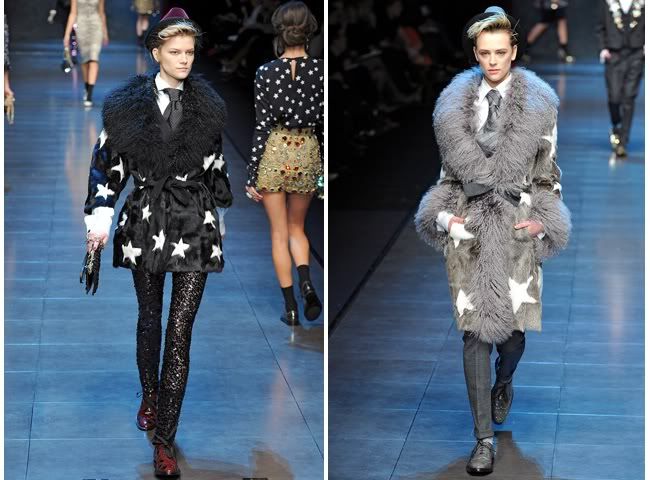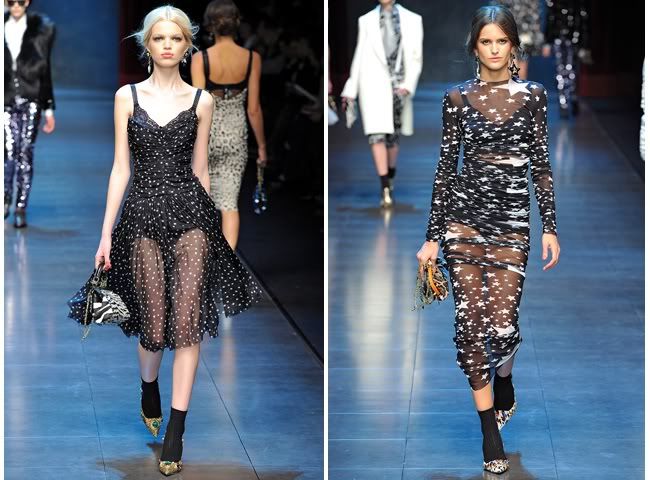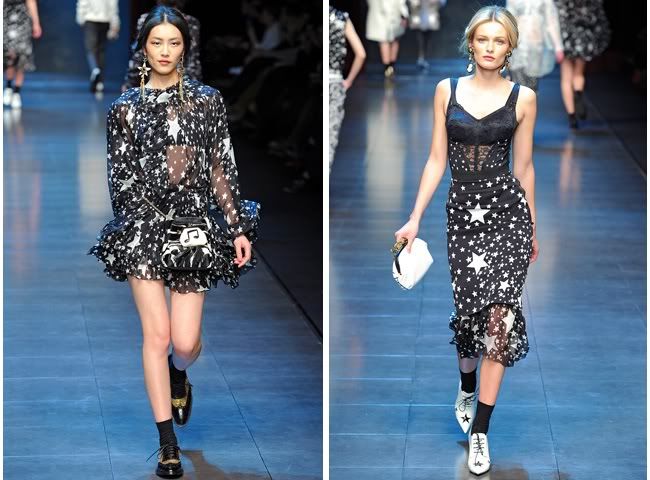 Images via
Red Carpet Fashion Awards
and
style.com