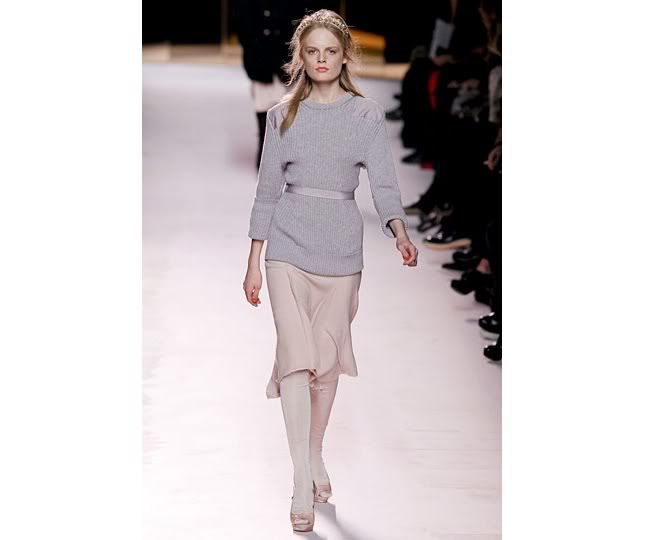 Nina Ricci Fall 2011
I'll be honest: slouchy, oversized knits have been present all summer, but they were a trend I more or less refused to comment on. I think summer knits are silly and, quite frankly, one of the most ridiculous things I've ever seen. I don't care how loosely knit or lightweight a sweater is, at the end of the day, it's still a sweater. Meaning it's probably too heavy to be worn in the summer. As August winds down and summer comes to an end, I think it's finally appropriate to feature them on the blog.
Designers like
Nina Ricci
showed slightly loose knits for Fall fashion week last winter, and the bloggers quickly took notice, eagerly incorporating them into their wardrobes. As the spring approached and summer went on, the knits became bigger and bigger, thrown haphazardly over maxidresses and paired with structured walking shorts.
Liz's cream-colored sweater
was perfect paired with red shorts at the beach, while Blair, over at the fantabulous
Atlantic-Pacific
blog,
wore a layered, lemony-yellow confection
with boat shoes in the park for a perfect early fall look.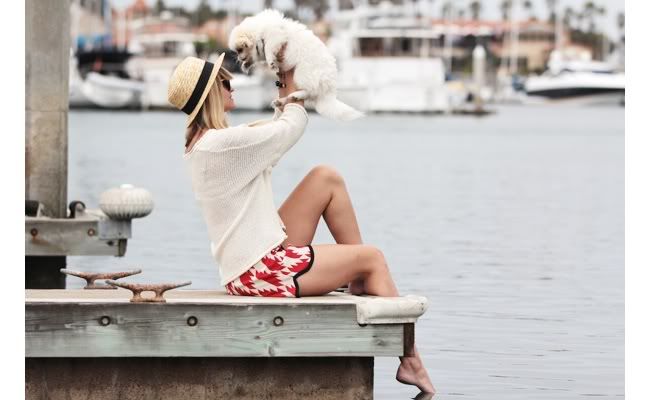 Liz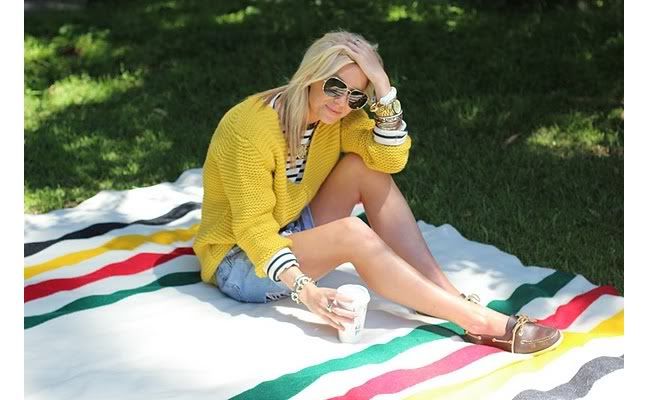 Blair
Fisherman's sweater are pretty easy to come by but, a word to the wise- they're not cheap. Cheap sweaters normally equal cheap blends of itchy fabric that will shrink or fall apart after one wash. The goal here is quality, not quantity. Also, when buying an oversized sweater, fit is key (as oxymoronic as that sounds). They should skim the body, not hang off of it in a boxy fit, and the most flattering ones are also usually cut with a deep-v or off the shoulder, for layering purposes.
ASOS
and
Urban Outfitters
are both currently running trend features on knits, so those are probably the best places to look for a wide variety of styles, fabrics, and colors. The
Staring at Stars Shadow Stripe Tunic
, $49, and
Sparkle & Fade Crop Dolman Sweater
, $54, both come in an array of colors and can be worn an infinite amount of ways. The
ASOS Cut About Sweater
, which comes in a vibrant blue for $26, is also a great choice.