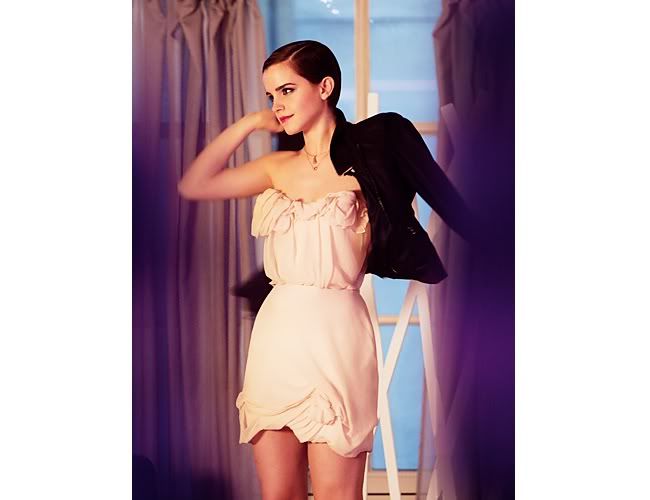 My lovey Emma Watson
is at it again. The new face of
Lancome
is as unrecognizable from Hermione Granger as ever in a series of promotional images released last week. Playing up her Twiggy-esque haircut with a deep side part and slicked back with gel. Bold and dramatic make-up played up her gamine features, while she's dressed in fun, flirty garments that definitely emphasize her youth and beauty. It all looks very Parisian.
The 21-year-old revealed that she was "...incredibly flattered to be asked to be the ambassadress. I think Lancome has so much class and style and history... I hope it brings a sense of optimism and fun and a sense of youthful energy life is just kind of like magical and full of surprise. I wanted the campaign's love story to be about that. There's something modern but also timeless about that kind of story."
Watson was chosen because she brings a "fresh spirit" to the brand. "Thanks to her charm, romanticism and her incredible modernity, Emma Watson has become the icon of her generation. We are delighted by this new collaboration with Emma, who brings a fresh spirit to Lancome," said Youcef Nabi, president of Lancôme International.