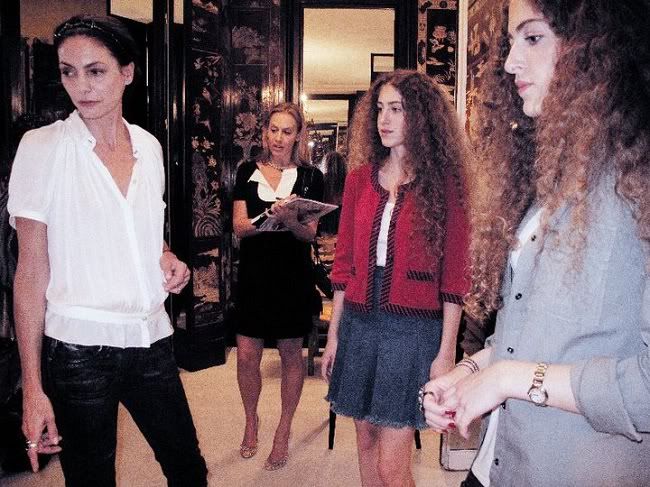 The twins at a viewing in Coco Chanel's apartment in Paris
Move over,
Chloe
and
Emma
... those young starlets have officially been bested by this week's
Thursday Style Icon
(s), 18-year-old twins Sama and Haya Abu Khadra. Debuting on the fashion scene in 2008 at age 15, the girls were the youngest buyers EVER at Paris Fashion Week, scouting the collections for their mother Rula Abu Khadra. (Rula runs The Art of Living designer boutique in Riyadh, Saudi Arabia, stocking designer duds and working closely with designing talents to produce unique pieces sold exclusively in her store.) Since then, the Palestinian girls, who live in Dubai, have been seen at Paris Fashion Week every season, decked out in everything from head-to-toe Chanel to Topshop dresses and dirty Chuck Taylors.
In an interview with
WWD Magazine
, Haya stated that they "... help when our mom doesn't have the time to come to the shows," and explaining that if a collection garnishes their stamp of approval, their mother will then visit the showroom to place orders for her store. The young buyers also model once in a blue moon, being personally invited by Natalie Rykiel to model the Sonia Rykiel Spring collection in Dubai last year, posing for
this spread for I-D Magazine
, and appearing in
WWD Magazine
and
Harper's Bazaar Arabia
. Many fashion houses have named the interesting-looking pair muses, with Italian designer
Luisa Beccaria
even going so far as to describe them as 'a Botticelli painting come to life.'
Shots from the
I-D Magazine
spread (which I believe they styled themselves):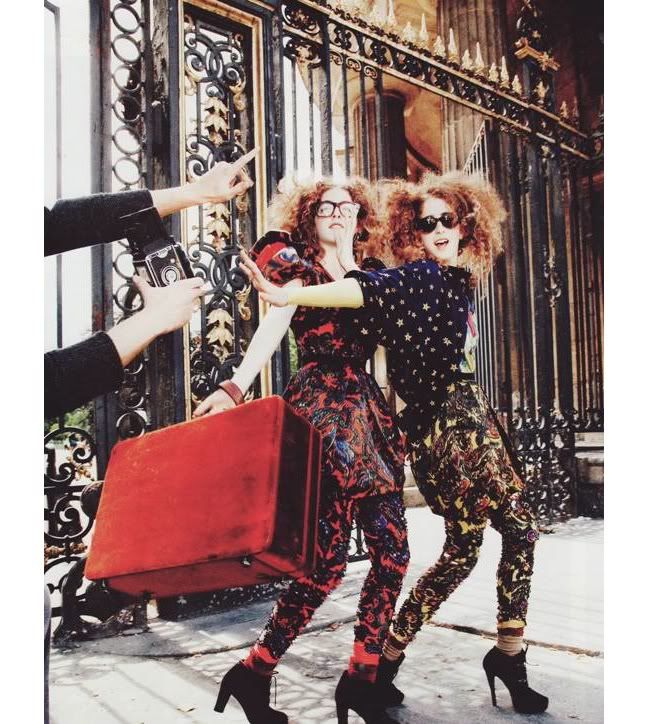 They have a rather offbeat and inventive sense of style, I think... while the high end influence is clearly there, the mix of designer labels and vintage finds with offbeat accessories is very young and fresh. They definitely dress 'edgy' (one might even say they err just on this side of 'mature'), but with the eyes of a professional buyer, they never look inappropriate, tacky, or outright scandalous
for the love of God, Rihanna, I'M TALKING TO YOU
. I also want to add that I love this fashion evolution coming out of the Middle East and especially Dubai...
Sex and the City 2
notwithstanding, the Middle East is definitely becoming a power player for high-class, luxury products, and a revolutionary place for fashion. The twins, for example, list
Hussein Chalayan
as their favorite designer; the Turkish designer's award-winning collections are sleek, sophisticated, and modern- truly an example, along with these girls, of the fashion-forward uprising that's occurring there.