I don't have a
Brand New Monday
for you today... *gasp! As the self-proclaimed Queen of Online Shopping, I shocked myself when I looked through my closet this morning and realized there was absolutely nothing new in there. But I recently moved into a new apartment, so most of my funds have been going towards apartment items... rugs, furniture, and kitchen appliances aren't cheap! Who knew?
So instead, I'll be bringing you a little Fashion News to start off your week right. It's new, right?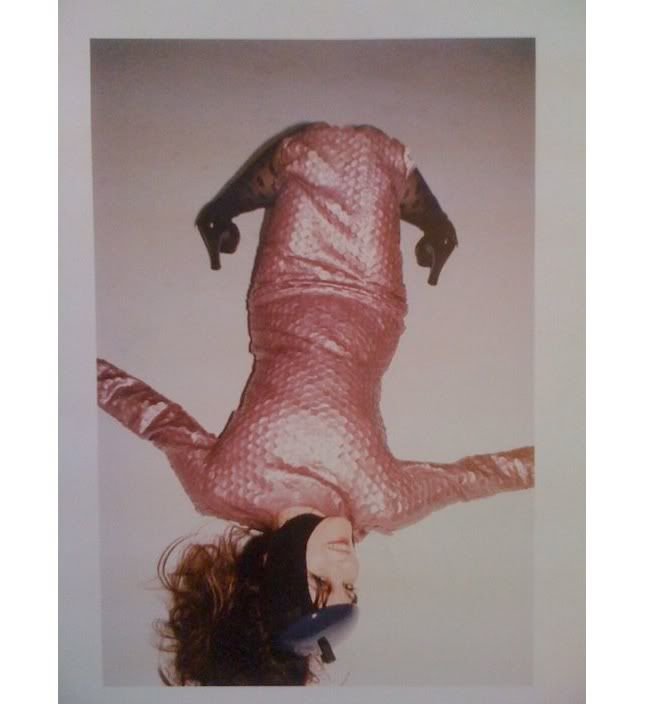 Helena Bonham Carter for Marc Jacobs
Marc Jacobs
surprised everyone last week when he named
Helena Bonham Carter
the new face of his line for Fall/Winter 2012. The quirky
Harry Potter
star, 45,
who was named one of Vanity Fair's Best Dressed last year
, will be appearing in Marc's
famously unconventional ads
as a mermaid. I'm pretty excited to see this campaign, which will be shot by Juergen Teller...
Vanity Fair
listed her due to her 'fabulous self-expression,' and it will be interesting to see how her odd style (because it IS out there... let's be honest) translates into a mainstream photo spread.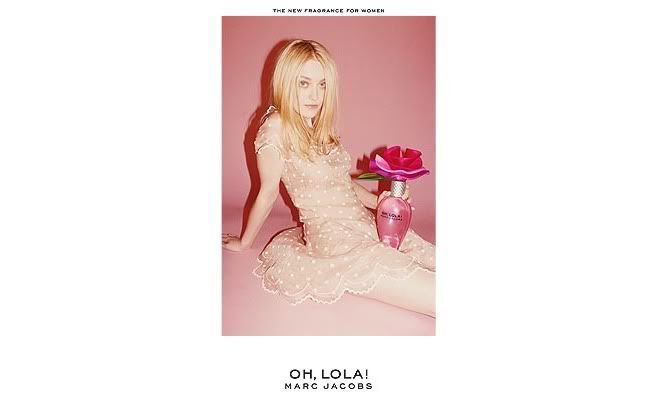 Dakota Fanning as Lolita
Jacobs also announced that Dakota Fanning, 17, will be the face of his newest fragrance,
Oh, Lola
. The 'little sister' of his best-selling and vampy
Lola
, which was
embodied in ads by Karlie Kloss
, the perfume includes notes of raspberry, frais des bois, pear, magnolia, and vanilla. Jacobs stated that he'd been a fan of Fanning's for years and, that "...we were speaking about who to use in the
Oh, Lola
fragrance ads — I had recently seen The Runaways. Dakota was in it, and I knew she could be this contemporary Lolita, seductive yet sweet." Jacobs, no stranger to featuring celebrities in his campaigns, has previously used a then 12-year-old Fanning in his Fall/Winter 2006 advertisements.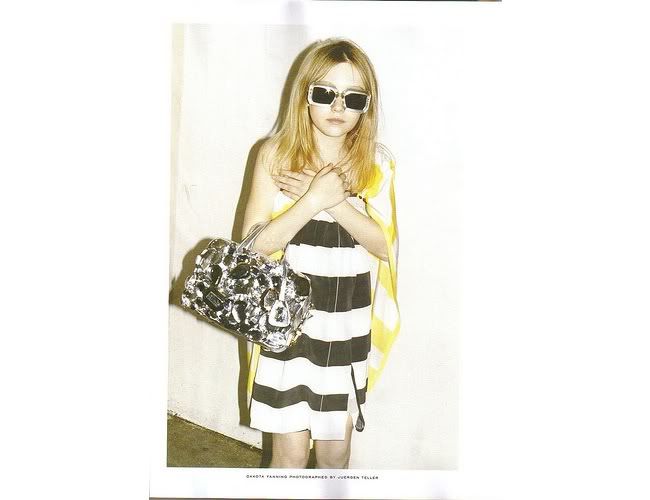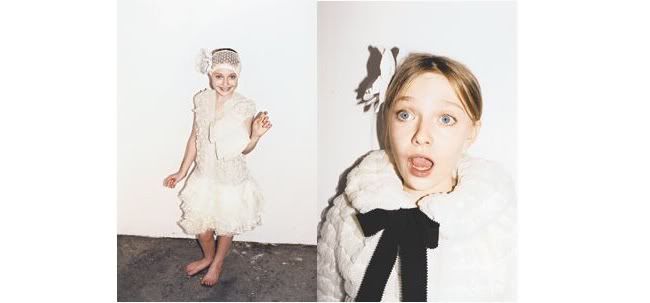 And last but not least, Gucci Creative Director Frida Giannini and the ever-exquisite
Florence Welch
have announced a partnership on Welch's upcoming North American Florence + the Machine tour. Following in the footsteps of
Kylie Minogue and D&G
, Giannini stated that her Fall/Winter 2011 collection was partially inspired by Welch, as she "...was captivated by her eccentric style and her willingness to dare. I felt there was such an authentic energy to her sound and her look... I used one of Florence's songs, 'Hurricane Drunk,' to set the mood for my Autumn Winter women's show, as she was truly an inspiration for this collection as a modern day icon with her cinematic allure and powerful presence."
Welch added that she "...was extremely flattered when I heard that Frida's collection had been inspired in part by my performances and I was completely bowled over by her collection, the dresses seemed perfect for my shows, the colours, the shapes, the movement in the fabric. So it seemed natural that we work together on creating some pieces for my upcoming US tour. I'm very grateful to Frida, it's been a wonderful experience and I can't wait to get dressed for the stage!"
Icon, eh? Hmm...
did I call it or did I call it
? I'm DYING to get tickets for this tour... It looks fabulous.
Gucci Fall/Winter 2011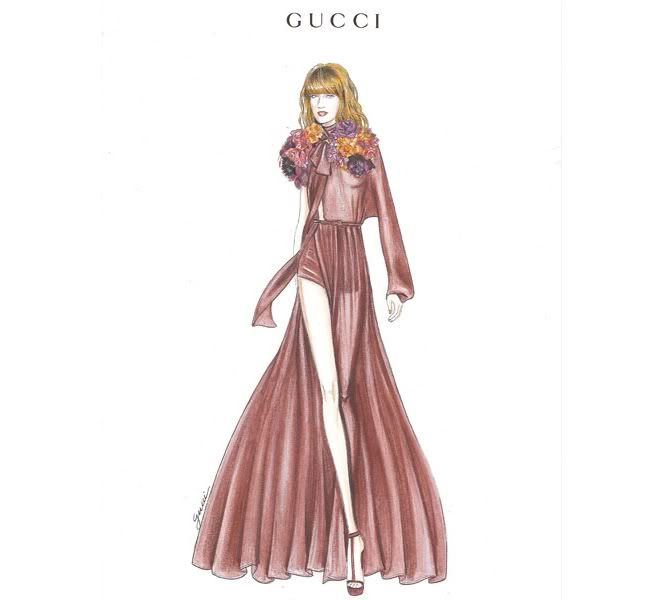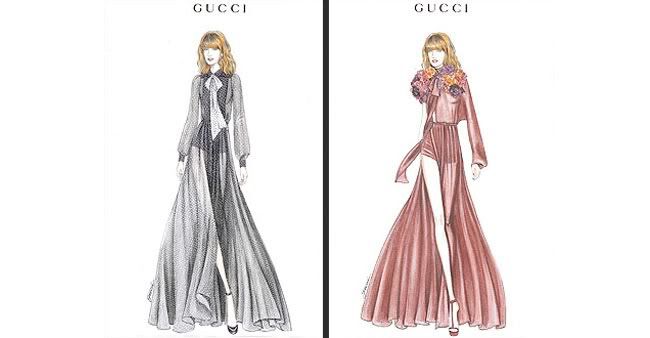 And that's the news... hope you all have a great start to the week!
Updates: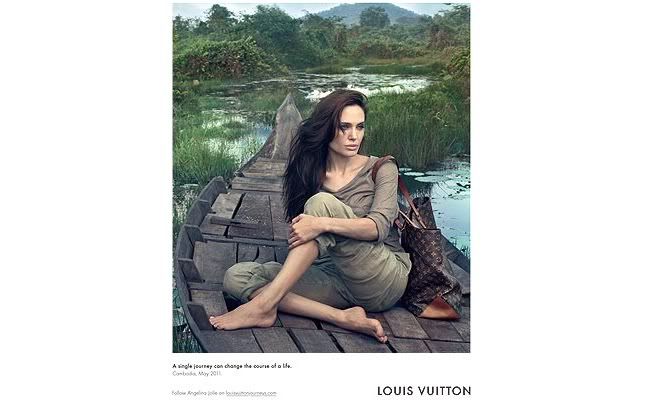 There have been
rumors swirling around for months
now that Angelina Jolie may be the new face of Louis Vuitton, and they were confirmed today when the company released the first advertisement for the newest leg of their 'Core Values' campaign. The ads feature the actress afloat on a boat in Cambodia's Siem Reap province, wearing her own clothes, (
supposedly
) no makeup, and
her own years-old monogrammed Louis Vuitton Alto bag
.
Louis Vuitton Executive Vice-President Pietro Beccari stated: "This travel message we give through personal journeys is a fundamental one for the brand. This campaign is about a very special person and a very special journey." It seems fitting that they chose Jolie, who's 'personal journey' has been a rocky one leading to domestic bliss with partner Brad Pitt, and who also adopted her first child, Maddox, from Cambodia. Jolie also seems perfect for the theme of 'Core Values,' due to the
massive philanthropic work
that has pegged her as one of few celebrity humanitarians (much of her payment from Louis Vuitton was donated to charity). Other faces of the LV 'Core Values' campaign have included Bono, Madonna, and Mikhail Gorbachev.
Jolie's ad begins running in publications on Wednesday, and, though the handbag she carries is no longer in production, Louis Vuitton is considering "re-editing" and rereleasing it, according to Beccari.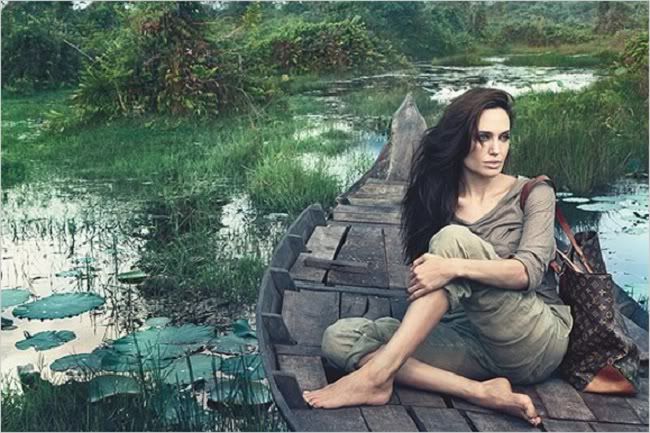 She looks nice here... but I do NOT believe she isn't wearing any make-up. Come on, son.