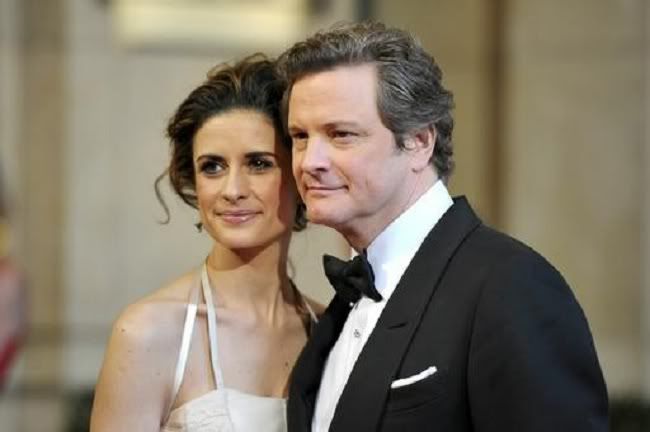 The King and I
We all know who Colin Firth is; the recent Oscar winner (for his astounding turn as King George VI in
The King's Speech
) has been appearing in movies for over 20 years, playing everyone from Mr. Darcy in
Pride and Prejudice
to a suicidal gay professor in
A Single Man
. But do you know his wife? Olivia Firth, better known by her nickname Livia and maiden name Giuggioli, is an Italian film producer and creative director for both the
Eco Age
shop in London and the cinema site
Brightwide.com
. A huge eco-fashion advocate, Giuggioli often wears green fabrics,
participates in green fashion challenges
, and speaks publically on the wastefulness of the fashion industry:
"
[Fashion] is the most wasteful industry and nobody is talking about it. They talk about food, planes, cars. But fashion is among the biggest out there for consumption and waste... Never throw away anything from your closet. If you buy good-quality garments, they will last for a lifetime. I hate these articles about how to clear out your wardrobe to make space for the new season. I have so many things in my closet that I bought when I was 20 and I still wear— I'm 40! I have so many clothes from my mom, including shoes.
"
Eco Age is a sustainable boutique located in London, and in addition to scouting eco-friendly merchandise, she designs green garments herself. Her efforts- and fashion sense- have been noted; she
runs a blog on
Vogue UK
and often works personally with fashion labels to create sustainable designs. She describes her own style as 'Old Hollywood' and 'intense glamour,' but I think she injects a sense of whimsy into her clothes that pushes the envelope and keeps her from playing it too safe. I mean, ruffled collars? A lavender feather clutch? A smiley face dress? A big bow hat? Giuggioli always does look like 'Old Hollywood Glamour' in her impeccably tailored clothes and often monochromatic palette, but not just anybody could pull off even
half
the stuff she wears. For that flouncy, asymmetrical white hemline alone (see below... what IS holding that thing up?), she's this week's
Thursday Style Icon
.