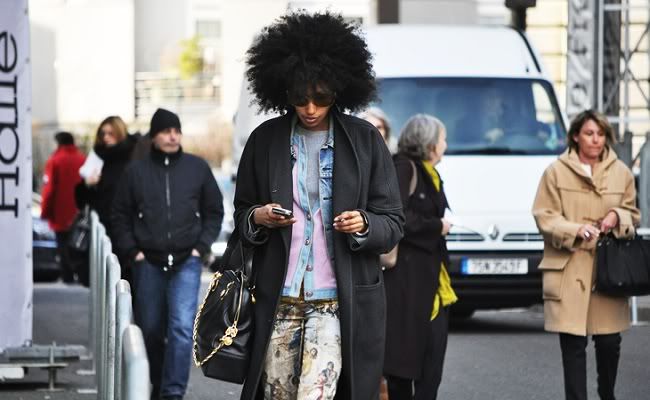 "Give me a good sweatshirt anytime!"
~ Julia Sarr-Jamois
As you all know, I try not to pick
Thursday Style Icons
that are too conventional... I shy away from models, stylists, and the like (with the exception of the exceptional
Catherine Baba
), and in doing so, I have really realized that most of the unique and interesting styles come from the women behind the scenes: the
Stephanie LaCava's
(she's now following me on Twitter!!!),
Livia Giuggioli's
, and
Oroma Elewa's
. With a high-profile face in fashion comes the restrictions of having a high-profile sense of style; if Alexa Chung, for example, showed up in anything other than the
androgynous-tomboy-meets-feminine-nerd-style
she has become so famous for, heads would probably roll. I think it's refreshing to come across people that work in fashion and like to switch it up.
Enter Julia Sarr-Jamois.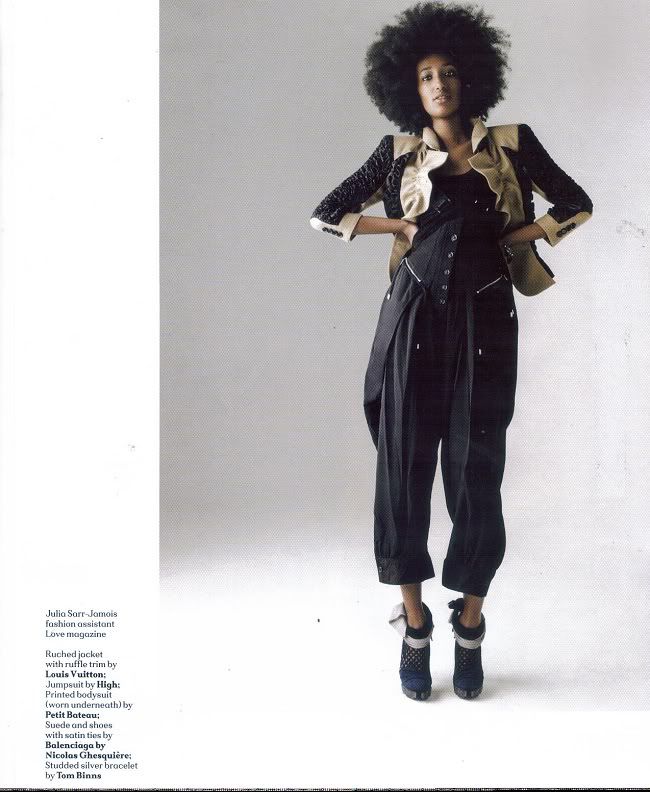 The 23-year-old half Senegalese, half French Londoner is the current editor of
Wonderland Magazine
and toast of street fashion, labelled 'The Cool Face in the Crowd' by
Vogue.com
last year. Her hot streak has been running strong, with many more interested in what she would wear to the seasonal shows that what would actually be showing... her clear grunge influence and huge Afro has made her one of the most unique individuals to show up to any given collection. (Plus the fact that she's Black in an
industry that has become so Whitewashed
it's actually
starting to disturb me
.)
Sarr-Jamois started out, as so many do, modelling throughout her teen years for brands like Fred Perry and Diesel. Feeling stifled creatively, she soon abandoned it and attended college, leaving midway through for an internship at
I-D Magazine
. Quickly rising through the ranks, she began styling shoots and parlayed that into a fashion assistant gig at that magazine and others, before leaving to become one of the youngest editors ever at Wonderland, at the ripe old age of 22.
I love her style because it's so casual; a girl after my own heart, she can often be seen in ripped up, baggy jeans, oversized sweaters, and a broken-in leather jacket. She alternates that, however, with tailored blazers, fitted dresses, and sky-high, colorful booties, as she seems to operate by the
adage
that heels really CAN go with anything. And, to me, that's the most realistic style, one that fluctuates between comfortable, simple basics and trendy pops of individuality. Nobody sticks to one look ALL the time. Plus, look at the hair. The HAIR. How can you not love her?