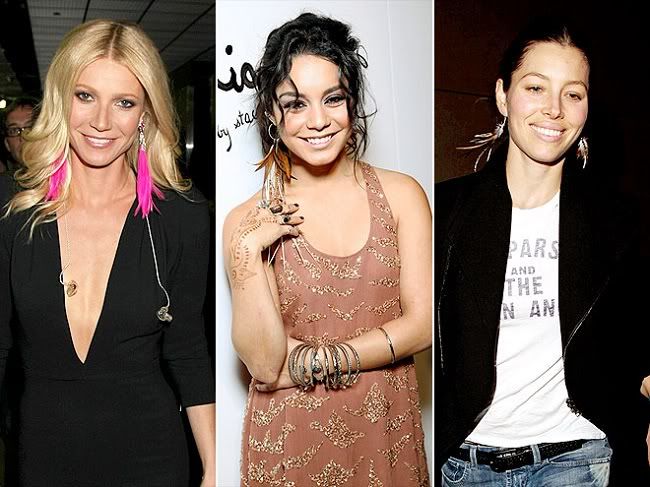 Feathered Females
In fashion, everything old is new again, and that isn't more apparent than now, with the seventies swing that's everywhere this season. Boho chic has effectively taken over the sartorial universe, even down to the accessories... which leads us to today's trend,
feather earrings
. Accessories have always been the cherry on top of a good outfit, and big feathers, charms, and beads add a playful sense of luxury with just a little effort. Numerous celebrities have been seen out in the fluffy ear adornments recently, and a trickle down effect has led to more and more people rocking this dramatic look on the street.
You know, it's funny; I remember having a brown, beaded pair of earrings when I was around 16 or 17 years old, and I lost one at a party. Much like the celebs, I decided to make a statement by rocking the one remaining earring, until I lost that one, too!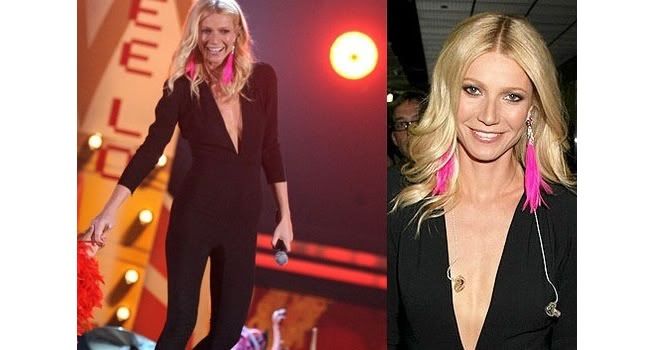 Gywneth Paltrow
One of the first avian sightings was on Gwyneth Paltrow at the Grammy Awards in February. She rocked a hot pink pair by Wilfredo Rosado for her performance of 'F*ck You!' with Cee-lo Green; the white gold, diamonds, pink tourmaline and feather earrings were from the
Wilfredo Rosado Fall 2011 collection
... and cost a couple thousand dollars.
The ever-bohemian Vanessa Hudgens has also long been a fan of them, spotted on numerous occasions in different pairs. From a tropical green earring worn with a big, black earcuff to an understated pair with a pretty floral dress (and a BIG fringed bag- the
High School Musical
star certainly loves her accessories, doesn't she?), feathers seem to be the actress' favorite jewelry of choice.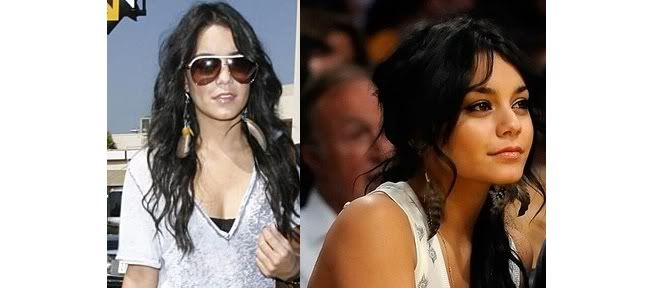 Groovy, baby
Rocker Drew Barrymore, socialite Paris Hilton, and decidely un-bohemian actress Jessica Biel are also big on the trend, and each of them styled them in their own three distinct ways. That's the beauty of feather earrings. Either in a neon color like Mrs. Chris Martin or in a soft and natural brown, they are a cool and unique addition to your spring accessory line up. They can go with pretty much any outfit and swing in so many directions of what's in this season: bright colors or hippie dippie chic.
If you go for bright, take a page out of Gwyneth's book and keep the rest of your outfit simple. An intense pink or blue should be paired with a monochromatic look in a nuetral color (it will be particularly bold with an all-white or black look), with minimal other accessories. If the color of your pair is a less intense, the seventies look is easy with a white cotton maxi dress or printed silk blouse, floppy straw hat, jeans, and wedges.
Drew Barrymore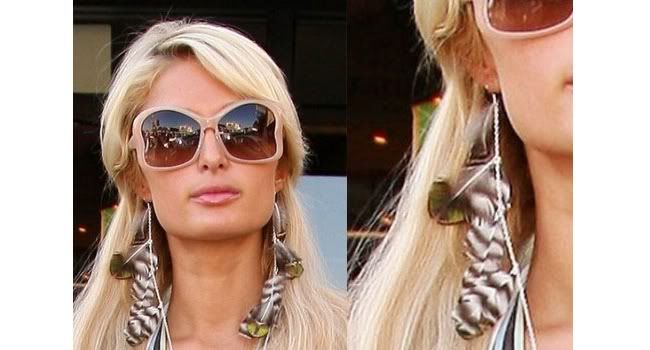 Paris Hilton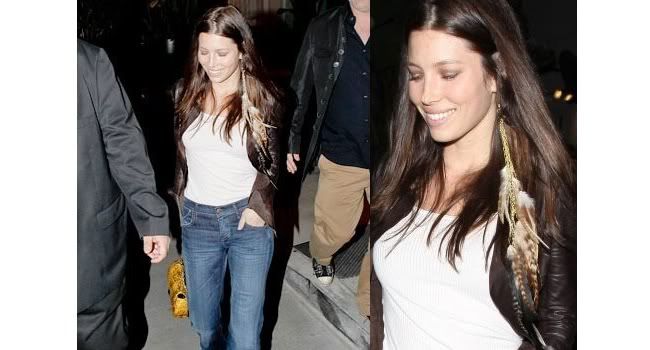 Bigger Isn't Always Better
If you decide to try this trend out, keep it simple; Jessica Biel looked great in the first picture I posted, but she's been reamed by other fashion commenters (
like Joan Rivers
) for the oversized pair she wore to the Soho House, her first night out after her public split from Justin Timberlake. The earring was so big it hung down to her mid-torso. It was actually two earrings worn in one ear for a bold, dramatic statement, but when you go THAT big, it becomes distracting.
Forever 21
is probably your best bet to find an awesome pair due to their wide selection and various price points; my personal favorites were
these lovely feather-and-mother-of-pearl pair
, $5. Urban Outfitters also has a
great selection
but their price point is just a little higher. British retailer
New Look
has an
exact replica
of the Wilfred Rosado pair for $14, and, last but not least, my beloved
Asos
has this truly gorgeous
nude feather and hoop
combo for $17.