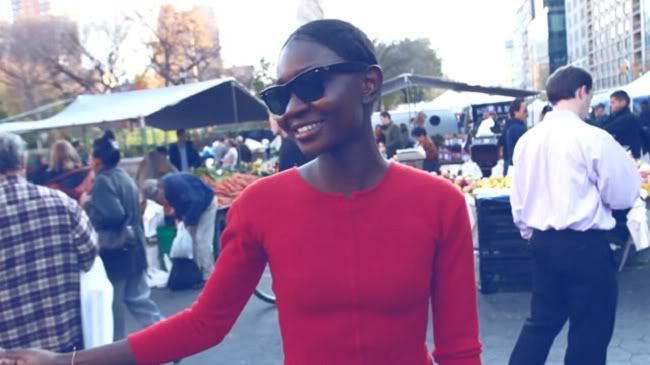 "My work is inspired by a vision I have for Africa and Africans. A vision of an Africa that shelters and respects individualism and for Africans, that the world's opinion of us is redirected."
~ Oroma Elewa
This week's
Thursday Style Icon
is the completely, insanely stylish Oroma Elewa. The Nigerian photographer, stylist and creative director/editor-in-chief of bi-annual fashion and art glossy
Pop'Africana
(talk about a quadruple threat!) is quickly rising through the ranks as a fashion force to be reckoned with.
Elewa, who currently lives in New York City, trained as a fashion designer before turning to photography, and styling evolved naturally as she often styled the models for her photoshoots herself. Upon seeing the way her fellow Africans were portrayed in the media and especially in the world of fashion, she decided to create her own fashion magazine, which seeks to shatter the negative perceptions and representations of Africans and the African continent and boasts the subtitle 'Delivering A Rejuvenated Image Of Africans Worldwide.'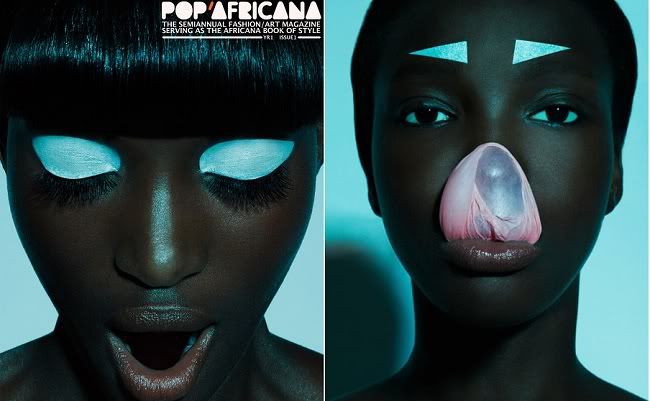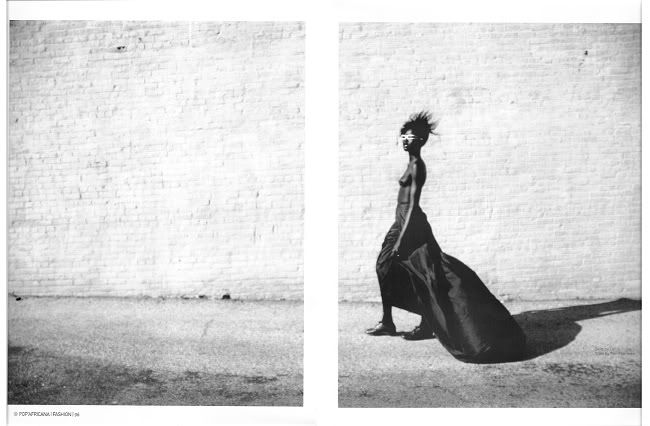 The second issue of
Pop'Africana
is set to come out this month, so Elewa is currently all over the interwebs. In an interview with
BlackBook Magazine
, she explained how
Pop'Africana
came to be, stating: "There is a plethora of fashion/art magazines out there, but I don't think there is a multitude of non-mainstream, art-driven, inspiring magazines about Africans out there. And if there is, I don't know of them. But whether or not these publications exist, there can always be more." She also gave a fascinating interview to
Vogue Italia
, where she showed off not just her fashion sense but her truly impressive intellect with quotable quotes like this:
"[On self-publishing her magazine]Sorry to disappoint, I don't have any publishing experience, but you have to admit, the audacity is what makes it interesting. Besides, publishing is changing, there's room for experimentalism. Independent publishing, from blogs to e-zines, has given a lot of individuals a voice to discuss issues or express themselves. I simply seized advantage of the zeitgeist. To answer your question about why I thought I could publish
Pop'Africana
on my own, the need to document the African experience and redirect the opinion of the African superseded the need to have everything in place first."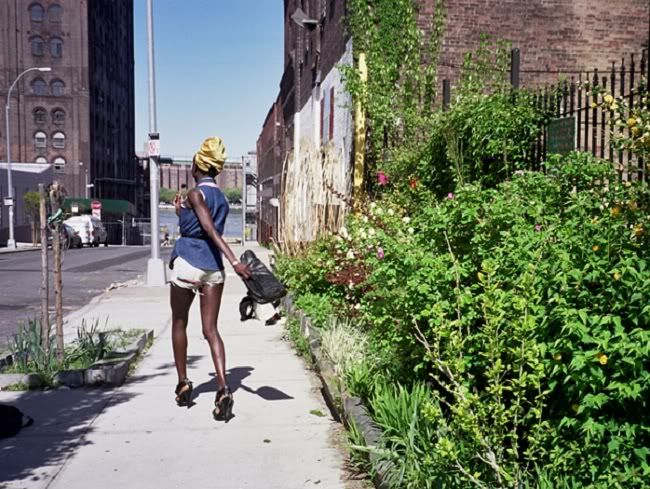 At home in New York City
Elewa's personal style is so sick it makes my head spin. While there is something decidely urban about it, most likely from years of living in New York, there is also something extremely fresh about the way she dresses. New Yorkers tend to take their fashion very seriously, but Elewa does the opposite, playing around with colors, patterns, prints and especially the cut of her clothes. The result is a genuine exuberance in her outfits... a joy, if you will. Here is girl that
really enjoys
her clothes.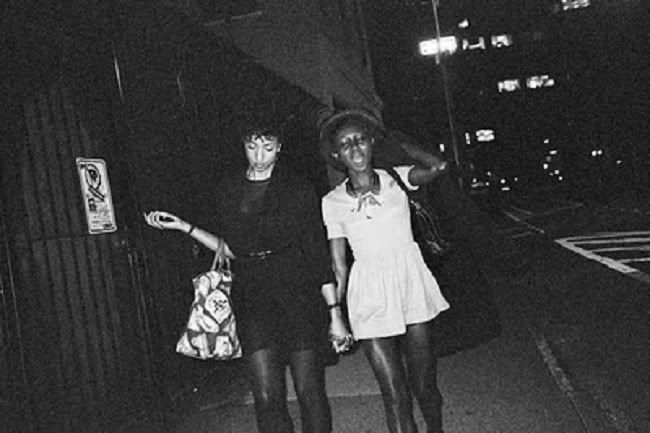 With artist
kesh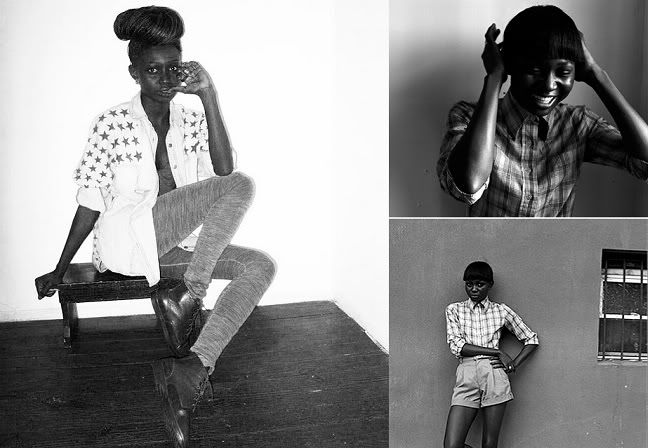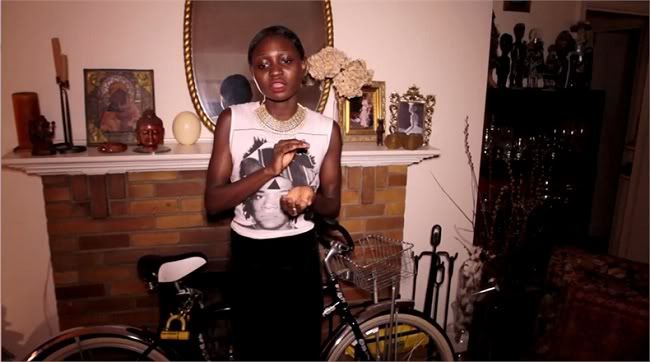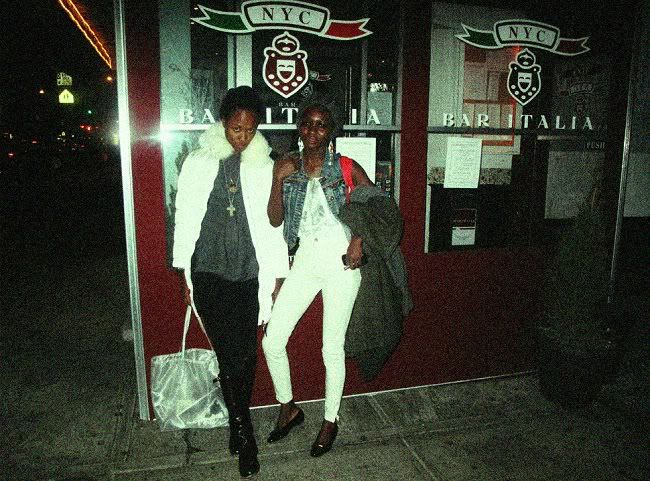 Just in case you were wondering, the latest issue of
Pop'Africana
promises features on Sierra Leonean writer Olufemi Terry, who won the Caine Prize for African writing last year for
this short story
, Malian musician Salim Diallo, Ethiopian-born, Swedish-raised chef Marcus Samuelsson (who recently opened a restaurant, the Red Rooster, in Harlem), and African-American models like Ajak Deng, Gaye MacDonald, and Nina Keita. (Look at that! There are actually MORE Black models than Chanel Iman, Jourdan Dunn, and Arlenis Sosa! Who knew?)
Want to reach Oroma? Follow her Twitter
here
, Bloglovin'
here
and her Facebook
here
.
To view the website for
Pop'Africana
and order your own copy, click
here
.