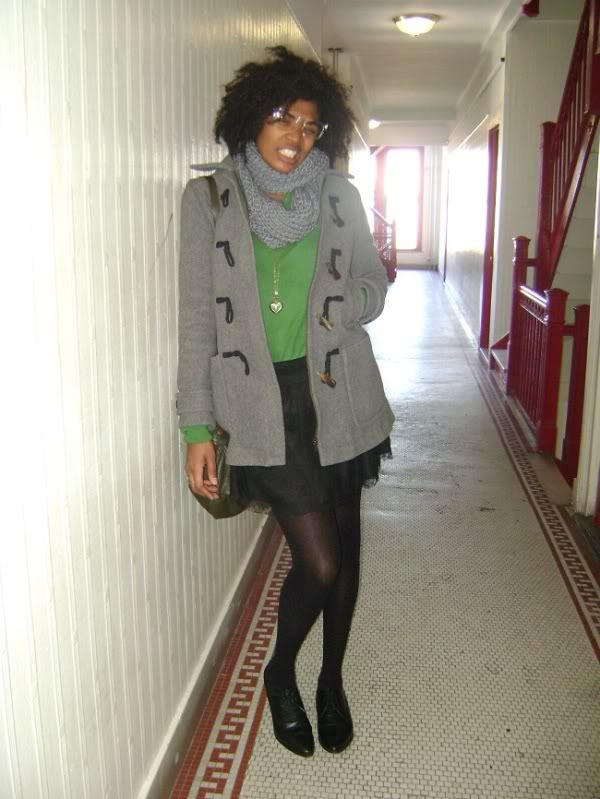 Banana Republic
coat,
Ruche
scarf,
H&M
sweater,
Forever 21
skirt,
Nine West
tights,
Target
oxfords
Last weekend, I saw a fantastic play called
Love, Loss, and What I Wore
at the Westside Theatre. Starring Alexis Bledel and based on the book by Ilene Beckerman, the show was a series of vignettes performed by five women seated on stools in front of the audience. They told of, you guessed it, love, loss, and what they wore, reminiscing about everything from a homemade prom dress to the electric blue bathrobe that was the only garment a young girl remembered her mother wearing after her death. It was an amazing show, at once funny yet extremely touching, and I recommend that you all go see it if you're in NYC and you have the opportunity.
And what did I wear? It's been freezing cold and snowy in New York, so I did the best I could with a warm sweater, tulle skirt, and my favorite oxfords... it was nothing spectacular, but I liked it very much. I don't wear skirts often, and have decided that one of my (albeit belated) sartorial resolutions of 2011 will be to wear more skirts, so this is a step in the right direction.