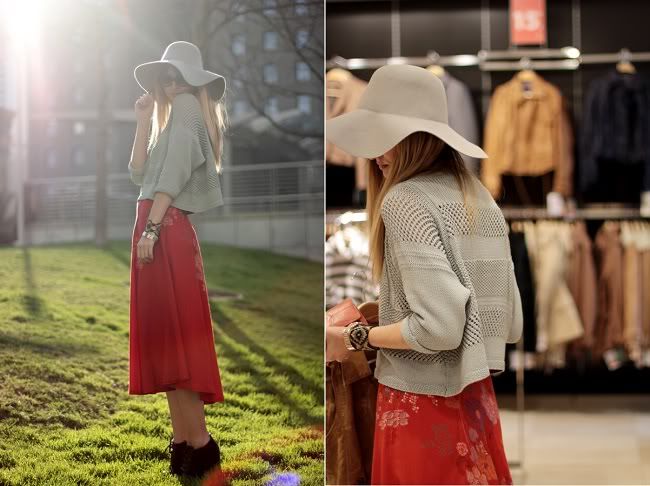 Blogger Liz of
Late Afternoon
One surprising trend that I'm seeing more and more of this winter is that of cropped sweaters. Tons of designers sent shrunken knits down the runways for Spring 2011, and the look is already picking up steam as the fashionable pair them with flowy trousers, maxi- and ankle-length skirts, and especially over button-down shirts. While a miniature sweater may seem oxymoronic at this time of year (
just like winter shorts
), it seems that no one is afraid to let a little wind chill get in the way of their fashion.
The title of this post is misleading, as there are actually a few different ways that this look can be implemented. The most popular are either wearing a loose-fitting and oversized cropped version on its own (well... with bottoms, of course), or by wearing a thin, tight-fitting and short version layered with other garments. The latter isn't exactly cropped, just cut short enough that the other tops worn with it peek through.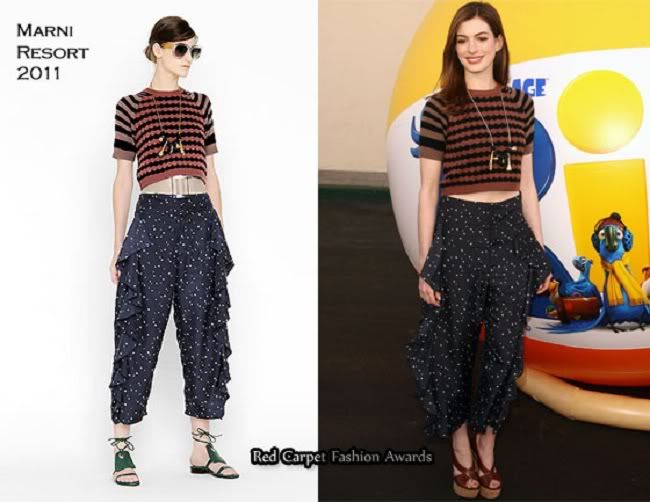 Anne Hathaway at the premiere of her new movie 'Rio,' via
Red Carpet Fashion Awards
Anne Hathaway appeared in mixed prints for a press event, wearing a look straight off the Marni Resort 2011 runway. She looked young and fresh in the quirky, striped cropped top and polka dotted pants, but her open-toed wedges have me wondering where exactly this event took place. She definitely got the idea of the small sweater down, however, and the look can easily be winterized by layering a long-sleeve under it and trading the trousers and sandals for jeans and boots.
Blogger
Tania
can't get enough of her small-ish sweaters... even when there's snow on the ground
If the idea of a midriff-baring jumper just isn't for you, you can tweak the trend by wearing, instead of a shortened version, just a more fitted sweater. Try sizing one size down to make sure you get the proper fit, especially if you want to wear it over a collared shirt- if your collar and cuffs don't show, it's kind of defeating the point. You can also fake the look by simply buttoning a short cardigan over top of a shirt.
Forever 21 has some great options for this trend, as their range of tops is virtually limitless. Try
this short, knitted cardigan
for $19 if you just want to test out the waters, or
this cropped pearl knit sweater
, $16, for a look similar to Liz's. And if you want to try your hand at layering with a dress shirt (my personal favorite), you can't go wrong with
this knitted, ribbed sweater
, $23. It's 3/4 length sleeves, scooped neckline, and shortened hemline make it perfect for pairing with other items. This is one of the tamer trends we've seen this season (um,
multi-glitter disco platforms, anyone
?), so I suggest you all give it a try!