Chloe Spring/Summer 2011
Freezing temperatures don't seem to phase the fashionable these days as more girls than ever are being photographed in barely there get-ups. Chiffon has been sweeping through the fashion world ever since Natalie Portman grew feathers in
Black Swan
(another post on ballerina looks to come shortly), and while sheer overlays under faux fur jackets might seem oxymoronic, fashion is nothing without a sense of humor.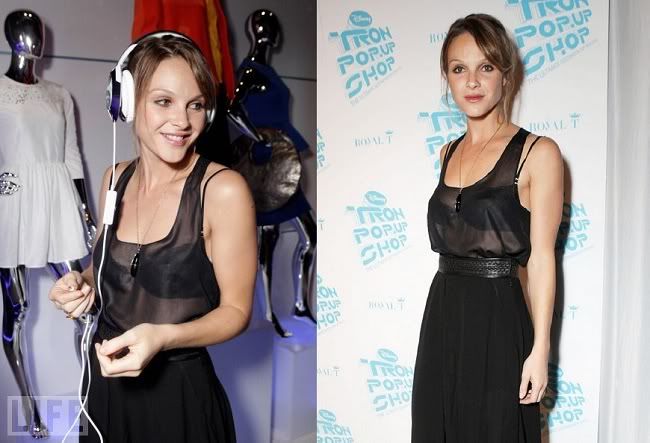 Beau Garrett
via
Who What Wear
Multiple runways like Alexander McQueen, Christopher Kane, and Marc Jacobs utilized see-through concepts in their spring shows. There wasn't much color this season (mostly blacks, reds, and camels), but designers also punched it up a notch by including highly textured fabrics such as lace, velvet, and chiffon. They were layered with solids: a diaphanous maxi skirt over shorter miniskirt, a gossamer, long-sleeved shirt under a leather jacket, and even floor-grazing dresses
with gauzy, cutout panels
.
The key to rocking the sheer trend in winter is to do exactly as the designers say (for once) and layer as if your life depends on it- which it very well might, in these temperatures. And the layering will not only keep you warm, it will also downplay the innate sexiness of wearing clothes that could double as underwear if the situation was right and it was after 10 p.m. So wear that filmy maxi with tights and even another skirt under it, along with a thick shearling or leather jacket... and wear it with pride.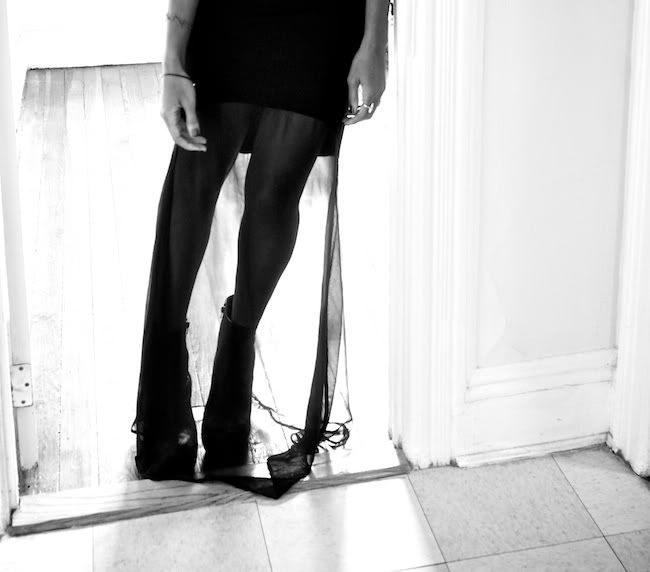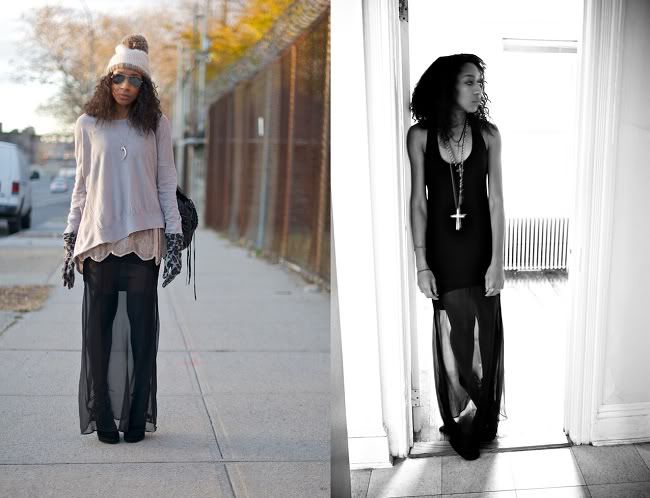 Blogger
Karen
in
The Olive Shoppe
skirt
Interested in trying this trend out? For the faint of heart, test the waters with ASOS'
Vero Moda Chiffon Sleeve Dress
, a mere $19. Forever 21's
Fold-Over Waist Swing Skirt
, $18, is long, black, and completely transparent, making it the perfect companion to your sweatertights and fitted tees. And for the
The Man Repeller
in all of us, try out the big guns: Topshop's
Floaty Wide Leg Trouser
or
ASOS Cut Out Back Jacket
, both $40.