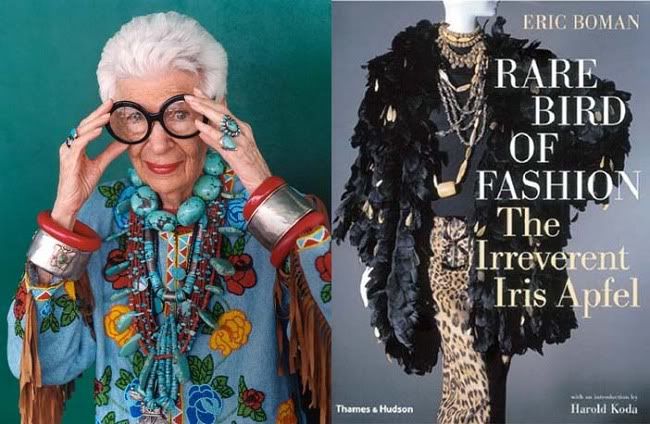 I've recently begun reading
CLOTHED MUCH, a modest fashion blog
, and in
this post
the author addresses fashion rules that she and her readers like to break on a regular basis. Suggestions included wearing black and brown together, wearing multiple bright colors at once, and mixing patterns. I consider myself to be a more... um...
unconventional
dresser and it got me to thinking about fashion rules I like to throw out the window myself. With that in mind as I headed over to another fashion website I read,
Coco and Creme
, it was no surprise when I came across the article
I Don't Wanna Grow Up
. The piece outlined age-appropriate dressing (which you all know I'm a big fan of), but instead of focusing on actual age-appropriateness, gave a list of fashion 'rules' for older women, including:
1.
Tone Down
Hot pink, neon green, electric blue . . . colors more befitting of a tween bedspread set than a grown woman's closet. Drawing attention to yourself by wearing colors on this end of the spectrum is not only dated, but tragically juvenile. A more neutral palette, using base colors such as navy, taupe, heather grey and olive, draws attention in a different, more mature way.
2.
Less Is More
Over-accessorizing is a quality indicative of the kid who doesn't know when enough is enough. Piling on extraneous bracelets, necklaces or earrings only looks as though you're trying too hard . . . or that you just couldn't make up your mind. To dress like an adult is to understand moderation and balance, and when it comes to jewelry and accessories, the less, the better.
So, according to the all-powerful fashion gods, I can't mix colors, I can't mix patterns, I can't wear too many things at once, AND once I hit 25 I can't wear color or jewelry? How ridiculous! Dressing appropriately requires a combination of things that can't be outlined in a concrete list of do's and dont's, as, more than anything, style is an expression of each and every one of our individual personalities. 55-year-old model Iman
looks freaking fantastic in neon green
. Nobody rocks a pair of tight jeans like
nearly 40-year-old Kate Moss
. And ageless
Catherine Baba = Accessories.
Enough said.
I am so sick and tired of people sitting up on their sartorial perches dictating what can and cannot be worn by others. Wear what you want! And if you grow old gracefully, anything you wear will look appropraite.