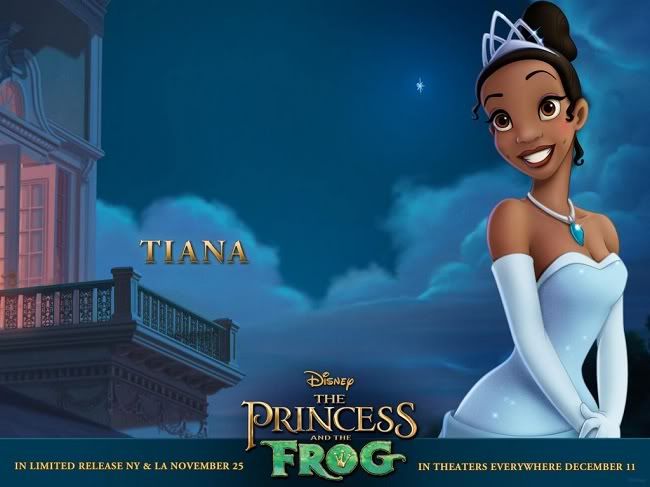 Tia in her first look, a borrowed princess costume from best friend Lottie LeBouf
Princess 'Tia' Tiana of
The Princess and the Frog
is my favorite Disney princess. Not only is she the first princess of color (
Mulan
and
Pocahontas
notwithstanding), she had incredible fashion sense. With a total of eight outfit changes, she is by far the best dressed of the Animated Classics series. The other princesses are known for their elegant and sparkly ball gowns, of which Tiana has two signature dresses, but she also has great looks throughout the movie, before she becomes royalty at the end by marrying Prince Naveen.
Prior to becoming a frog, Tia worked as a waitress in two different restaurants in the French Quarter to save up money to open her own place. (And can I just say, throughout the entire movie, it's called 'Tiana's Place' on the photograph her father gives her, but in the ending, she names it 'Tiana's Palace.') Her daytime style consisted of a yellow dress, green jacket, and green cloche hat; perfectly embodying the spirit of the Jazz Age in 1920's New Orleans. Her understated, easygoing chic could work on any girl trying to be comfortable and cute.
Tia as a waitress: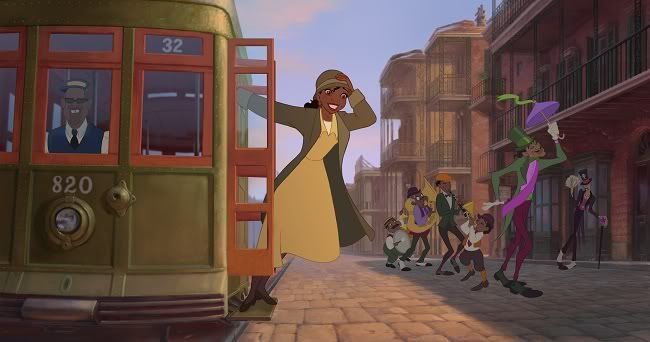 Cali, over at
College Fashion
, did a 'Fashion Inspiration' post on Princess Tia where she created this look based on her daywear: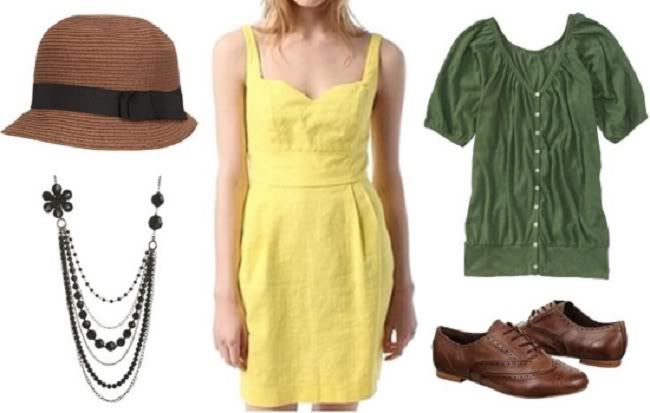 When Tiana pictures herself as the owner of her own restaurant, she wears a white evening gown with a bob and strand of pearls. Tiana laments not having a social life, so the animation was also changed for this feature, using bright reds and oranges to portray a more cheeky, social Tiana.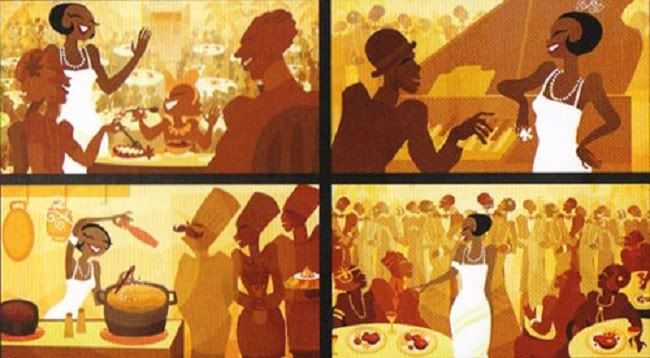 The Crown Jewel of the Crescent City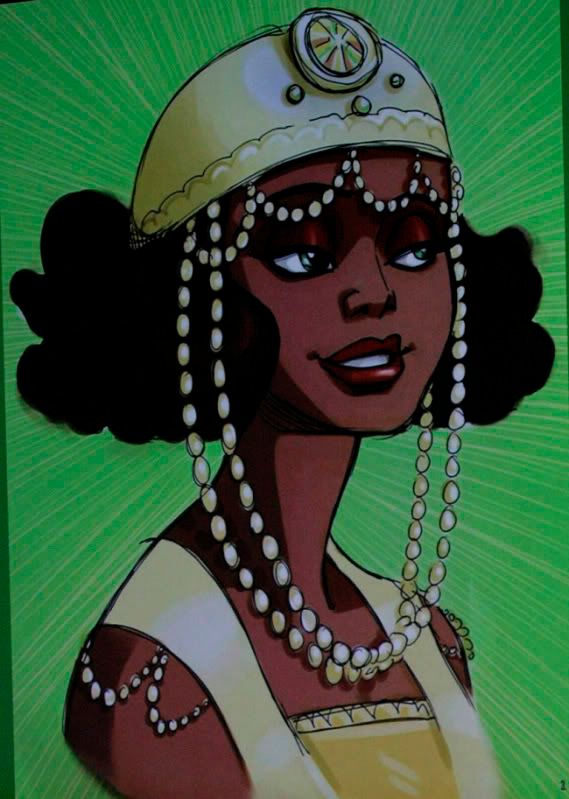 Tia as a flapper
A fan-drawn photo also shows Tiana in flapper attire, with a beweled headpiece and dark, sultry makeup. Though she never wore anything like this during the movie, that hat and those pearled shoulders are
uber
-fierce. It's a little flashy for the practical, intelligent character shown in the film, but showcases the
garconne
style of the time.
The final green ball gown is also one more interesting than any other worn by a Disney princess. Instead of being a traditional elegant, sweeping dress, it incorporates Tiana's days as a frog in the bayou. The bodice is shaped like a lily resting on top of her skirt, which is a lily pad. It also prominently displays a flower on the skirt.
Tia in her swamp wedding dress as The Frog Princess
This really is a jewel of a movie, one that I enjoy watching. It was Disney's first 2D, traditionally animated film since 2004, and it shows. The rich colors and impeccable styling, even after the main characters retreat into the swamp, really brought this world to life. They definitely did justice to the first Black Disney princess by making her entirely fabulous.
More pics of Tia: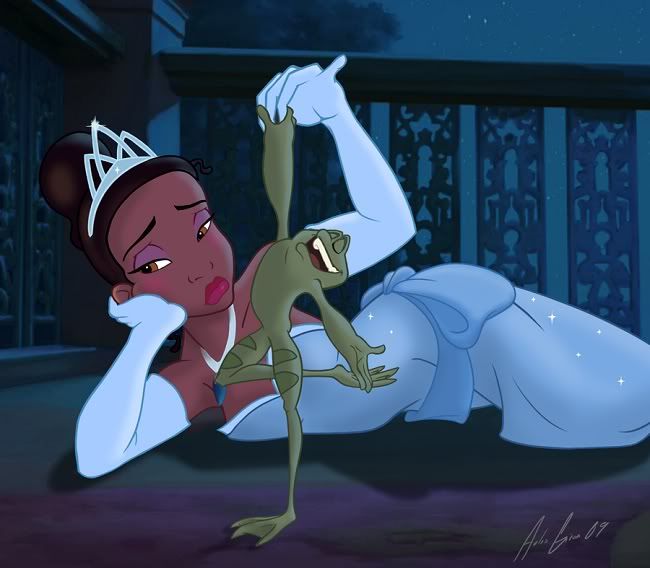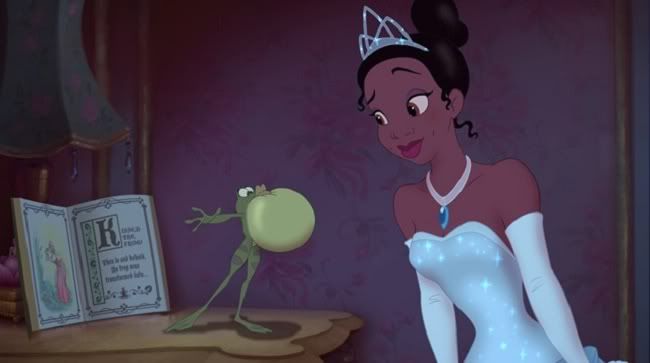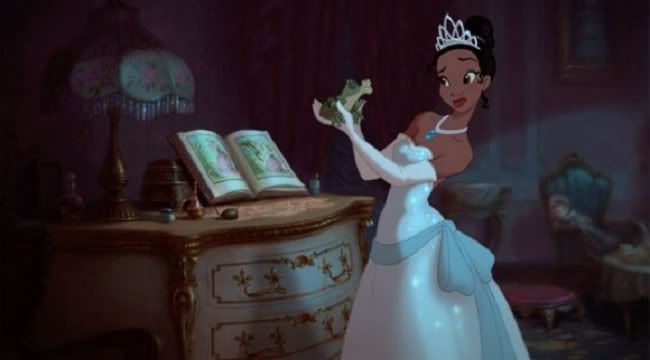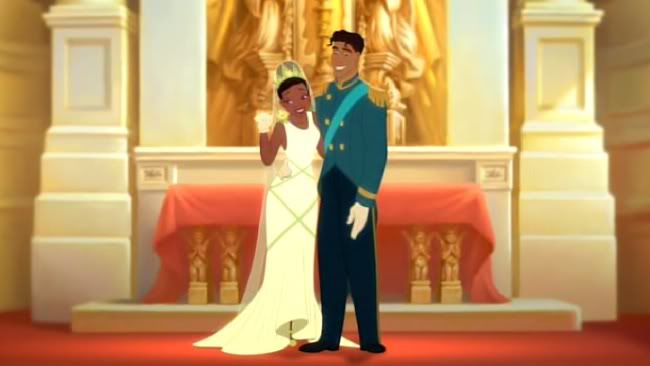 In her second wedding dress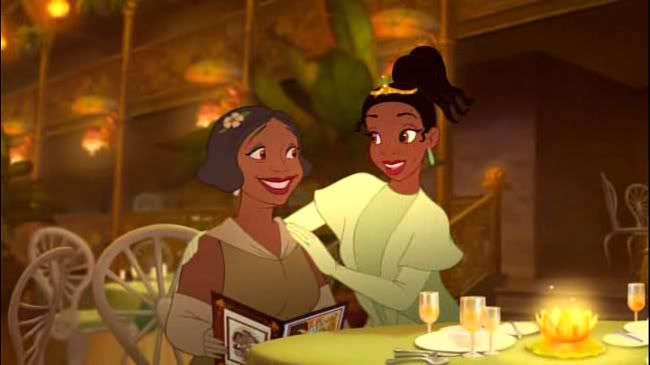 At the grand opening of Tiana's Palace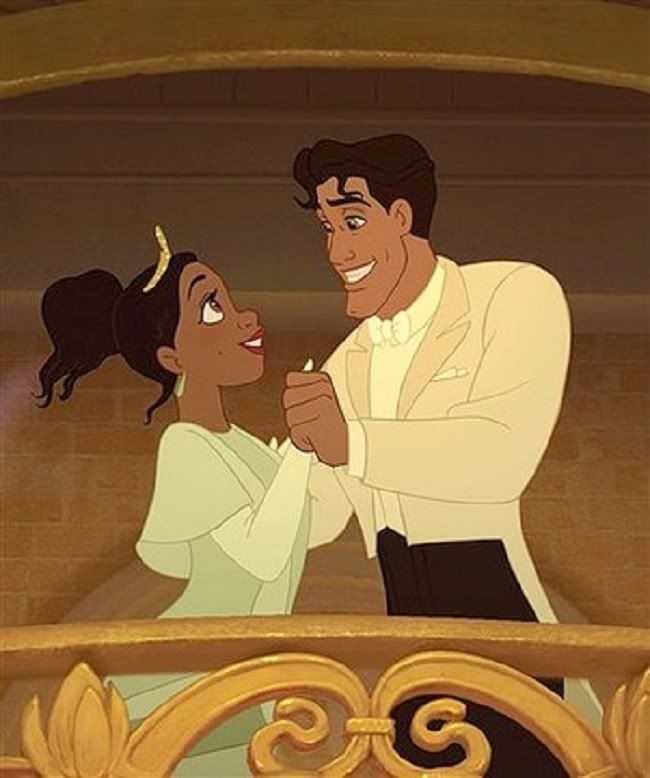 Tiana and Prince Naveen