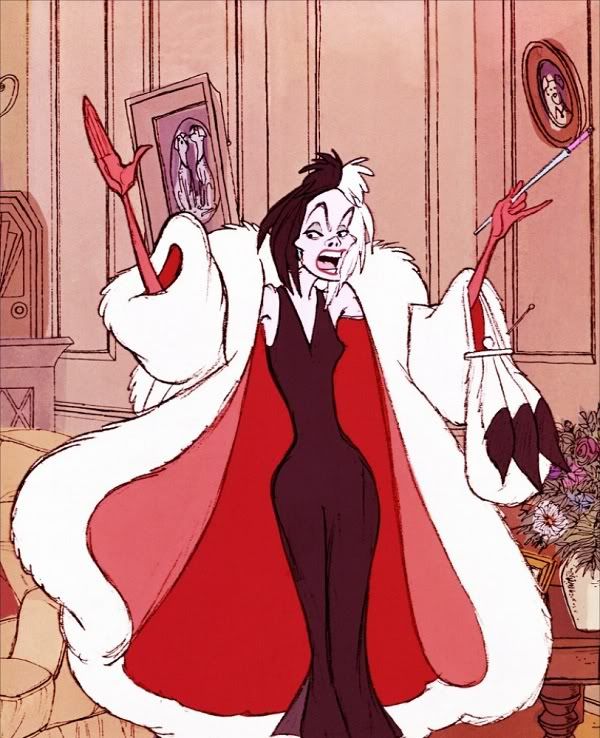 '
I live for furs. I worship furs.
' ~ Cruella de Vil
In honor of Halloween, this week's
Thursday Style Icon
is one often used for costumes: Cruella de Vil. The glamourous villain of both the
101 Dalmations
cartoons and live-action films is instantly recognizable for her luxurious furs, black dress, and two-toned hair. The chain smoking, murderous diva is one of the most stylish of all the Disney characters.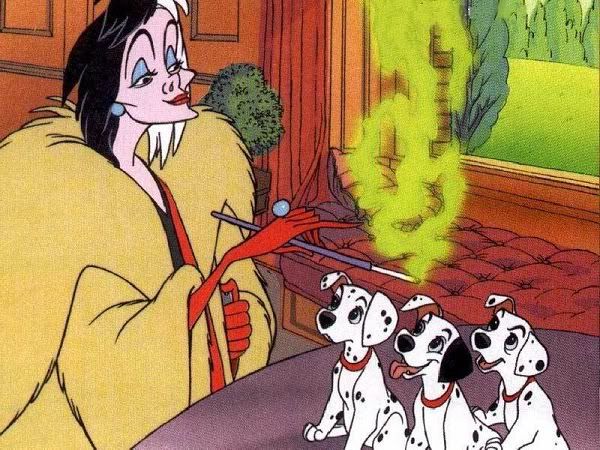 Cruella de Vil, so named as a play on words between 'devil' and 'cruel,' is the epitome of an eccentric, wealthy and deliciously nasty old heiress. Sadistic, manic, and thoroughly insane, she speaks with a post London accent and is never seen without her plush white mink coat. She knows the owner of Perdita, a main character, through school, and sweeps into her house like a whirlwind when she finds out that she has just had puppies. Little do they know, she wants to skin them for their soft, spotted fur to make the ultimate dalmation coat.
The single 65-year-old has a net worth of $875 million, according to a
Forbes listing of a fictional fifteen
, but lives in the crumbling estate of Hell Hall. Much in the way of
Grey Gardens
, the anti-socialite lives an extravagant lifestyle of splendor in squalor and employs two lackeys to do her evil bidding. She piles on earrings, necklaces, and rings and often carries a white mink purse with the tails still attached. Black, white, and red are her favorite colors, and are reflected in her wardrobe palette: her coat is lined in red, she always wears red gloves and shoes, and she colors her hair that distinct black and white. This woman is NOT afraid to stand out in a crowd.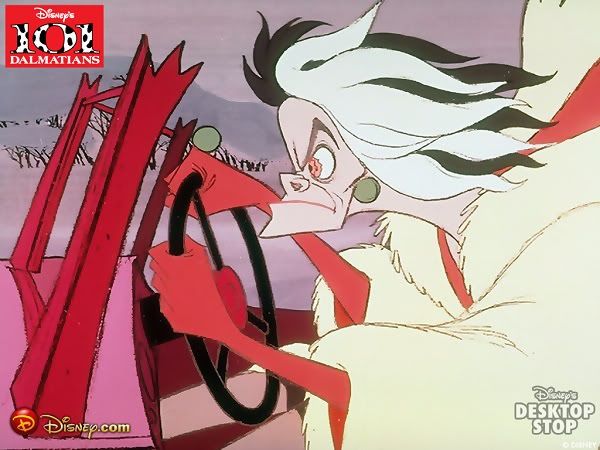 Cruella chases the Pongos through the streets of London
Glenn Close gave a star turn as Cruella in the live action version of
101 Dalmations
, playing her as the head of a couture fashion house. The
House of De Vil
specialized in fur couture and included gloves with claws, necklaces made out of teeth, and entire skinned animals worn as shawls and capes.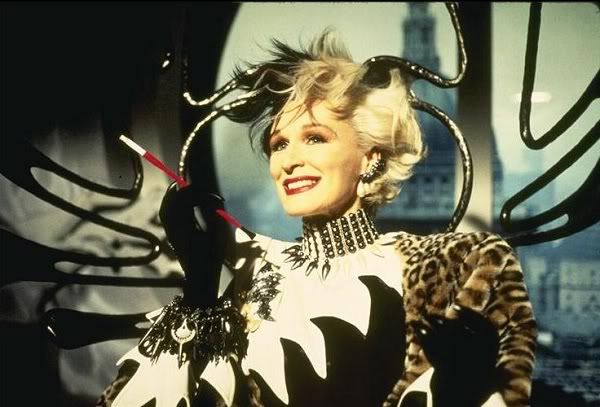 Glenn Close as Cruella de Vil
Cruella de Vil's distinct and iconic look has served as inspiration for tons of artists. Her fitted long black dress and fur combination easily translate into classy styles for upscale events, and a quick scour of the interweb turned up some amazing contemporary looks for a modern day Cruella. I love every last one of these ideas! Super chic.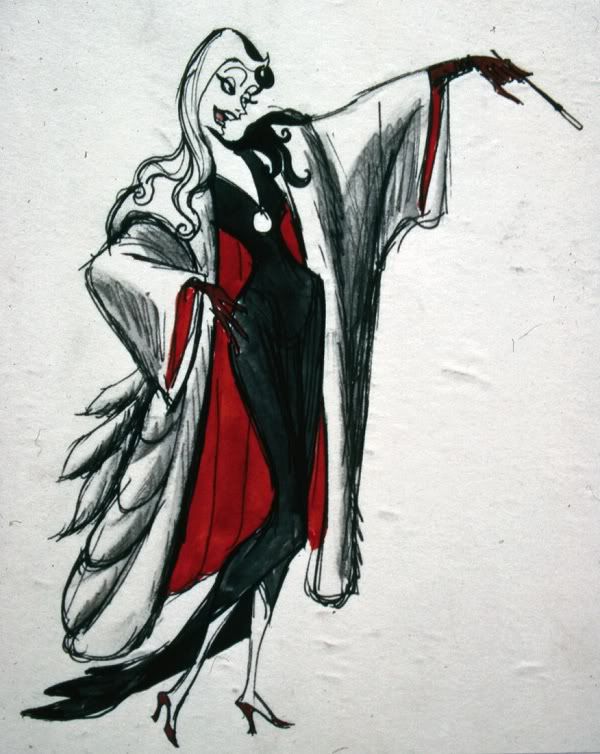 Concept design sketch by Marc Davis for Cruella de Vil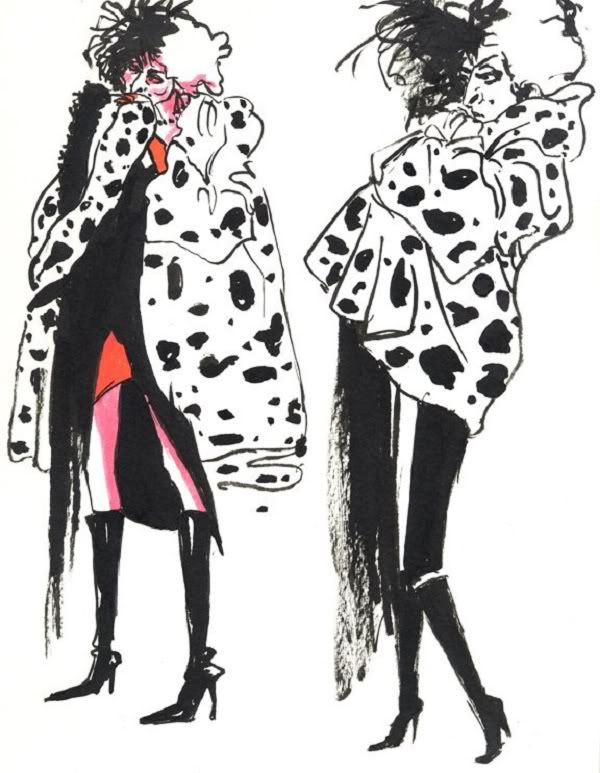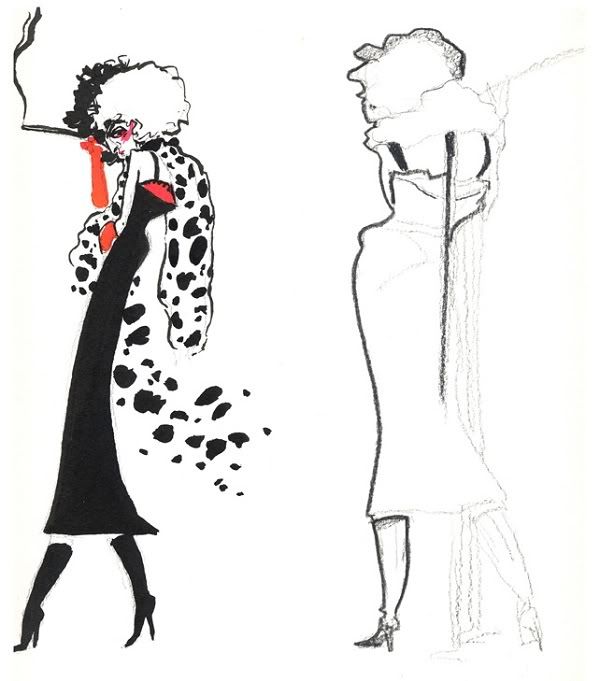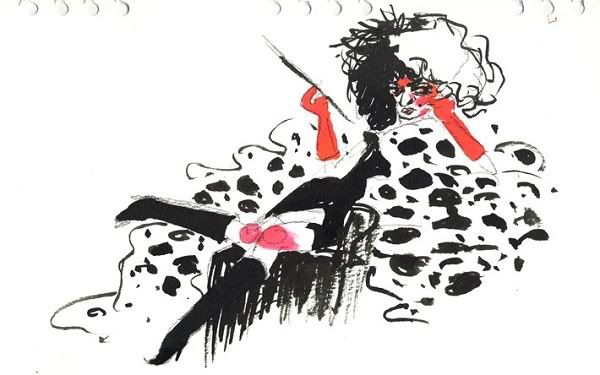 via
Nic's Sketchbook