Blogger Karen carrying Coach
While oversized has been all the rage on clothes this season, designers are finally over the huge satchel trend and have been sending out a lovely array of minimal bags.
Small and streamlined, they represent simplicty in both style and size, with clean lines and some of the least use of visible logos seen in years. They perfectly compliment the maxi skirts and baggy sweaters of the season, with which larger bags would probably have the effect of a hobo bag lady.
Chanel Fall/Winter 2010
Karl Lagerfield led the way with
Chanel
, who took things small with signature quilted bags that were accessorized with chain link straps and faux fur detailing.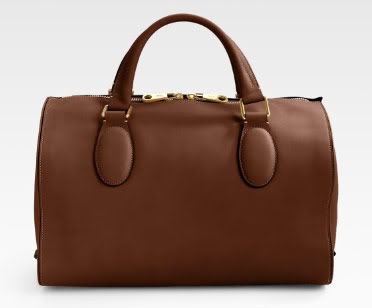 Chloe Aurore Top Handle
Chloe
still utilized medium to larger bags, but kept the designs easy. Uncomplicated totes and bucket bags in sumptuous leather managed to have a casual effortlessness along with soft luxury.
The plain bags may be a nod to the recession and a general distaste for carrying an accessory covered in obnoxious letters. When people are losing their homes and having trouble just affording food, the last thing they want to worry about is a bag. With Chloe and Chanel's prices both climbing into the thousands, however,m they only give the appearance of practicality. To get the look without shelling out the funds, try Forever 21's
Adorable Mini Handbag
, $20, or Nine West's
Studded Drawstring Crossbody
, $26 (down from $70!)