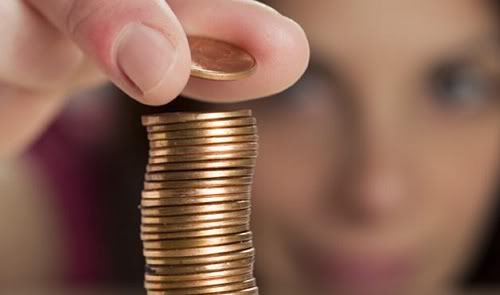 Ok so this will be the last new feature for a while, promise. In light of
Brand New Mondays
, I want to temper the blog with something else at the other end of the spectrum. When you blog about fashion, it can be really easy to fall into the black hole of
I want it, I need it, I have to have it
when it comes to trendiness, brands, and certain 'It' items. I starting this blog because it was fun, and I never want to get to the point of no return where I'm blogging to showcase how great I am instead of to bring information to you, my lovely readers. So I'm introducing
Frugal Fridays
.
Frugal Fridays is going to encapsulate monthly challenges that I'll hold myself to in cheap chic. Each Friday I'm going to give you all updates on how I'm going with my challenge, and at the end of the month I'll let you know if I made it or not. I promise to be honest!
For the first 30 day-challenge (starting today), I won't be buying any new clothes. So going out is all right, drinking is okay, seeing movies, hanging with friends- but shopping of any kind for clothing is
out
.
This is going to be a tough one. Pray for me.