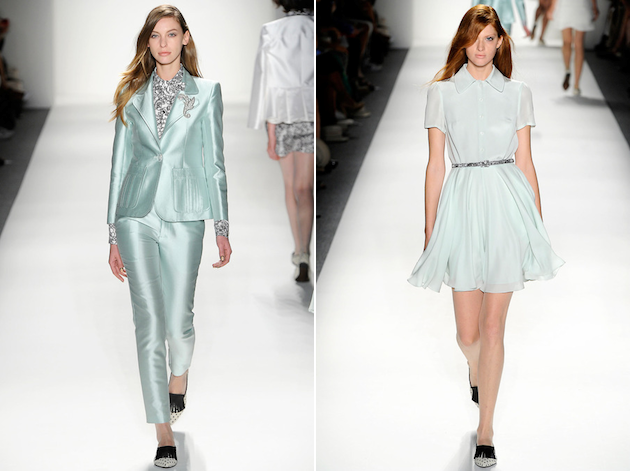 Ruffian Spring 2014 RTW
The youthful yet elegant collection shown by Ruffian was pretty and fresh, and certainly had a particular client in mind; girls that want to look put together but not stuffy, polished but not prim.
Think Blair Waldorf
. Made up of structured separates and inspired by French novel Bonjour Tristesse, which features a free-spirited young heroine, the color palette featured subdued jewel-tones mixed in with clean black and white.
Certainly taking cues from the French, there was also seriously chic, androgynous styling: think tailored silk pants with buttoned-up collared shirts and head-to-toe florals. Leather-fringed, polka-dotted flats that were shown with almost every piece- even a gorgeous silk, seafoam green pantsuit. Clean lines were also mixed in with the prints; a shift in black-and-white bouclé with rubber-coated vulcanized canvas insets was a standout piece.