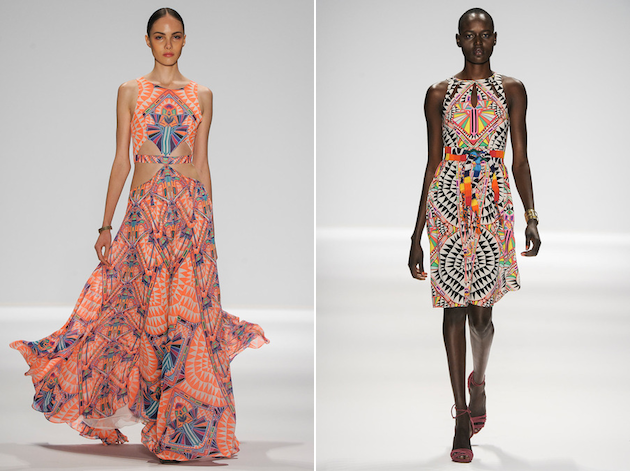 Mara Hoffman Spring 2014 RTW
Mara Hoffman, designer du jour for bohemian chic, did not disappoint with her Spring 2014RTW collection. "There's a Rainbow Warrior moment happening here," she said backstage before her show. "This collection is about straight-up happiness. I know that sounds hippie-dippie, but it's real." 'Rainbow Warrior' was certainly an apt description for her colorful and vibrant designs, a youthful hodgepodge of tops and bottoms, maxi dresses, caftans, and jumpsuits.
Certainly not for the faint of heart, the bold, bright designs were covered in everything from swirling serpents to third-eyes and ethnic tie dye featuring bold neon colors. Equally hippie and warrior, the models wore minimal makeup and the signature 60's hairstyle of center parts with braided extensions wrapped in artisanal Guatemalan belts. The same brightly colored belts were used to create short shorts and tassels.
I. Love. Mara. Hoffman. Her soulful aesthetic speaks to me completely; I certainly fancy myself some kind of free spirit and I love every one of her designs. All over prints, bright colors, maxi dresses, button-ups- where can I sign up?