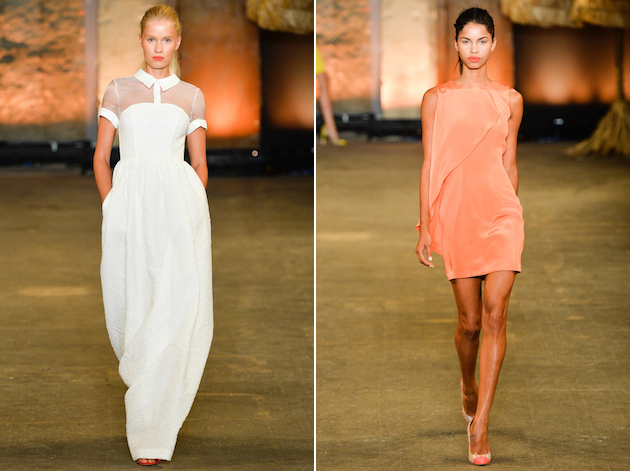 Christian Siriano Spring 2014 RTW
The fun and flirty collection shown by Christian Siriano was inspired by a vacation the designer took to Isla Mujeres in Mexico, where he observed neon-colored houses and handwoven flower baskets. Incorporating the bright colors, circular shapes, and flowers into his collection, he also used a blend of various textiles to bring his inspiration to life. There were pieces made of straw in a rainbow of colors, and a prevalent floral pattern was seen on matching jackets, shorts, and pants with a relaxed, slouchy fit. Other patterns included horizontal and vertical stripes, and an interesting jacquard print.
A chiffon circle dress with rose-and-cream French knot raffia clearly invoked a Mexican party; the pattern was also seen on a crop top with low-slung white pants. Although formalwear has always been the major focus of Siriano's brand, the day pieces were well-made, fun and interesting. When the formalwear that Siriano is known for made it's appearance, however, his gowns were showstoppers. Complete with a Mexican garden party theme in intense celadon and coral colors, the evening wear was adorned with floral appliqués and flounces that seemed to float right off the garments.