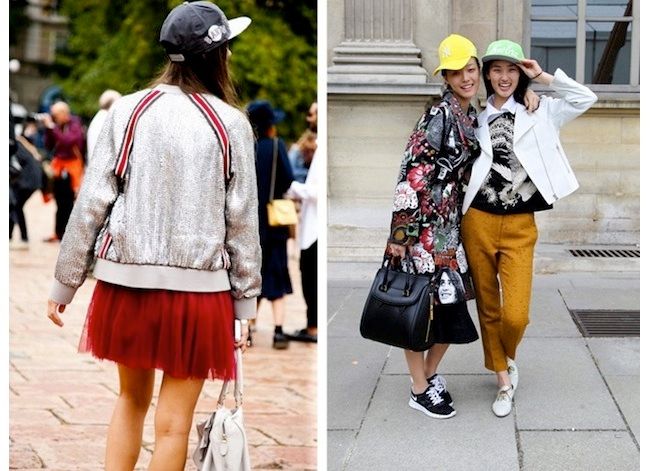 "I can't turn my back on the streets, Annie... THE STREETS!"
Everywhere you look these days, you can't help but notice that street wear is having a major moment. Once just for the boys, women have really taken over in rocking the sport-inspired styles, prints, and color ways. While the standard camo print and cargos will never go out of style, fashionistas are putting an extremely fresh and unique spin on sporty style nowadays. Want to try a look out for yourself? Here is a roundup of my favorite current trends:
1. Camo Print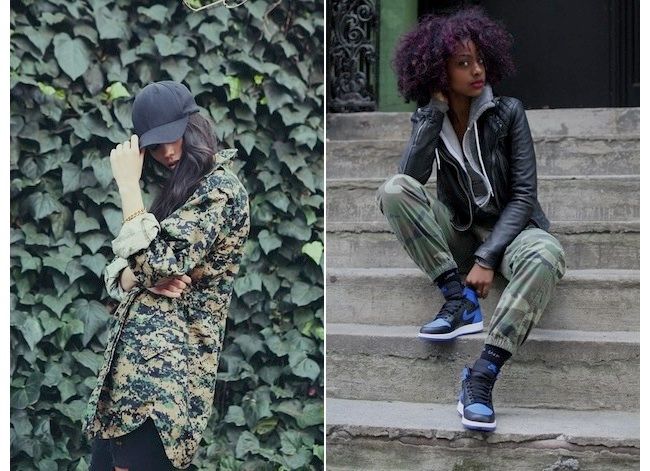 A street staple for years now, camouflage print is still the number one hottest print of the season. Once relegated to your boyfriend's baggy cargo shorts, camo is now a favorite for women as well, and can be seen on a variety of items, from jeans to button-ups and jackets. The casual nature of the print is a great way to spice up items in your closet, as the nuetral colors tend to go with almost everything. Gap has a great pair of camo print pants in both
blue
and
green
, for $69.95.
2.
Floral Print
Although floral doesn't scream street wear at first glance, this print has definitely become a force to be reckoned with in recent years. You can find floral patterns on just about ANYTHING these days. The bold colors are a great way to stand out from a crowd, especially when used on a jacket or shirt, and pieces with an extremely bright, graphic floral pattern (like
these shorts from Nasty Gal
, $30) are right on trend.
3. Tie Dye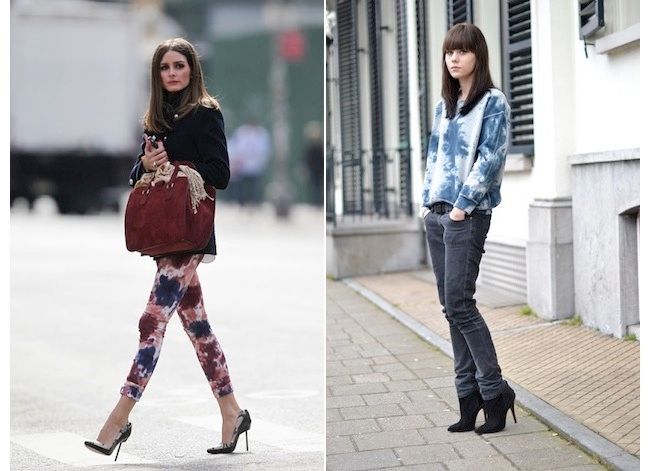 Known for being part of a more bohemian aesthetic, tie dye crossed over into street after it was spotted on urban staples, like a pair of tight jeans or bleached out sneakers. Once New York skate company Supreme teamed up with Vans for a
limited edition bleached denim sneaker
, tie dye became synonymous with street wear. Check out
Stussy's Tie-dye Pullover Sweatshirt
, $64, or
Vans Tie-Dye Slip-On Men's Sneaker
, $55, both from Urban Outfitters.
4. Football Jerseys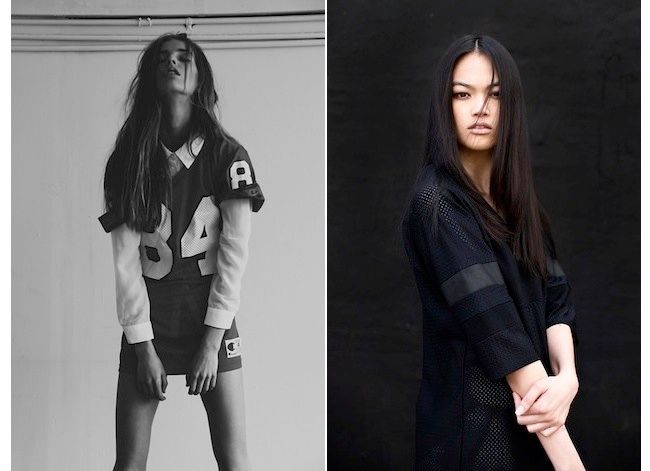 The large, graphic letters and bold stripes of football jerseys has translated amazingly well to street style. For an instantly chic look, you can easily dress oversized jerseys up by wearing them with heels and accessories. On the flip side, you can just as easily pair them with jeans and sneakers for a look thats casual-yet-cool. Crop them, knot them, pair them with a button-up underneath; the possibilities for this versatile staple are endless. Try Forever 21's
Lamé Varsity Top
, $29.80, or
Relaxed Sporty Varsity Tee
, $15.80
5. Five Panel Hats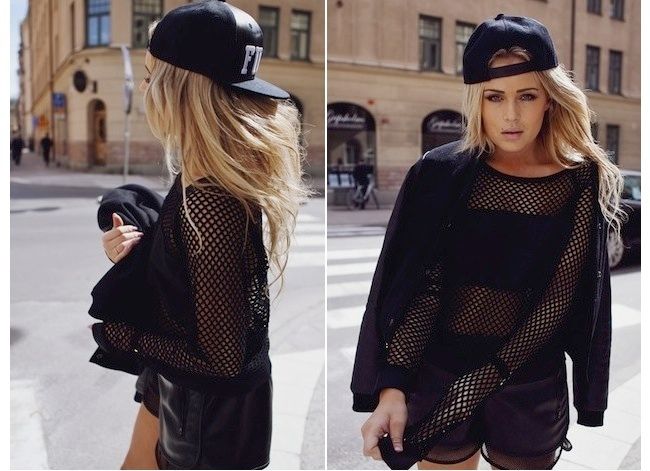 via Fanny Lyckman
Much beloved by skaters in the 90s, the five-panel hat has made a comeback in a big way. Fashionistas are literally wearing the snapbacks with everything from ballerina skirts and cocktail dresses to tailored trousers and motorcycle jackets. It is THE accessory for street style-wearers, especially ones with a contrasting brim, all-over print, logo on the front, or interesting fabric. Try out
ASOS' Leather Cap
, $20 (it's
a favorite of Vanessa Hudgens
) or the amazing
OBEY Jerry 5-Panel Hat
, $16.
6. Sneakers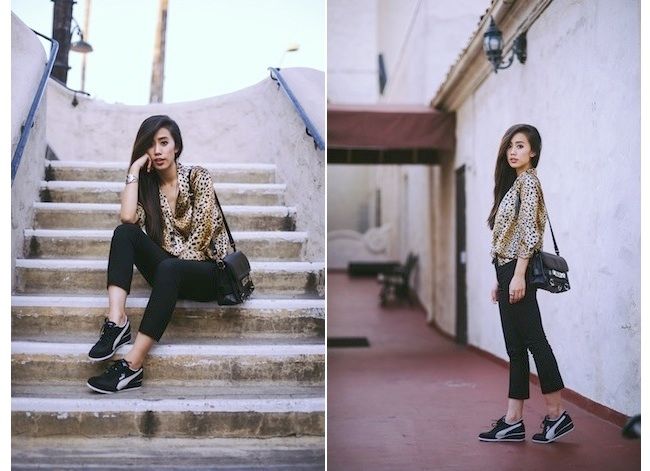 via neon blush
Were you ever that girl wearing sneakers just because they loved them? The tomboy being told they would 'grow out of sneakers' because Jordan's were immature, or that 'real women' wore heels? I was. But now, blogger chicks everywhere who once scrunched up their noses at 'tennis shoes' are finally catching on to the fact that kicks are pretty fucking awesome. From the Converse '
Shoes are Boring, Wear Sneakers
' campaign to the major comeback of Puma and
New Balance
, now is the perfect time to finally invest in a pair of shoes that won't make your feet hurt after five seconds. (Just so you know:
New Balance aren't cheap
, especially the ones 'everyone' is wearing right now.)
7. Black and White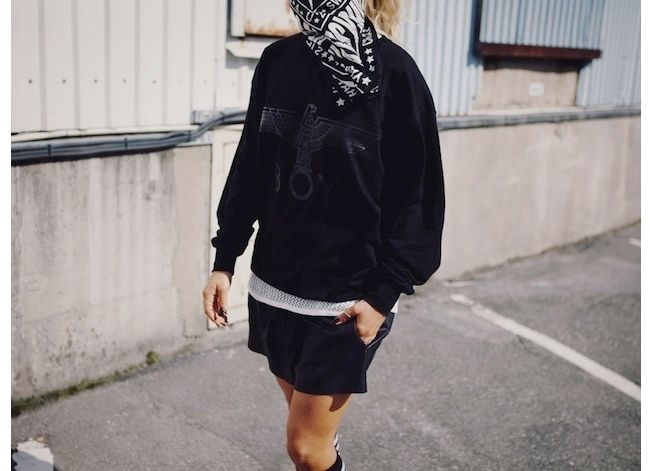 via Fanny Lyckman
Blame ASAP Rocky
. I'm crazy in love with
this 'Yeezy' Football shirt
from
MLM
, though.