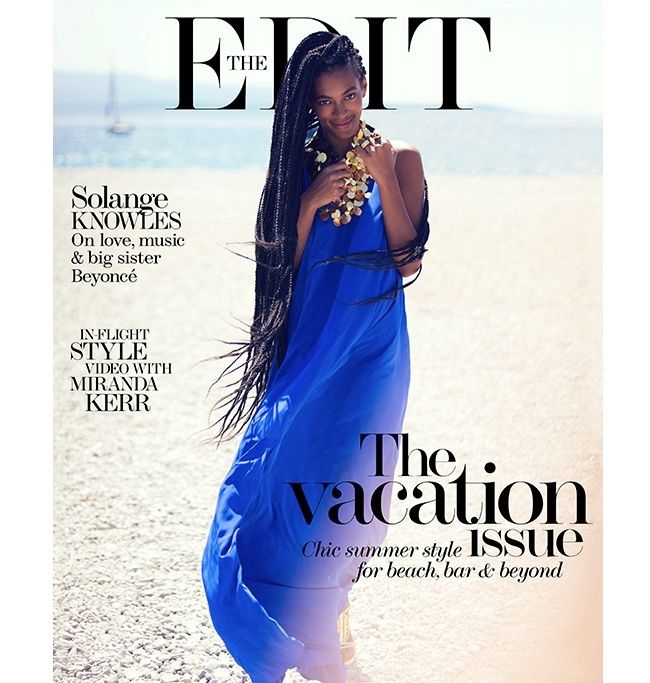 via
Solange Knowles continues to take the fashion world by storm, covering this months edition of online retailer Net-A-Porter's digital magazine 'The Edit.' An avid traveller, the images of Knowles gracing gorgeous beaches were shot in the lovely island of Croatia, before she was interviewed in Senegal for the accompanying article in The Vacation Issue of the magazine.
With her hair styled in her now trademark, thigh-grazing braids and minimal make-up, the free-spirited songstress and fashion muse was featured in vacation wear from J. Crew, Emilio Pucci, Miguelina, Anndra Neen, and Jonathan Saunders, among others. Known for her eclectic style, Knowles was quoted as saying, "Style in anything is very important. It's how we express our individuality, who we are and what we believe in. It's all a reflection of who I am." She also discussed a bit about her personal life and how she has evolved into her own performer and musical entertainer outside of her iconic sister, Beyonce, and how grateful she is to have a career doing what she loves:
"I'm having the time of my life. I have one of the best jobs in the world, and to be able to [perform] for an hour a day and make a career out of it, I'm incredibly humbled by it."
I just love this girl. Such a refreshing beauty, and a great take on personal style. She is like the spokesperson for free-spirited Black girls everywhere. That's why she is today's
Thursday Style Icon
.
To read the entire interview over at Net-A-Porter, click here.