"Versatile, casual, chic, edgy and comfortable." ~ Danielle Bernstein
Fashion students are really having a moment on the blog,
aren't they
? Danielle Bernstein, of the blog
WE WORE WHAT
, has been popping up on my various dashboards for months now, and, after stumbling across her
tumblr
page, I finally found out who she was! The 21-year-old Fashion Institute of Technology student has a dope, rocker chic sense of style that I can completely identify with. (One word:
pants
. All the time. Nothing better.)
After transferring from University of Wisconsin, Madison to FIT in New York City two years ago, Bernstein immediately picked up a camera and started documenting the street style she saw daily. (
Subway Voyeur much?
) As her own personal style evolved, however, 'WEWOREWHAT' went from a collection of style snapshots to a personal blog on her own sartorial tastes.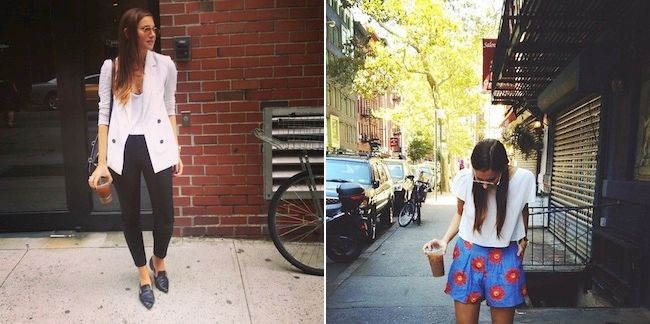 via Danielle Bernstein's Instagram
In addition to running her websites and amazing
Instagram
account, the busy blogger also writes for Rebecca Minkoff's blog,
Minkette,
and is a contributor for
Socialyte
, an online casting agency that helps bloggers identify brand partnerships; described as a service for 'Digital's Fashion, Beauty and Luxury Lifestyle Influencers.'
Her style is the definition of cool, urban sensibility. I like how wearable every item in her wardrobe is. Quirky and fashion-forward is fun, but these are outfits that can be worn by real girls everywhere: white tops, black bottoms, flats and jackets that are made special by the exquisite styling. Danielle Bernstein,
Thursday Style Icon
.