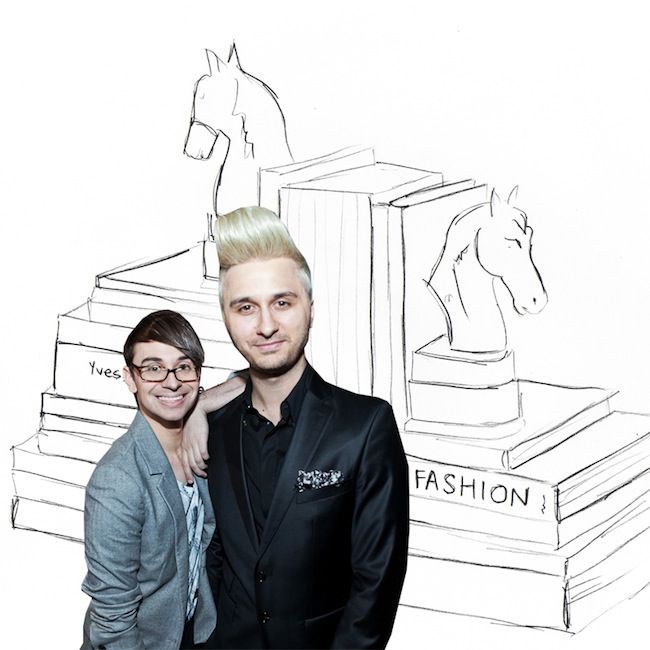 Christian Siriano and fiance Brad Walsh
Remember
Christian Siriano
? The pint-sized spitfire who won season four of design show
Project Runway
(coining one of my favorite terms in the process,
tickety tack
) has since launched a million dollar corporation, including an
eponymous line
and wildly popular bridal collection. His personal life is equally as successful, what with his
recent engagement
to longterm boyfriend
Brad Walsh
.
The two have been living together for three years, moving from a spacious Brooklyn loft to a 2,100 square foot apartment in the hip Chelsea area of New York City. In a great house tour on byrnenotice.com, the two showed us around their new space, which is vintage-inspired and decorated with antiques and pieces from their travels. Although the two obviously have excellent taste, their pad manages to still look like a lived-in home and not like a museum. Some excerpts from the tour:
Was this the vision for the place when you started?
"Our last apartment in Williamsburg was very modern and kind of minimal, and right at the end of our time there Christian started getting much more into antique and vintage finds. So the new space sort of became the canvas for that, and slowly the modern furniture was phased to the office or out of the picture entirely. We have a few mix-and-match pieces left but this home is more about comfortable beauty than showroom living."
What/where's your best-kept home decor secret?
"We kind of shop around a lot. I actually don't think we really frequent the same place very much, so no secrets."