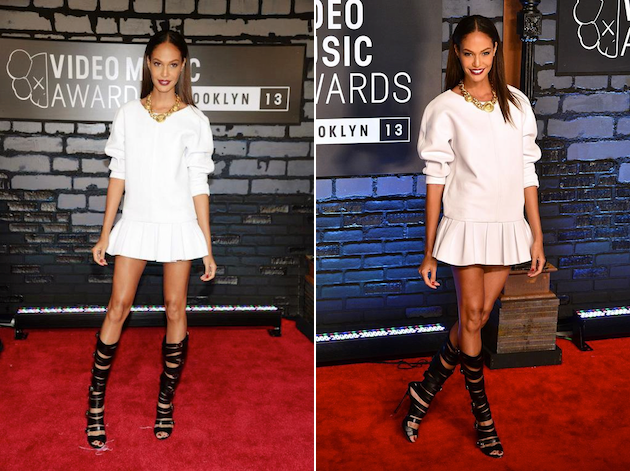 Model Joan Smalls in Viktor & Rolf
The iconic MTV VMAs were held this past weekend, located for the first time ever in Brooklyn at the Barclay's Center. One of the longest running televised awards ceremonies at 30 years, and known as the 'Oscars for Youth,' the VMAs never fail to bring out a huge mix of models, entertainers, and actors. And with no set dress code, attendees often show up in a range of looks, in anything from edgy separates to sophisticated evening gowns. (
And eggs
. Lest we forget... Okay, that was the Grammy's, but still.) A roundup of some of the standout looks from Sunday night:
Rihanna went extremely casual, playing up her signature tomboy street style in jeans from her own Rihanna for River Island collection and a t-shirt. She accessorized her 'MC Lyte' tee with a diamond choker and vintage Chanel bag. Others, however, chose a sexier route: Selena Gomez, another
former Disney star turned movie actress and singer trying to sexify her image
, wore a Versace dress with a thigh-high slit, studded hemline, and exposed bustier. I normally hate everything the cherubic-faced Gomez wears; to me, she always looks like she's wearing her hot older sister's clothes. But this kooky dress somehow works for me.
Feathers were also a bold trend. Ciara's Givenchy Couture dress featured a see-through bodice with strategically placed crystal embroidery and feathers at the hemline. (And it's not deja vu;
Beyonce wore the same dress to the Met Gala last year
.) Rita Ora showcased a new, short blonde 'do and frosted makeup to go with her glamourous, feathered Alexandre Vauthier Fall 2013 gown.
Did she also look like Beyonce's evil doppelgänger
? Yes. Was it an improvement
over this
? For sure. I'll take what I can get from her; at least she didn't wear that awful red lipstick.
Wait. Was looking like Beyonce also a VMA trend?