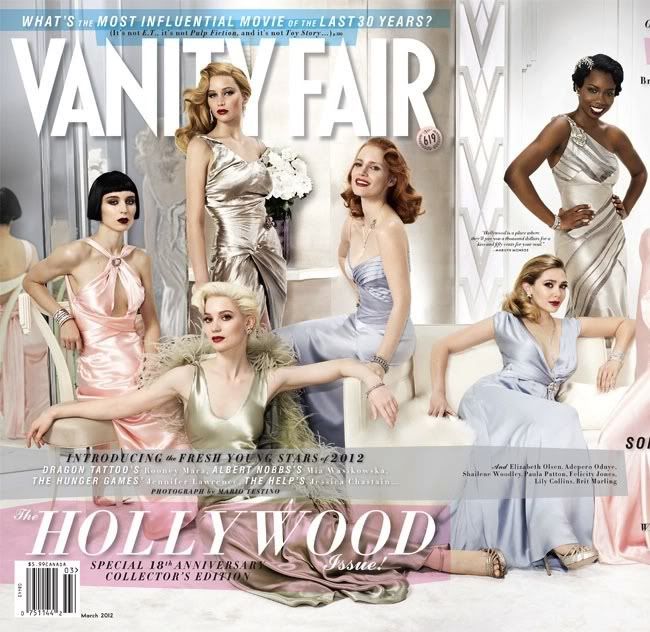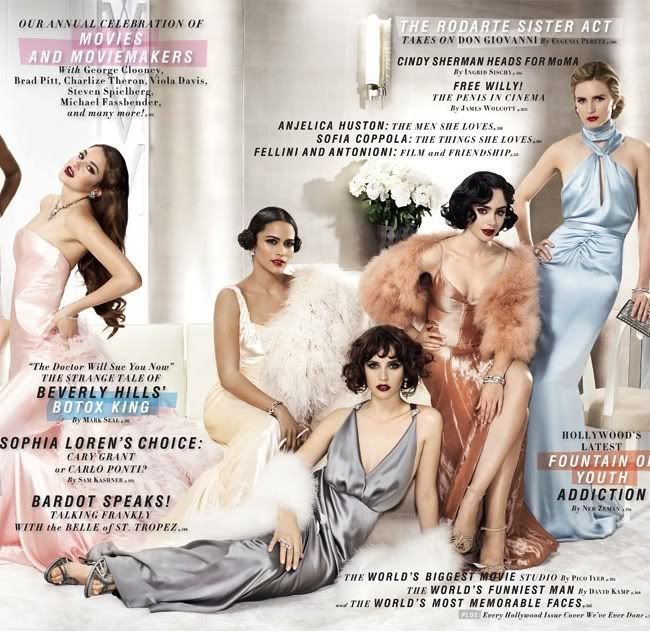 Old School Glamour
The 2012 Hollywood cover of
Vanity Fair
had a lot of names I didn't know (Adepero Oduye? Felicity Jones?), a lot of names I could care less about (Jennifer Lawrence, Mia Wasikowska, Lily Collins), and a lot of names that had me scratching my head (30-year-old Jessica Chastain and 36-year-old Paula Patton on a
Fresh Young Stars
list? Oh).
But there were a few names, and a few roles, that knocked me right out of my seat this year and are deservedly on this list: Rooney Mara, Elizabeth Olsen, Shailene Woodley, and Brit Marling, to be exact. Mara's Oscar-nominated turn as Lisbeth Salander in the U.S. version of
The Girl With The Dragon Tattoo
was, as Roger Ebert put it, filled with 'anger and proud isolation.' She certainly wasn't
the pretty, yet plain girl we remembered from The Social Network
, and continues to defy rules as the
black hair and goth style of Salander remained on Mara's own red carpet events
.
Olsen, the younger sister of a
certain set of twins
you may have heard of --or, hey, maybe not-- is the new darling of the indie set after wowing audiences in the critically-acclaimed
Martha Marcy May Marlene.
She's set to hold onto her title of Queen of the Indies with the upcoming
Silent House
, thriller shot in real time.
Shailene Woodley may not be a name you recognize at first glance, but don't feel bad; I more often than not refer to her as 'Secret Life Girl,' after her breakout hit show
The Secret Life of the American Teenager
. She has earned raves as main character Kathleen, and is now turning heads as the bitter, self-destructive teenage daughter of George Clooney in
The Descendants
, which was nominated for Best Picture of the Year at this years Academy Awards.
And last, but certainly not least, is Brit Marling, who, ironically, I loved so much after seeing her award-winning, sleeper hit
Another Earth
this summer that I petitioned to get her cast as Katniss Everdeen in
the Hunger Games
film adaptation. Why is that ironic, you ask? Because
the role went to Jennifer Lawrence
, one of the four main actresses featured on this cover. I still maintain that Marling, who's intense, haunted performance as a high school graduate who accidentally kills a family while drunk driving earned the film the Alfred P. Sloan Feature Film Prize as well as the Special Jury Prize, would have been the better fit.