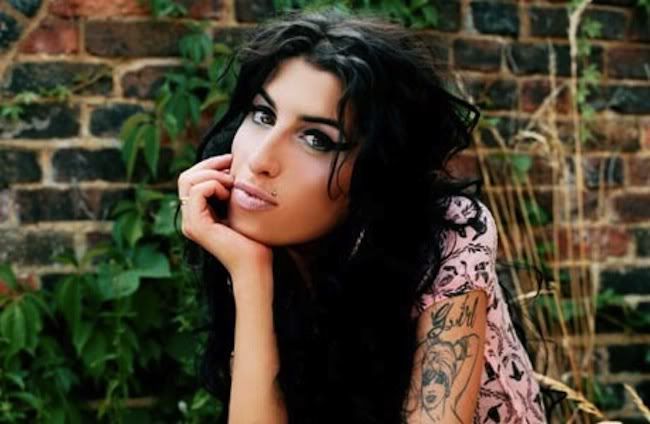 Rest in Peace
Soul singer Amy Winehouse passed away last year, but her legacy lives on through her groundbreaking cd's
Frank
and
Back to Black
(and the posthumous
Lioness
), not to mention the inevitable comparison to stars Adele and Lily Allen. Now her distinct, 60's-inspired style will be available to the masses as well, via clothing lines by
Fred Perry
and
Jean Paul Gaultier
that utilize her signature looks.
Winehouse was an obvious inspiration for Gaultier's Paris haute couture runway show this week, as the French designer sent his runway models down the catwalk sporting sky-high beehive hairdos, thick winged eyeliner and drawn-on moles. A live a capella group provided the music for the show: they sang "Rehab" in the background. The distinct pieces in the collection included formfitting dresses, corset tops, and lots of black; at the end of the show, many of the models donned black veils to walk the finale. After the presentation, Gaultier told Women's Wear Daily, "I think Amy Winehouse was truly a fashion icon," one that he "felt compelled to celebrate...because magazines failed to do so."
British fashion hub Fred Perry also sent out a line inspired by the singer, called the
Autumn/Winter 2011 Amy Winehouse for Fred Perry Collection
. The retro, preppy collection became available for sale on the British fashion hub's website last week, and the 30-piece line included houndstooth print, cropped cardigans, and accessories like bowling bags and penny loafers. Unlike the Gaultier line, however, the Amy Winehouse for Fred Perry collection was actually designed by Winehouse, who also wrapped up a spring/summer 2012 collection before she passed. It is scheduled to be released next spring.
Interestingly enough, the starlet's family does not support the Gaultier collection; Winehouse's father, Mitch Winehouse, railed against the line as being in "bad taste" and "upsetting." He also said that "...to see her image lifted wholesale was a wrench we were not expecting or consulted on… No one asked us for permission or offered to make a donation to the [Amy Winehouse] foundation," which is in direct contrast to the Fred Perry line- a not for profit. He tweeted on Thursday that "Amy's new Fred Perry collection out now... It is fabulous. All profits to Amy's foundation."
Perry posted a similar statement on the collection's website, saying, "After much consideration and with the blessing of Amy's family, we have decided to release the AW11 Amy Winehouse for Fred Perry Collection. Amy was passionate and dedicated to the collaboration and her signature style is clearly stamped across each piece. In such circumstances, the usual royalties and fees from the collection will be donated to the soon to be established Amy Winehouse Foundation."
The two collections are vastly different but wholly Amy... which do you prefer?
Fred Perry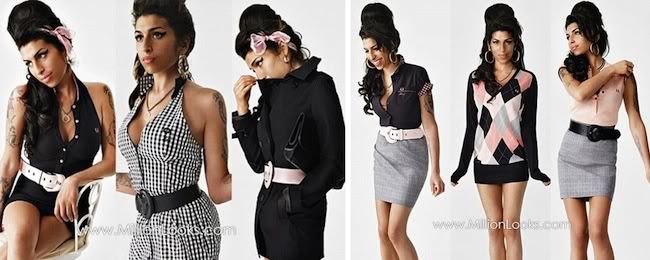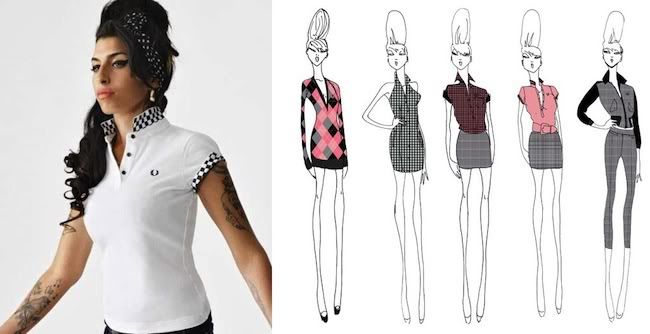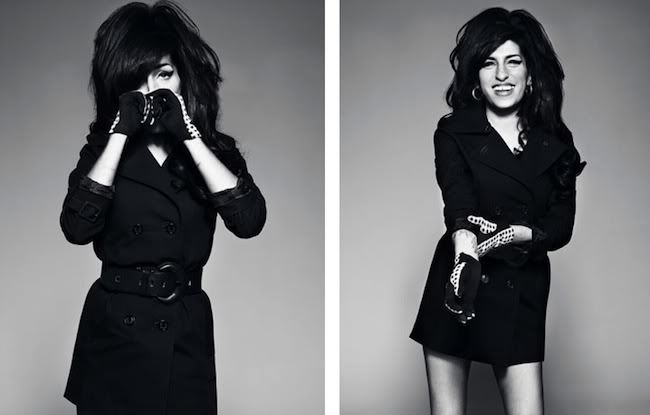 Jean Paul Gaultier