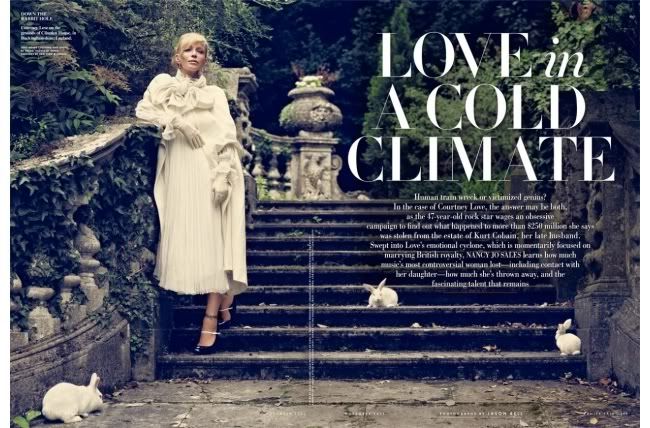 Follow the White Rabbit
Thrill me
. Crazy Courtney Love looks fantastic in this month's issue of
Vanity Fair
, where
she opens up about Kurt, Frances, and day-to-day living in 'Wonderland.'
The theme seems especially appropriate as she sounds certifiably insane in the article, obsessed with 'the fraud' of moneys she claims she was owed from Nirvana, and wondering, among other things, why her daughter refuses to speak to her:
'
According to Love, the money problems existed even when Kurt Cobain was alive. "We could never find our money!" she says. "We had $135,000 in our bank account. They said that if he would go do Lollapalooza he would make $11 million… Do you think Kurt would have killed himself if he had known he had $54 million?" That figure is based on research done by Love's Twitter Army, her online fans and believers who are determined to get to the bottom of "the fraud."

"They won't be happy till I'm dead!" exclaims Love, of no one in particular.
Ordinarily a mess
, when she cleans up, she sure does clean up good, doesn't she? It's almost strange to look at relatively calm images of her like the one above and think about the chaos just underneath the surface... down the rabbit hole, if you will.
To read the full article, click
here
. The following video is a short film by photographer Jason Bell on the 'strange magic of Courtney Love's world.'