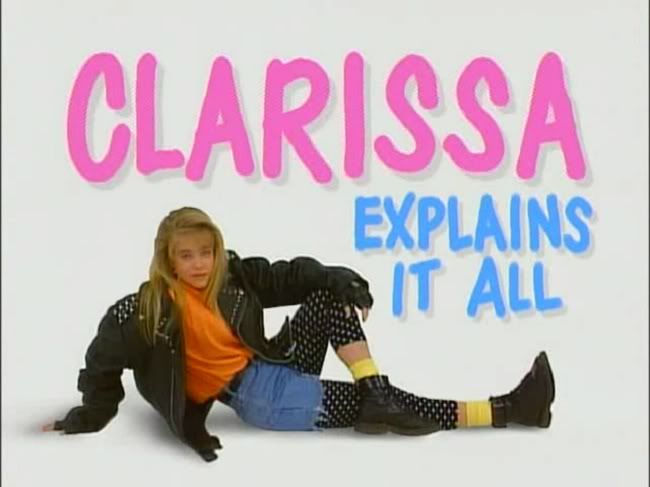 Melissa Joan Hart is no stranger to the
Thursday Style Icon
section of the blog;
she was one of my first ever features
for her iconic turn as Sabrina Spelman in the late 90's show
Sabrina, the Teenage Witch
. Well, here we are, almost a year later, and she's back on here as one of my all-time favorite television characters: Clarissa Starling! Any kid that grew up in the 90's, like me, faithfully tuned into Nickelodeon every day for a helping of shows like
Doug
,
All That
,
Are You Afraid of the Dark
,
The Adventures of Pete and Pete
,
My Brother and Me
,
Ren and Stimpy
... and more! The programming then was so epically fantastic, NOTHING like the slop they're putting on television today for kids. In a genius move, Nickelodeon alum Nick Cannon recently became Chairman of TeenNick, and started a scheduling block called
'The 90's Are All That.'
Every night from midnight to 4am, TeenNick shows all of the old-school shows that I know and love in their entirety.
One of the first shows in the block is
Clarissa Explains It All
. The show, which ran from 1991 to 1994, featured teenaged Clarissa Starling living her day-to-day life in Ohio with her parents and little brother. Clarissa found herself in different situations every day, just like any kid, but the show allowed her to break the fourth wall and discuss her take on events in her life with the watcher personally.
Clarissa Explains It All
broke many boundaries in terms of television: it was the first Nickelodeon series to feature a female lead- paving the way for other 90's classics like
The Secret World Of Alex Mack
and
The Mystery Files of Shelby Woo
, and modern day popular series' like
iCarly
and
Zoey 101
. It was also the first show to feature a male/female friendship, due to Clarissa's strictly platonic relationship with her best friend Sam.
But all that epic awesomeness aside, the best thing about the show was Clarissa's fantastic personality... and her delightfully tacky wardrobe. Everything about Clarissa matched her outspoken demeanor, from the hubcaps decorating her walls to her penchant for neon bicycle shorts, over-the-top layers, and rugged leather jackets. Clarissa was nothing short of a kook, as evidenced in the episode 'Misguidance Counselor', when her counselor tried to enlist her in 'normal' activities to make up for her love of rock music (specifically Pearl Jam) and lack of interest in high school activities. I love her kookiness. I love that she is a complete individual, dressing with no regard for what anyone might think and mixing and matching patterns, prints, and colors. She was the epitome of 14-year-old cool for little nine-year-old me in the early 90s... and she still is, now.