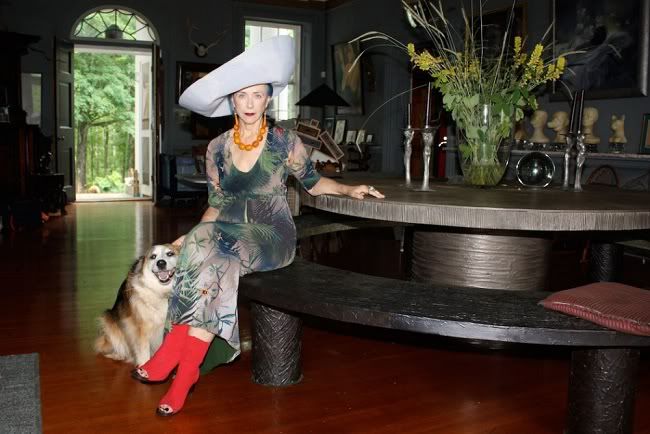 "
"I think everybody's life is interesting. When you really look into it, everything is an adventure. I am learning while I am writing.
" ~ Beatrix Ost
Artist and writer Beatrix Ost has taken the concept of a blue-haired old lady to the next level. The author and artist, who bounces back and forth between an apartment in New York City and a ranch in Virginia, has worn blue- or purple-tinted hair for the last ten years, since debuting it at her sixtieth birthday party. She has become equally known for her blue hair and refreshing style as for her art, which is no easy feat. The visual artist has been creating sculptures and paintings since coming to America in the 70's, after being a model and actress in her native Germany.
Ost moved to America in 1975 with her husband, Ludwig Kuttner, and discovered another side of herself at their Virginia estate: that she was good with words. Her first book, 'My Father's House: A Childhood in Wartime Bavaria,' was a bestselling memoir based off of love letters her father wrote her mother in the 1940's. Published in 2007, she is currently writing a second that is set to revolve around her teen years and early twenties in the 50's and 60's.
Art touches every aspect of Beatrix's life, from her decorating skills (her apartment with Kuttner is a virtual display at the
Museum of Modern Art
) to her fashion choices. Her favorite designers are Comme Des Garcons, Vivienne Westwood, Azzedine Alaia, Yohji Yamamoto, Ronaldus Shamask, and Philip Treacy, none of whom are known for being shy in the design department. Her colorful personal style is marked by fanciful turbans, lipstick, rings on every finger, and ankle boots. She dresses as I would imagine an artist to dress: wild, exuberant, and more than a little eccenctric. Nothing is too short or too tight or like she's trying to hard to be 'different' and 'fashionable.' It all just works.