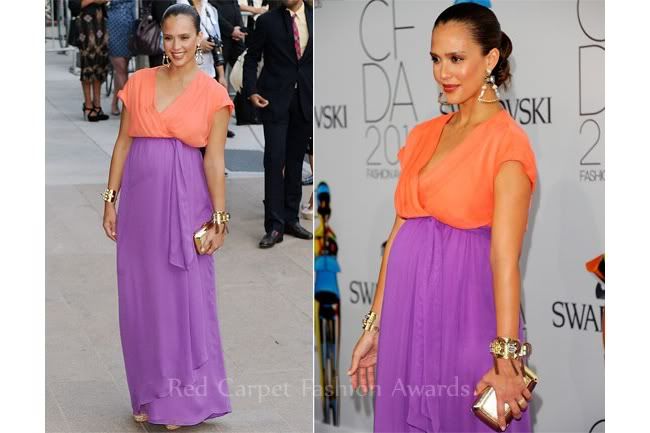 images via
Red Carpet Fashion Awards
I never thought I'd say this, but... today's
Thursday Style Icon
is Jessica Alba.
Pause for effect.
I hate Jessica Alba. I think she is the Worst Actress In The World (caps added for emphasis) and every movie she's in is automatically The Worst Movie Ever Made. I also don't usually care for her style, which tends to err on
the skanky side
, what with her status as a 'sex symbol' and all. But she has completely changed my mind this year, as her maternity style during her sceond pregnancy has been nothing short of amazing!
Her first pregnancy didn't wow me, as she seemed to be unsure of what to do with her body and had a
habit of looking childish
and hiding under tons of layers. This time around, though, no matter what the event, she has looked lovely, put-together, and entirely appropriate. She has also managed to maintain her sexiness in a decidely more mature fashion; it seems that this pregnancy has really made her secure in her body and confident in expressing a more subtle sexuality as opposed to overt sex appeal. She revealed to
Allure
magazine,
which she covered this month
, that "I was quite shy with it [my sexuality]. It wasn't something I embraced until I had my daughter. I saw how incredible and amazing it is to be a woman and to be able to create a life."
The difference in attitude really shows. Alba recently turned 30, and it seems her age coupled with marriage and motherhood suits her. THIS is how you dress when you're pregnant. You don't have to ridiculously flaunt your belly to be sexy (
Kate Hudson, I'm talking to you
), and you also don't have dress in clothes that are
18 sizes too big
. Pregnant can still equal trendy, tailored, and fun, as Alba so clearly demonstrates in harem pants, color-blocked outfits, and chic motorcycle vests. She may not have given up her beloved layers, but her body skimming separates are worn so well that I can't even be mad... everything about the fit of her clothes and the way she puts together outfits is complimentary to her growing body. Hats off to you, Jessica! Maybe you should be a stylist instead of an actress.
Just saying
.