Note: This is a bit of a lopsided post. What I did like, I liked a LOT, and what I didn't like, I hated.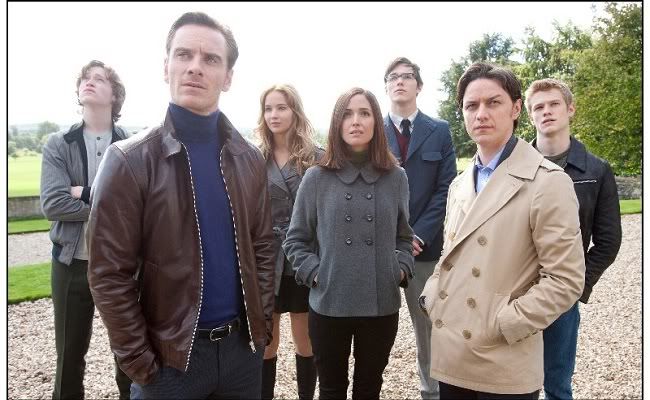 The gang's all here.
I recently saw
X-Men: First Class
, and, while I wholeheartedly disagree with the
reviews hailing it as the next Dark Knight
(come the fuck on!), there was one thing undeniably spectacular about the film: the costumes! The movie is set in 1962 and, while definitely not on the same caliber as say,
The King's Speech
, as far as period pieces go, the outfits were pretty solid. I got a definite sense of a time and place from the main characters: Erik Lehnsherr's mock turtlenecks, Charles Xaviers' double-breasted jackets, and Raven/Mystique's mod minidresses all clearly defined the era. Not to mention the tornado-twisting mutant called
Riptide
, who's lean, tailored suits, bow ties, and shaggy hair just SCREAMED sixties chic. I've read reviews stating that the movie took a lot of it's sartorial cues from the old James Bond movies, and I can definitely see the influence. (If
Mystique's normal form
isn't inspired by
Dr. No
, which came out in 1962, I don't know what is.)
However.
As you all will notice, the bulk of the pictures are of January Jones. More than a moderate amount of consideration seems to have gone into the wardrobe of the
Mad Men
star, who portrayed telepath Emma Frost, and while I get that she was one of the larger names attached to the project, so much attention was paid to her that I can't help but wonder if the rest of the cast was left to style themselves according to whatever they thought the fashion of time period was. And I'm not kidding;
some succeeded
and
others failed miserably
, looking as if they walked on set in their street clothes and were just filmed as is. Meanwhile, taking clear cues from Jane Fonda's
Barbarella
, which came out in 1968, Jones' ice queen has immaculate make-up, teased blonde hair and multiple outfit changes, including skintight leather jumpsuits and one totally spacey Russian get-up. Overall, the effect of the costumes and settings was quite nice, I just wish I got more of a total package, instead of the sense of an A-list star and a chorus line.
Oh, and yes... that IS Kevin Bacon.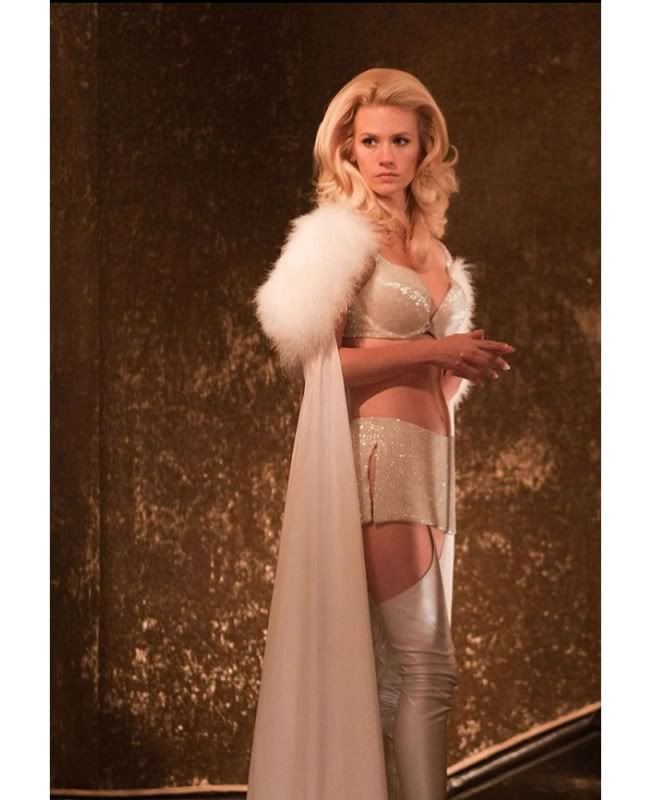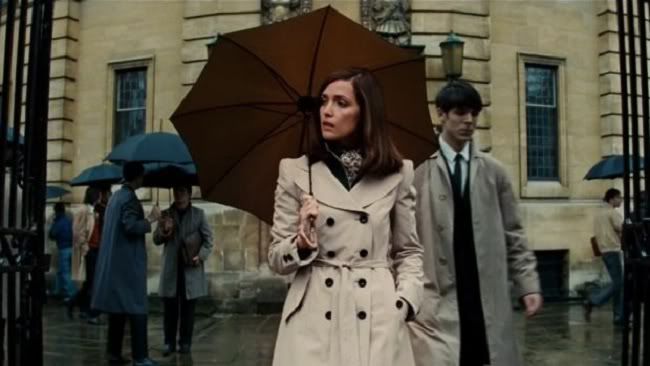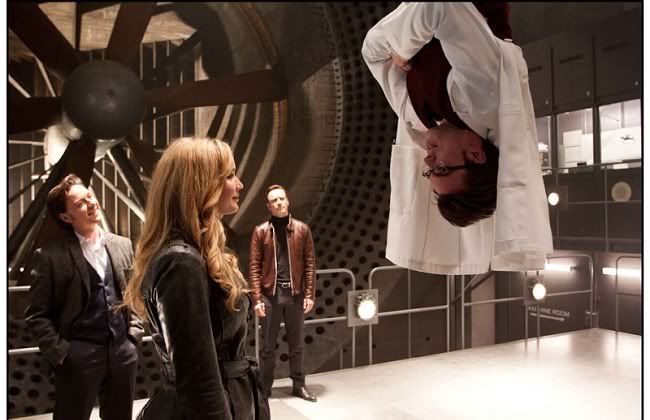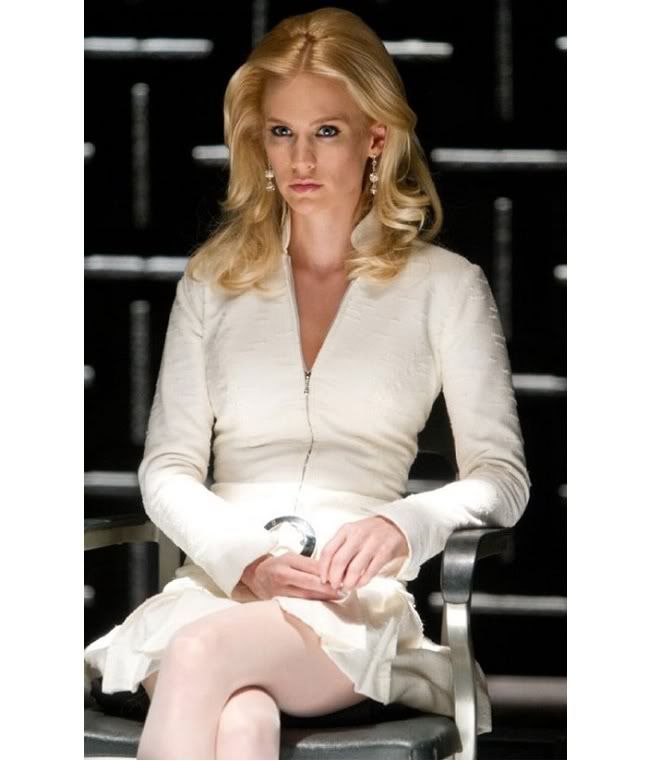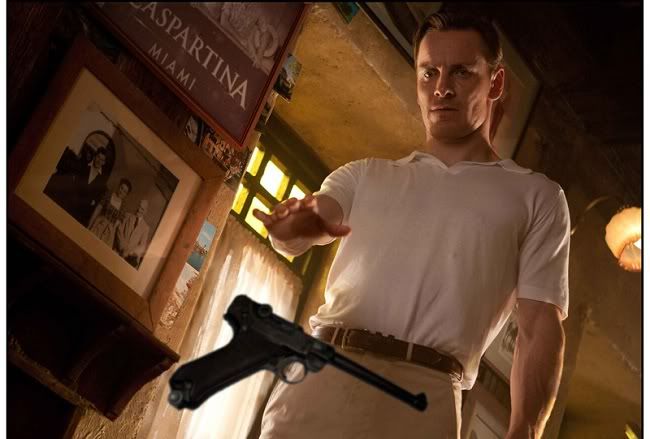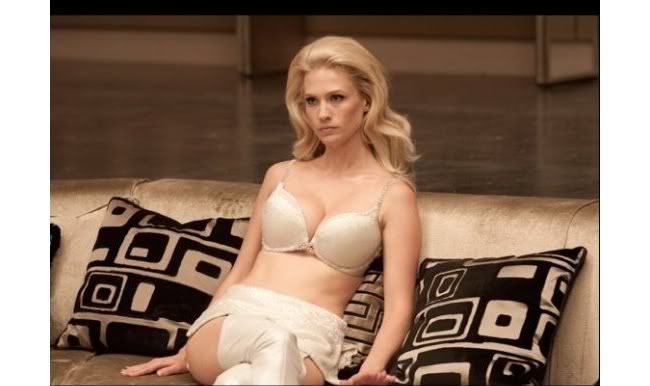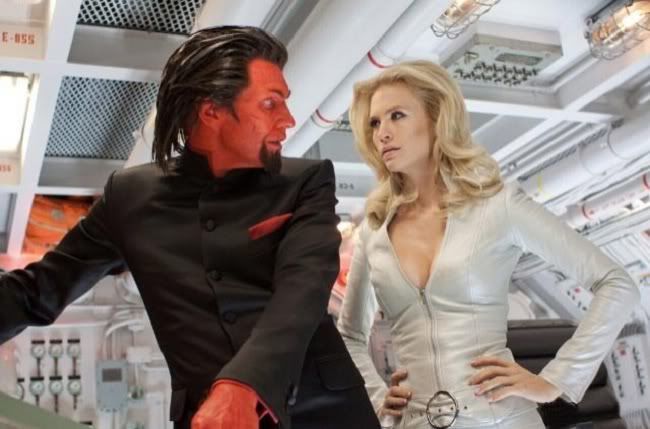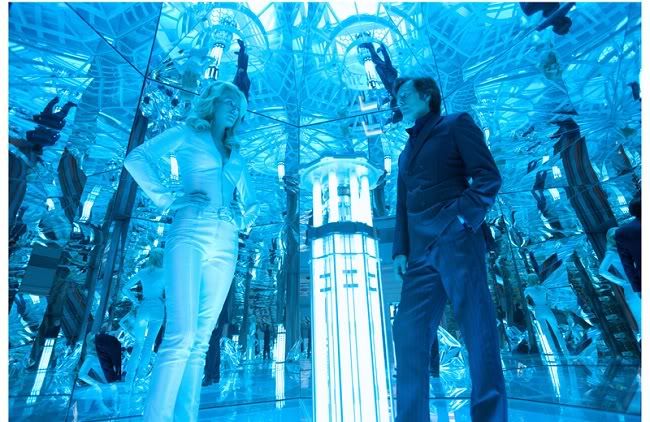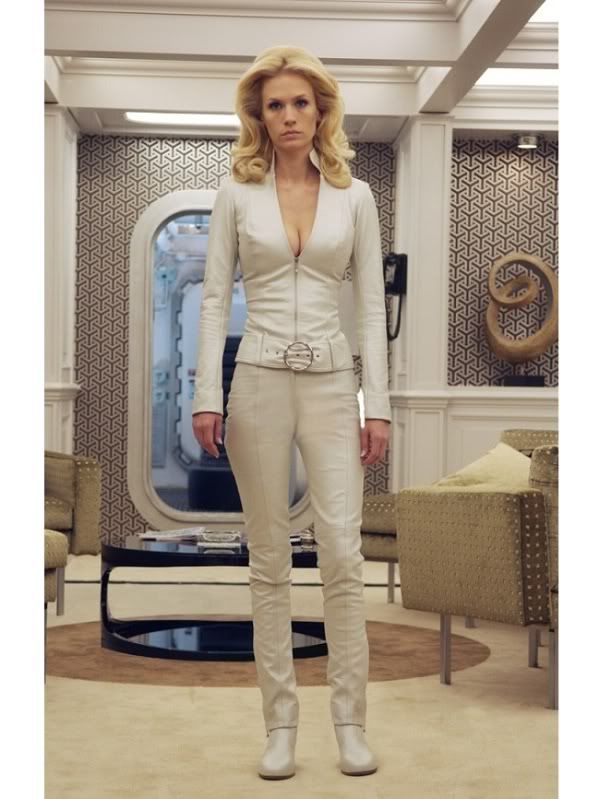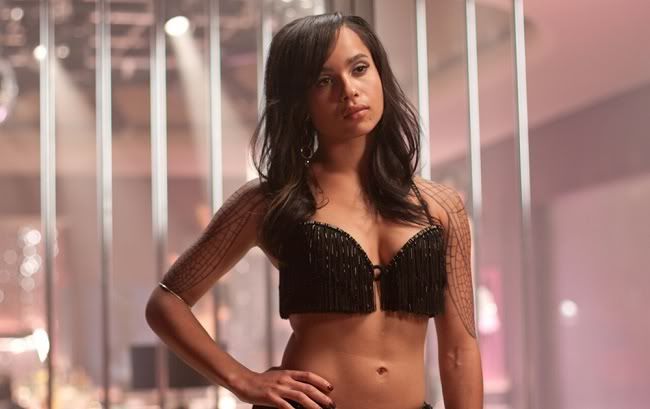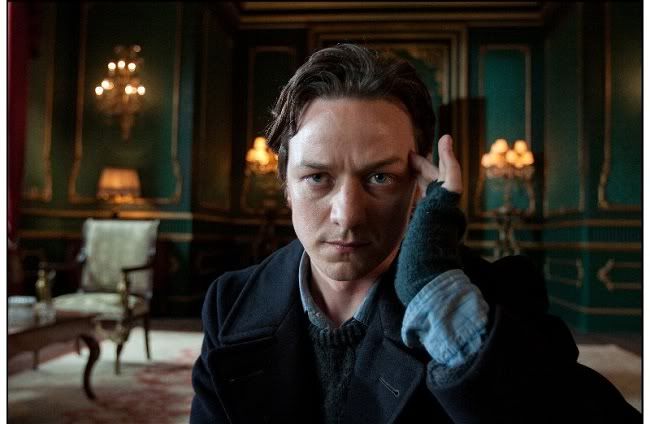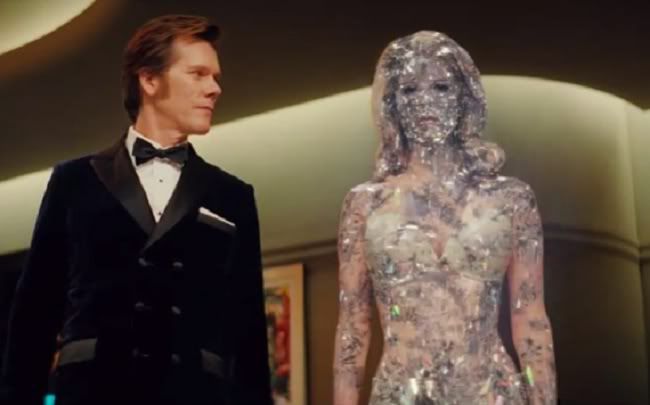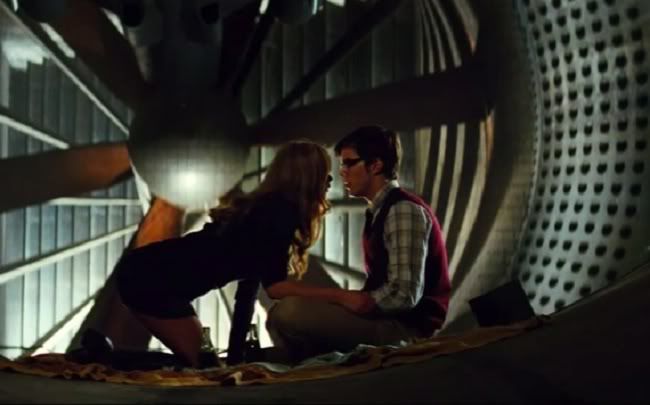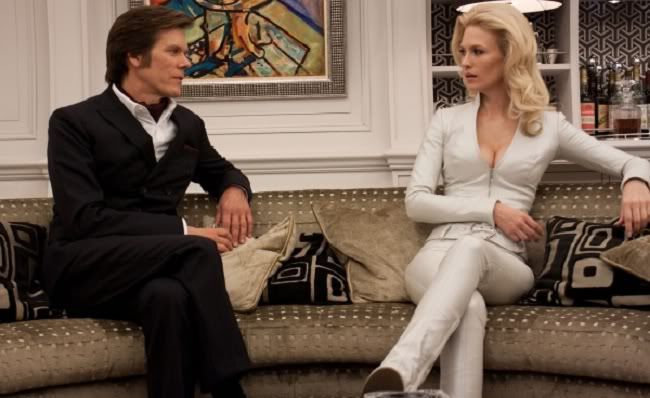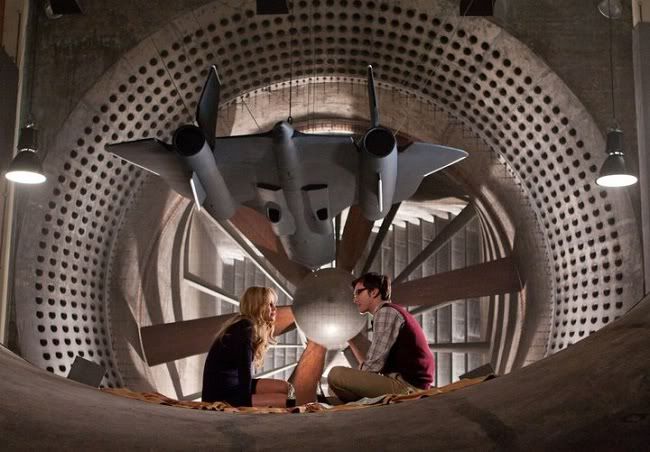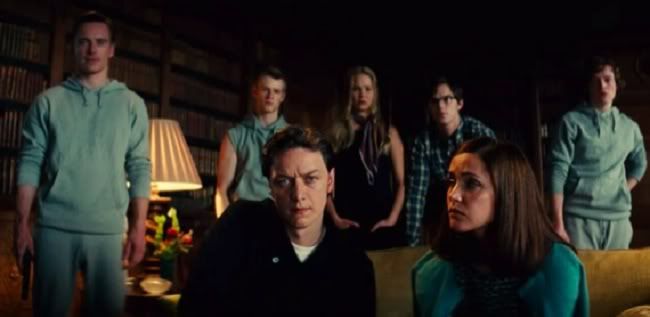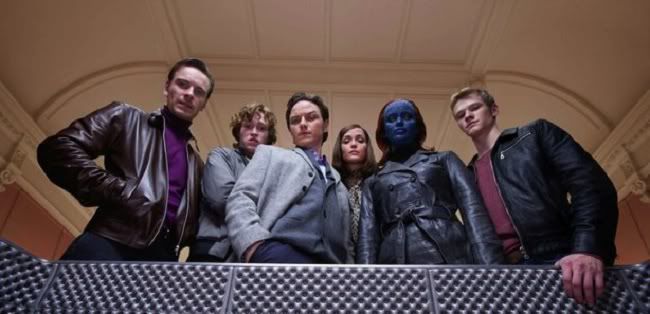 ***SPOILER ALERT*** To read what I think of the movie, click
here