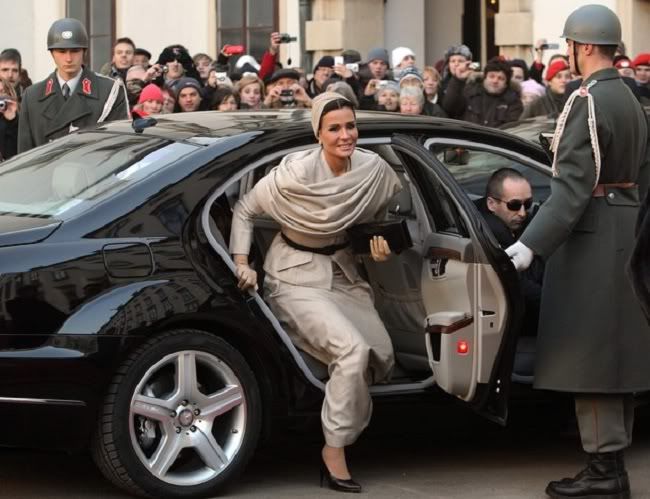 Arriving at the Royal Wedding
Many wondered what fashion royalty and supercouple
Posh and Becks
were going to wear to the Royal Wedding of Kate Middleton and Prince William, but an equal number of people were wagging their tongues about what a different, and far more legitimate, monarch would be wearing:
Princess Sheikha Mozah bint Nasser Al-Missned
. The second wife of the Emir of Middle Eastern country
Qatar
, the princess has been garnering praise in the fashion world for years now (
in 2009, she was voted one of the world's 49 best-dressed by Vanity Fair
), but she only recently blasted into popular culture, often being compared to ex-model and First Lady of the French Republic,
Carla Bruni
, and fashionable FLOTUS Michelle Obama.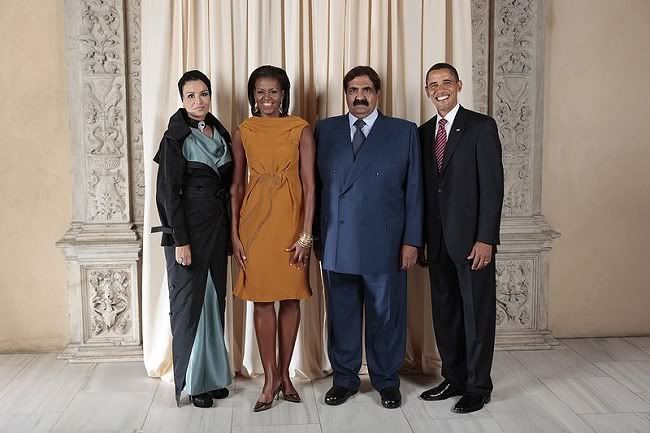 The Sheikah and Sheikh with The President and First Lady
Sheikha Mozah is married to the Emir of Qatar, Sheikh Hamad bin Khalifa Al Thani, one of the wealthiest royals in the Middle East. Married at 18, she went on to give birth to seven children while attending Qatar University, receiving a BA degree in Sociology in 1986. (She has also been awarded numerous honorary doctorates from schools like Carnegie Mellon University, and Georgetown University School of Foreign Service.) This is one smart cookie and social activist: working to reform the status of woman in her country, some of her many accolades include being named a UNESCO special envoy for Basic and Higher Education, being named Chairperson of the Qatar Foundation for Education, Science and Community Development (since 1995), being named Chairperson of the Arab Democracy Foundation, and being named Vice-President of the Supreme Education Council. Currently, she serves as a member of the Board of Overseers for Weill Cornell Medical College and has really focused on giving academics a stronger role in crafting Qatar's new democracy. She is often present at and a major driving force behind the opening of various educational centers in Qatar, such as the
John D. Gerhart Center for Philanthropy and Civic Engagement
, where she stated:
"When utilized in the appropriate manner, volunteer work helps build bridges between members of one society and between the people of this universe... We are at a time when public welfare has become the responsibility of society as a whole, and from here comes the role of civil society and other institutions."
A fan of standout jewelry, monochromatic color palettes, and statement-making shoes, belts, and other accessories, she is always impeccably dressed in outfits that manage to showcase her fashion sense while obeying the religious laws of Islam. Floor-grazing hemlines and chic turbans usually cover her legs and hair, but tightly cinched waistlines, big jewels, and tailored clothes allow her to still show off her fabulous figure and beautiful face. Oh, and did I mention she's 52? AND SHE HAS HAD SEVEN CHILDREN and is a grandmother? (And can we talk about that make-up? Perfection.) You got that? Great.
This
is class.
This
is elegance.
This
is poise. And this is today's
Thursday Style Icon
.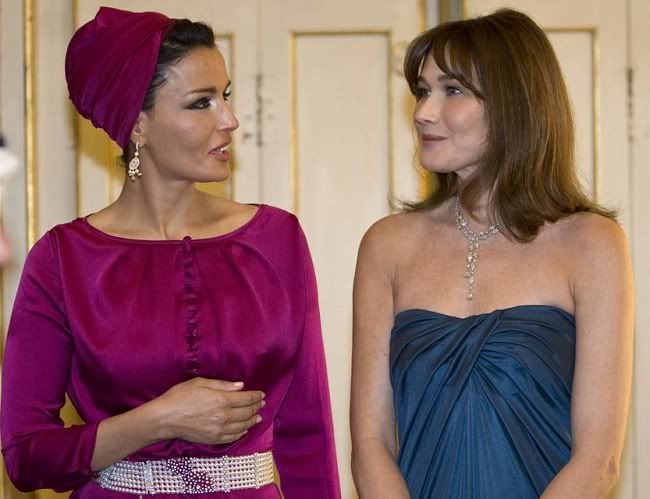 With Carla Bruni