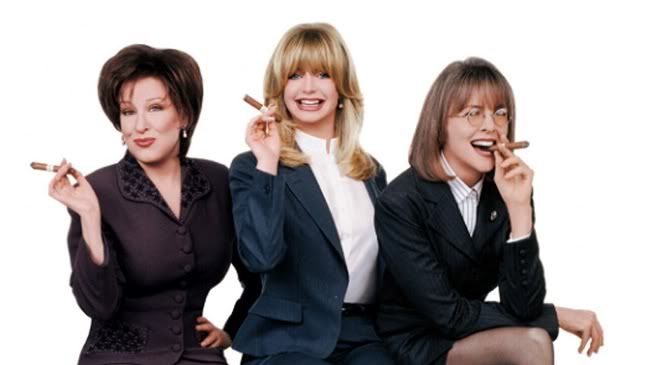 Don't Get Mad. Get everything.
From a second wife
to the first wives... I don't know if a lot of you have seen this movie, but it was one of my ABSOLUTE FAVORITES growing up. One of my readers happened to be watching it the other day, and suggested it to me for this week's
Thursday Style Icon
; when I went back and looked at the stills, I realized something I definitely never had before; The First Wives had style!
If you aren't familiar with the storyline, here's a quick rundown: three older women, played by Bette Midler, Goldie Hawn, and Diane Keaton, are left and humiliated by their husbands for much-younger women. (And the younger women are played in hilarious turns by Elizabeth Berkley, of
Showgirls
fame, and a snappy, fresh-faced Sarah Jessica Parker!) Instead of wallowing misery, however, the three women decide to exact revenge by robbing their husbands blind and humiliating them in the most public fashion. As they wheel and deal, drumming up dirty pasts and getting their men for all their worth, they look
fabulous
.
These kinds of mature roles are few and far between for women these days, when Hollywood prefers it's stars to
look like this
, but it's so refreshing to see older women dressed appropriately and stylishly in tailored suits, monochromatic separates, high-waisted jeans and chunky fishermans sweaters. I also enjoyed the hair and make-up, which, again, could have erred on the garish and overdone side but was instead tasteful and, quite frankly, youthful. This is two weeks in a row now that the (older) sisters are doing it for themselves! (That's a
First Wives Club
reference... google it.)